What Are Solar Inverters? What are the top solar inverter manufacturers in the world nowadays?
A solar inverter or also known as a PV inverter is a type of electrical device which converts the variable direct current (DC) output of a photovoltaic solar panel into a utility frequency alternating current (AC). From there, the energy can be connected into a commercial electrical grid or inhouse usage in an off-grid system.
Solar power is not confined to low wattage and small devices. You can run large appliances on solar power including everything that needs electricity.
The solar inverter makes it possible by converting direct current (DC) into alternating current (AC). This inverter will allow you to run AC appliances directly on solar power.
Without a solar inverter, it is not possible to run your home appliances and devices on solar power. The reason is solar panels produce direct current (DC) power only.
So, you have to connect a solar inverter along with solar panels, and a charge controller to get the same electricity that you can access from the grid.
In this writing, we review top 10 solar inverter manufacturers in the world and their products including a buyer's guide and description of inverter types. Let's get started.
In a rush? check our top 10 solar inverter here.
How to Choose The Best Solar Inverter for Your Solar System?
When it comes to selecting the best solar inverter for your home, the first thing that you need to do is to look into your pocket and decide how much you are willing to spend on a solar inverter.
If you have decided to go solar and you are looking for a solar power inverter, you will find several options while searching for a solar inverter including string inverter, micro-inverter, power optimizer, and central inverter.
Each inverter has different efficiency, capacity, and purpose. Before installing an inverter, you need to know your needs and the features of each type. It will help you to get the most suitable one that fits your needs.
A string inverter is most popular for a solar system that can be connected to a string between multiple solar panels. It works perfectly in a series of solar panels to provide you energy in collective ways. It is applicable for home and commercial solar systems.
Keep in mind that when using string inverters, if one or two solar panels stop functioning, the power production will be reduced.
If you have an individual solar panel or small rooftop, a micro inverter is perfect for you. This is the small inverter that will convert electricity independently from individual solar panels. You can install this inverter for a single solar panel too. It is efficient and very handy for small needs.
Power optimizer works to collect and send maximum output to the inverter. A power optimizer is connected to each solar panel and they ensure smooth and condition voltage to the inverter. This device will be perfect for you if you have a partial shedding issue on your roof. You will get up to 25% more efficiency with a DC to DC power inverter.
The central solar inverter is a powerful solar inverter that is designed for the commercial solar power station. It works like a string inverter to handle more power and efficiency. You can not use a central inverter for a residential solar system.
We have another section explain detail about these four types of inverter here: CHECK NOW
Factors to Consider When Buying Solar Inverter
Many people have decided to go solar, but many of them do not know what to look for when it comes to purchasing a solar inverter.
A quality solar inverter should have specific key features that will enlarge your user experience and enable you to get sufficient power from the solar system.
Before selecting a solar inverter, you have to consider its features and specifications from different angles. This process allows you to pick the best product for your solar system.
Durability
A solar system will work for more than 20 years and you need an inverter that is enduring and durable. High-quality products come with a premium design and durable materials.
Features
You have to compare the features of an inverter before finalizing your choice. It is better to see products from different manufacturers to understand who offers the best features.
The features should be compatible with your needs and solar system. Don't just buy an inverter with lots of features but not capable of converting your necessity power.
Service and Support
As we mentioned earlier, you will use the inverter for a long time. A good inverter contains an official warranty and after-sales service. It ensures that you will get reliable and trustworthy service in case of any difficulty.
Price
It is the most crucial part while selecting a quality solar inverter for your solar system. You have to analyze the market price and features of different products. You can search on the internet and visit the local market to compare prices and features.
Warranty
Some companies will provide a less warranty while others will provide a more extended warranty.
You should always go for the product with the highest warranty time frame. It will give you time to use the product and get to know how it functions. And in case of any problems, you can easily take it back to get a replacement or get your money back.
Customer Reviews
Every inverter that is sold on the internet must at least have customer feedback or review.
It is important to check out what different customers had said about a specific inverter. A product with fewer reviews does not necessarily mean that it is faulty, but always go for the product with lots of good reviews.
Pro tip: Checking out customer reviews is the best way to get to know if a product is good or not.
Always check the latest reviews and do not depend much on old reviews. Different products are made every day, and with the technology change, you will always find different feature has been added to the product daily. That changes will improve its efficiency.
So, if you want to go solar and you have already bought your solar panel and are still confusing about what type of inverter is best for you, check out some of the factors that we have on our guide, and they will help you make the best choice.
Always consider the different features of a particular solar inverter and check out if any new features have come up.
Inverter Manufacturers
Selecting a good inverter in the market is important. Buying from the right company is also the same.
Each solar inverter company claims that they have the best inverter in the market compared to the others.
That might be true but get to know the company first before you decide to buy from them. 
Different brands have different features that come with their products. Getting to know your brand is important. If you select the wrong brand, it will indeed affect your whole solar experience.
Get to know the company brand that is most trustworthy and has excellent reviews on the market.
Hence to keep your solar inverter running and functioning effectively, you will need a genuine and trustworthy brand. 
Installing a solar inverter might be the most challenging process, but maintaining it to last long is the hard part.
Always choose a brand that will offer you after-sale services if anything is to happen with the inverter.
Sometimes, we do not know everything that comes with an inverter, but it would really help if you can get advice from your company.
So next time you decide to buy a solar inverter, check the brand name and choose wisely.
Is that too complex? Let us make it easier for you
The product's quality and usage fit are the most important things that you should always consider before deciding on a specific inverter.

The better quality, the longer life of products. Other factors like price, service, support, warranty, monitoring, and customer reviews also need to be considered before buying a solar inverter but less priority when it comes to purchasing a solar inverter.
Best Solar Inverter Manufacturers In The World (2021 Updated)
Fronius Solar Inverter
Fronius is a solar inverter manufacturer famous for string solar manufacturing. The company offers high-quality and reliable products worldwide. It was founded in 1992 and still the world leader for producing high-performance models that are ideal for power conversion and enduring service.
Currently, the company manufactures Primo, Galvo, Symo, and ECO solar inverters for domestic and commercial solar systems.
Fronius Primo Inverters is a residential single-phase string inverter that comes with 3kW to 8.2kW power conversion capacity. This inverter is famous for its lightweight and user-friendly design. You can set up the device quickly and a multifunctional monitoring system shows you more information.
Fronius Galvo Inverter is also a residential string inverter that has a power conversion rate between 1.5kW to 3.1kW. It is perfect for small solar systems.
Fronius Symo is a three-phase string inverter that comes with 3.0kW to 27kW capacity. This range has a hybrid version with more input and output capacity.
People install these inverters because of the high conversion rate and easy monitoring and installing system.
Below are some of the awards won by Fronius for its excellent products and services:
IF Design (2015)
Plus X  (2013)
Smart Grids Pioneer (2014)
Red-dot Design (2013)
SolarEdge US Inverter
SolarEdge is the world's largest solar inverter manufacturer. The company ranked third in manufacturing solar inverters. 
Starting in 2006, the company is growing fast and producing solar inverters for residential, commercial, and small devices. 
SolarEdge also produces power inverters and smart energy solution devices. The headquarters of the company is in Israel but they grabbed a large portion of the US and Australian market. High-quality materials and advanced power controller systems make their inverter perfect for every solar system.
Solaredge offers a single-phase and three-phase inverter. This DC-AC inverter is designed to work with power optimizers. It can manage voltage and optimize power separately. 
A Solaredge single-phase inverter comes with different energy outputs. You can use Solaredge single-phase inverter for 2.2kW, 3kW, 3.5kW, 4kW, 5kW, 6kW outputs.
The company also produces three-phase inverters, you will get kW, 5kW, 6kW, 7kW, 8kW, 9kW, 10kW, 12.5kW, 15kW, 16kW, 17kW, 25kW, 27.6kW, 33.3kW for DC to AC conversion.
Consumers use Solaredge inverters for more power, revenue, long-term warranty, and exceptional safety.
Safety talking: the DC optimizers reduce the cable voltage to 1 volt in case of grid or inverter shutdown, which is much safer than standard strings of solar panels with a voltage ranging between 300 to 600 volts.
The Company manufactures an intelligent inverter system, which uses DC optimizers to execute monitoring at each plane level, maximizes power generation. The optimizers used by SolarEdge permit long strings of panels and increase safety. This reduces the effect of shading and panel faults.
However, the initial setup, installation cost, and time are higher compared to regular string inverters. The following are the benefits solar edge inverters provide:
Layout and design flexibility
Early detection of potential problems
Shade tolerance
Panel level monitoring
Efficient troubleshooting
Solar Edge recently launched one of the smallest and lightweight inverters, i.e., HD wave (SE-H series). This inverter uses thin-film capacitors and digital processors for AC production and results in a few losses. Its efficiency is 99% and produces a clean AC output.
SOLAREDGE SOLAR INVERTER gives 25 years and 12 years of warranty on its power optimizers and inverters.
You can extend the warranty for up to 20-25 years. Also, SolarEdge has the best android application for remote monitoring. The lower failure rate and improved performance increase its popularity.
SMA Solar Inverter
SMA is the trusted solar inverter brand in the world. This leading inverter manufacturer produces residential, commercial, and utility solar devices. 
Starting in 1981, the company focuses on string inverter manufacturing under different brand names. The SMA products are suitable for off-grid and grid-tied solar systems.
The company has different types of solar inverters. These are Sunny boy, Sunny Tripower, Sunny Tripower Core 1 and Core 2, Sunny Boy Storage, Sunny Island, Sunny Portal Monitoring, and Tigo optimizers.
Sunny Boy is a single-phase solar inverter that has different versions in 3.0, 3.6, 4.0, 5.0, and 6.0kW sizes. It is one of SMA's most popular inverters, which operates on average at 97% efficiency.
Sunny Tripower has a three-phase solar inverter series that is available in several versions. These inverters are suitable for commercial and residential solar systems. The range of these inverters is between 3.0 – 6.0kW. Tripower Core 1 and Core 2 is the latest version in this range.
On the contrary, the Sunny Highpower & Sunny Central range offers Sunny Boy Storage, Sunny Island, Sunny Portal Monitoring, and Tigo optimizers. These inverters are perfect for large residential and small commercial purposes. 
Web-based monitoring software packages for SMA customers. The package includes:
Sunny portal
Sunny view
SMA energy meter
Sunny Home Manager
The latest AV inverter series launched by SMA solely relies on Wi-Fi communications, unlike the Sunny Boy inverter that does not have a display panel.
The AV inverter can reduce the failure rate and warranty issue since a display panel in an outdoor environment attracts faults.
SMA Solar Inverter Warranty
All SMA inverters come with a 5-year warranty, which can be extended to 10, 15, and 20 years depending on the model. The warranty captures the cost of shipping and on-site replacement in case of an unpredictable failure. 
The reliability and high quality of the inverter make it safer to use. However, the downside is its high cost. this is because of its superior features.
SMA had won many quality awards due to its exceptional quality products. Below are some of the achievements:
INTER SOLAR Award 2010 for the Central 800cp central inverter.
EES Award 2016 (Europe's largest exhibition for batteries and energy storage systems) for the Sunny Boy Storage.
Smart Energy Award 2013 for the SMA Smart Home comprehensive energy management solution.
INTER SOLAR Outstanding solar projects Award 2016 for the photovoltaic diesel hybrid system
Reliability and Performance Award – Sunny Boy (2019)
Enphase Energy
Enphase solar is an American solar company that produces a wide range of inverters. The company is famous for microinverter manufacturing. Founded in 2006, Enphase solar is the global leader for micro inverters. They grab the global market with quality, performance, and different benefits.
Enphase IQ7, IQ7+ & IQ7X is the latest model from this renowned manufacturer. These models have high efficiency and you will get more than 96.5%. It works with 60 and 72 cell solar panels up to 440W.
The Enphase IQ 7 microinverter is compatible with a 60 cell solar panel and it can convert 235 to 350 W DC to AC power.
Enphase IQ 7+ solar microinverter is designed to perform with 60-72 cell modules on 235 to 440W.
Finally, the Enphase IQ 7X inverter comes with maximum power output and conversion rate. It is compatible with 96 cell solar panels and a 320-460W module.
People use Enphase inverters for streamless components, quicker, and cost-effective installations.
Huawei Fusion Solar Inverter
Huawei is one of the biggest manufacturers of solar inverters globally. The company spent billions on research and development in the field of solar technology.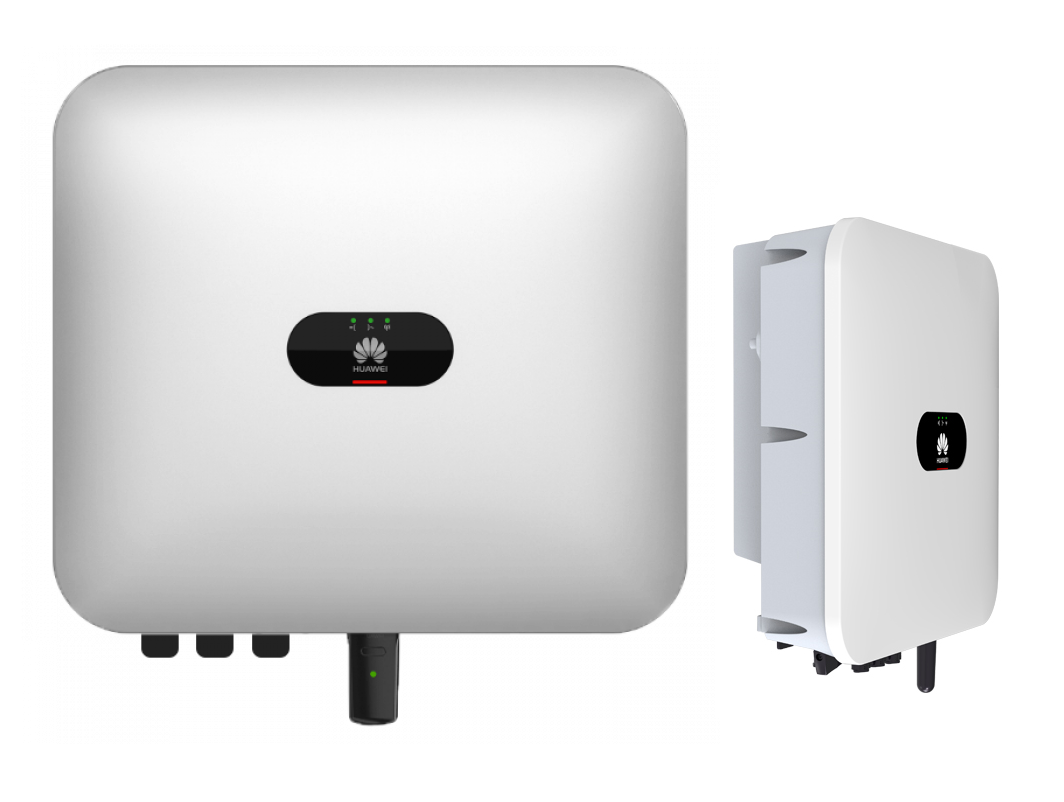 The first residential inverter Huawei manufactured is SUN2000L, which is small and lightweight, weighing 10.6kg.
It is available in different sizes ranging from 2 to 5kW.
SUN200L, like the SolarEdge HD inverter, uses optimizers for plane level optimization and monitoring. However, it can function with or without the optimizers.
Below are the advantages of SUN2000L:
The installation can be done without the optimizer as well as a standard string inverter.
It comes with a built-in IV curve tester, which can accurately find a panel's degradation fault.
It is a hybrid inverter with a built-in high voltage DC-coupling battery interface compatible with LG Chem batteries. But, there is no backup power supply provided yet.
Installation of inverters can only happen on selective shaded panels for cost reduction.
It has a variable input voltage and can operate on a voltage as low as 90, which differentiates it from other inverters.
All Huawei-made inverters have LTE communication capabilities that eliminate Wi-Fi dropouts, ensuring that the system is up to date with active warnings.
Huawei inverter is no less than an inverter provided by other brands. The features that make it a great inverter are optional optimizer technology, LTE communication, a built-in battery interface, innovative design, and a 10-year warranty.
ENPHASE MICRO INVERTERS
In the United States, Enphase is the most popular and reputable micro-inverters manufacturer.
With more than 17 million units manufactured up to date, Emphase is considered a global leader in the micro-inverter industry.
Micro-inverter work on panel-level resulting in a flexible design, improved performance, and safety. Micro-inverters are more efficient than solar edge power optimizers due to their intricate design, and they have a high cost.
Emphase has launched the Enphase IQ 7 series of micro-inverters that are more suited for residential solar systems. The series is lightweight and produces 23% more power as compared to the previous series.
The Enphase micro-inverter is not compatible with the Tesla power wall, but it manufactures a storage product that can be used with its micro-inverter. The warranty is for 25 years.
Apollo Solar Inverter
Apollo Solar is a renowned name for residential and commercial solar products. They have innovative technology, superior quality, and an industry-leading manufacturing process. The company has 40 years of experience in manufacturing high-efficient and cost-effective solar products.
TSW TRUE SINEWAVE INVERTER is the best solar inverter of Apollo Solar. This inverter is perfect for the off-grid solar system.
It has a 2kW-12kW range that includes a capacity of 4000W solar panels. The DC to AC conversion works with true sine wave technology.
The device has 2 line LCD to show the major parameters of the solar modules. It comes with a network communication system that allows you to monitor the inverter remotely and from a local computer.
Consumers pick this solar inverter for its fast and safe installation. It is designed to provide you the best commercial solar inverter experience.
ABB SOLAR INVERTERS
ABB Solar is an innovative brand for solar technologies. The company offers solar products, systems, and different types of solar solutions. Their goal is to enhance the performance and reliability of solar systems with high-quality products.
Starting in the 1990s, they provided solar integration systems to grid-tied and off-grid solar projects.
The Fimer (ABB) is the sub-brand of ABB solar. In this section, the Fimer UNO-DM-TL-PLUS-Q is a residential solar inverter. It is a single-phase inverter that comes with 1.2, 2.0, 3.3, 4.0, 4.6, 5.0 & 6.0 kW capacity.
Fimer UNO-DM-TL-PLUS-Q 1.2, 2.0 & 3kW, Fimer UNO-DM-TL-PLUS-Q 3.3, 4.0, 4.6 & 5.0kW,  and Fimer UNO-DM-TL-PLUS-Q 6.0kW are the latest models.
Users are installing ABB Fimer inverters for high-efficiency and reliability. Besides, the inverters have a built-in DC isolator over 3.3W capacity. It will provide 95 to 98 percent efficiency of a solar system.
You can rely on these products manufacturing in Italy by maintaining a high-quality standard.
Below are some of the advantages of ABB solar inverters
Effectiveness
Wide DC input voltage range
Detachable control unit with graphical display
Warranty: The inverters come with a 5-year warranty, which can be extended to 10-20 years for a fee.
Outback Power Inverter
Founded in 2001, Outback solar is producing high-quality solar products for residential and commercial projects. Its headquarters in Arlington, America. This American brand produces specialized products that are suitable for off-grid applications. These solar products can perform in extreme conditions and rural areas.
The company has the most recent solar inverters in the Radian Series. These inverters are suitable for grid-tied, off-grid, and hybrid solar systems. 
On the contrary, they have the FX Series and M-Series solar inverters that can be used for multiple purposes.
Radian GS8048A, GS4048A, GS7048E, GS3548 models come with easier installation and faster power conversion rate. It has high operation capability and stability for the grid and off-grid solar systems.
FXR / VFXR™ Series is a high-efficiency solar inverter that comes with 93 percent operating efficiency. This hybrid inverter series will provide you with an excellent power output and monitoring system.
M-Series inverter comes with true sine wave output and an intelligent power monitoring system.
Outback solar inverters are used globally for their durable design, extreme performance, and long-lasting life.
Below are some of outback power inverter specs:
NEW Frequency shifting AC coupling
Grid-interactive and stand-alone capability in one package
Unsurpassed surge capacity
Dual AC inputs
Field serviceable modular design
GSLC load center option for quick and easy installation
Outback power inverter offers a 5-year and a 2-year limited warranty against defect or fan, respectively.
GINLONG Solar Inverters
Ginlong Solis is the Chinese solar inverter and the company produces a large amount of solar inverter for the global market. Started in 2005, they are successful in producing cost-effective solar inverters for residential, utility, and commercial purposes. The company has a strong supply chain for business and residential solar products.
Ginlong Solis has single-phase inverters, three-phase inverters, utility-scale inverters, energy storage inverters.
Solis-1P(6-10)K-4G-US and Solis-1P(3.6-5)K-4G-US are single-phase string inverters that have high efficiency and durable design. Solis 6-10KW is compatible with 6K/7.6K/9K/10K energy output. It has 4 MPPTs and 30K Hz switching with multiple communication methods and monitoring options.
On the contrary, Solis-(25-40)K-US, Solis-(50-66)K-US-F, and Solis-(75-100)K-5G-US are three-phase string inverters with fan and internal Sunspec transmitters. 
The output of these inverters are 25-40kW, 50-66kW, 75-100kW and all the inverters have 4 MPPT technology.
Similarly, the utility-scale inverters, energy storage inverters are designed to use for commercial and business purposes.
Solis inverters are famous for reliability, safety, and capacity. Each model has an easy operation and maintenance system.
Ginlong Solis Inverter Features
Sunspec communication protocol with optional cellular and Wi-Fi interface
Built-in Module Level Rapid shutdown transmitter, NEC 2017: 690.12 compliance
Optional Built-in Revenue Grade Meter, ANSI C12.20-2010 compliance
Rapidly dynamic MPPTs and industry-leading DC voltage range integrated Arc Fault Circuit Interrupter (AFCI)
98.1% peak efficiency (97.3% CEC efficiency)
10 years standard warranty with extension options
MorningStar Inverter
Morningstar is a global leader in manufacturing solar charge controllers and inverters. They have more than 27 years of experience in solar technology. Started in 1993, the company sold 4 million products in over 100 countries. Their innovation, design, research, and development enhance the performance of the products. 
Besides, the company has a quality manufacturing process, tools, and the fastest distribution channel.
The SureSine™ is the latest inverter from this global manufacturer. It provides a pure sine wave power conversion system for off-grid solar applications. It is suitable for rural electrification, telecom, remote homes, RVs, caravans, and boats. The inverter has no internal cooling fan to ensure reliability in any weather condition.
The inverter can convert and handle up to 200 percent surge load with a maximum 600 watts solar system. Pure sine wave technology provides quality AC conversion for grid power.
This invert is first on the list for high-performance, simple design, and long-lasting services.
MorningStar is the main inverter for rural electrification projects, telecom, remote cabins, weekend homes, RV, caravans, and boats.
Pure Sine Wave handles up to 200% surge 
55mA self-consumption
No internal cooling fan
Adjustable and programmable
Toroidal transformer design
92% Peak efficiency
Extensive electronic protection with automatic recovery
Protected against harsh tropical and marine environment
2-year warranty
Sungrow Inverter
Sungrow Power Supply Co., Ltd is a renowned inverter brand and the company has product delivery service in over 154 countries. Started in 1997, it has developed high-quality products for residential and commercial purposes.
Sungrow is one of the leaders for solar innovation and renewable energy devices. The company has a wide range of solutions and services. They are committed to manufacture and supply clean power for the globe.
Sungrow produces string and central inverters with a wide range of models. The string inverter section has 28 models and the power output range is 2.5 kW and 250 kW.
On the contrary, the Sungrow central inverter section has 4 different models and these are designed for commercial purposes. With cost-effective installation and an easy monitoring system, it is capable to work with a large-scale power plant. The devices have a starting rate of 500 kW and are available with up to 6.8 MW power output.
Sungrow products are globally accepted for their enduring service easy installation system.
Types of Solar Inverters
All the solar inverters you will find in the market have different functions, and each one of them works differently from the others.
We list 4 different types of solar inverters below.
String Inverters
String inverters are sometimes referred to as standard central inverters (simply call inverter — we will talk about it later).
Most small solar energy systems use string inverters technology for their daily activities. In this type of technology, each solar panel is wired to a specific string.
When a solar panel produces solar energy, it will be distributed into a single string inverter. 
The inverter then converts the direct current energy into alternating current.
These types of solar inverters are of low cost and very inadequate. They are relatively easy to maintain.
If you are looking for a low-cost solar power inverter, then you should use string inverters. It will work well for those people who have direct sunlight throughout the day.
Micro Inverters
This type of solar inverter is for complex, high-performance solar systems.
Micro inverters are also ideal for any houses with small rooftop space or a small solar system.
In microinverter PV systems, the micro inverter will be installed at the solar panel place. Then that micro-inverter converts solar energy (DC) to AC for later usage (same as string inverters).
That is quite different when it comes to the microinverter. The micro-inverter converts direct current energy into alternating energy on the rooftop only.
Repairing a micro-inverter might be difficult as it is located on the roof with the solar panels.
Power Optimizers
A power optimizer's solar PV system is a combination of both string inverters and micro-inverters.
Power optimizers, just like micro inverters, are located on the rooftops with the solar panels.
Power optimizers work differently, they do not convert solar energy from DC to AC directly but sends DC to the central inverters.
Still, instead, it conditions the direct current by fixing the voltage of electricity.
Compared to string inverters, a power optimizer PV system is more efficient. Just like microinverters, power optimizer PV systems improve solar panels' efficiency.
Battery Inverters
If you are a homeowner and you have decided to go solar, you will need to separate your solar panels and the battery.
A battery inverter is used to separate the two batteries from the solar panels.
It converts the battery power into the 230V current and then delivers it into your switchboard.
Central Solar Inverters
Central inverters convert the DC power collected from an array of solar modules into AC for connection to the grid. They are typically floor or ground mounted, as opposed to string inverters, which are typically installed on a wall or other vertical structure (Source).
Solar Inverters FAQs
How much do solar inverters cost?
Many solar inverters exist in the market, and they vary in price. The cost of the inverter depends on the size, quality, and size of the inverter.
A low-end 5Kw inverter can cost $850, while a high-end famous brand inverter may cost more than $1800. Most of the inverters come with a warranty of 10 years, which is an average of the solar's expected life. Panel lasts typically from 25-30 years.
The inverters need to be replaced after 11 years of service due to its short warranty. The replacement cost ranges between $3000 and $20,000. However, it is recommended to buy a high end, good quality inverter with an extended warranty to minimize failure probability.
Are SUNGROW inverters good?
Sungrow is a Chinese inverter manufacturer founded by a university professor named Sungrow in 1997. Sungrow has a remarkable reputation for its simple, flexible, and robust inverters available at low prices. The inverters manufactured are in the range from 2Kw to 5Kw.
Their central inverter series includes SG1000TS, SG630MX, and SG800MX. The string inverter comprises SG3KTL, SG4KTL, and SG5KTL series. Sungrow also manufactures hybrid inverters known as SHK5 + ESS.
Sungrow inverters come with built-in wireless monitoring and an online monitoring portal with the name of Solar Info Bank. There is also a smartphone application for remote monitoring of the system.
SMA, Fronius, among others, have top-notch experience in manufacturing quality inverters, which makes them reliable. For a high budget, European inverters are available. However, for low budgets, Chinese Solar inverters are good.
Are micro inverters better?
These are small, lightweight inverters attached to each solar plane. Each solar plane works independently; therefore, failure at one point does not affect the performance of the entire system. In the case of the central inverter, the panels are dependent.
1. Maximum Power Point Tracking: MPPT is a technique used to find the specific value of the inverter voltage at which power generation is maximum. MPPT is applied on each solar panel in the case of micro-inverters, thus increasing the overall performance of the system.
2. No point of failure: The functional panels are still effective even in the case of micro-inverter/solar panel fault.
3. Panel wise monitoring; Individual panels are monitored, and separate performance reports for each panel can be obtained.
4. Easily Expandable: For central inverters, the system can't be easily expanded. However, it is easier to expand the solar system with micro-inverters.
5. Safety: Micro-Inverters don't need high voltage to operate, which improves the solar system's and owners' safety.
6. Lasting life: Micro-inverters come with a more extended warranty since they do not need high voltage and power loads.
Cost of micro inverters
Micro-inverters have a high initial cost as compared to central inverters. They cost $0.52/Watt –peak, their long lifespan, and easy installation makes them the best.
Dual Micro-inverters: It works like the regular micro-inverter, just that the dual micro-inverter is attached to two solar panels instead of one. The cost is reduced, but performance becomes low.
How does solar edge power optimizer work?
DC power optimizers are useful for panel-level monitoring and power optimization. Solar Edge optimizer uses the MPPT technique to track the specific voltage value at which maximum power is obtained. The point is called the maximum PowerPoint. The MPPT per module provides flexibility in design.
The power optimizer also monitors the performance of each module to the owner. This results in module-level monitoring and cost-effective maintenance.
The power optimizer is responsible for setting the DC voltage to a safe level in case of a grid or inverter shut down, and it comes with a warranty of 25 years.
PV Inverter Warranty And Service
Fronius, SMA, and SolarEdge, because of their effectiveness, have been on the top list for years. Fronius, Huawei, and SMA provide their inverters with a 10-year warranty while SolarEdge offers a 12-year warranty.
Emphase gives its micro-inverters a 25-year warranty. Low-end brands are repaired only when they are shipped to them. The repairs are not done immediately.
Final Thoughts
Finally, you have the top ten solar inverter manufacturer company reviews and ideas about their product range.
You can select a manufacturer that has established sales and service centers in your area. It will be easier to get fast installation and after-sales service.
Before selecting, try to compare the power output, working capability, and price. At the same time, consider the inverter types that most fit your needs.
Enjoy the blessings of the solar system and clean energy.