Over the scorching summer months, your entire building may have the same temperature as the outside air. This is because the roof absorbs all the heat. The heat transfers from the attic space to framing, and then the heat is conducted downward.
The rising living room temperature will cause you to switch on the AC resulting in a higher electricity bill. The key to lowering your cooling bills is to increase ventilation in your attic and reduce the amount of heat it holds and pushes into your house.
You must have undoubtedly discovered a Solar Attic Fan during your research for attic ventilation. They have energy savings and other advantages in both the summer and the winter.
There is a lot of information available regarding this but getting specific information is a challenge. You're probably thinking, "how many solar attic fans do I need?". So, here's everything you might like to know about the solar attic fans?
What is a Solar Attic Fan?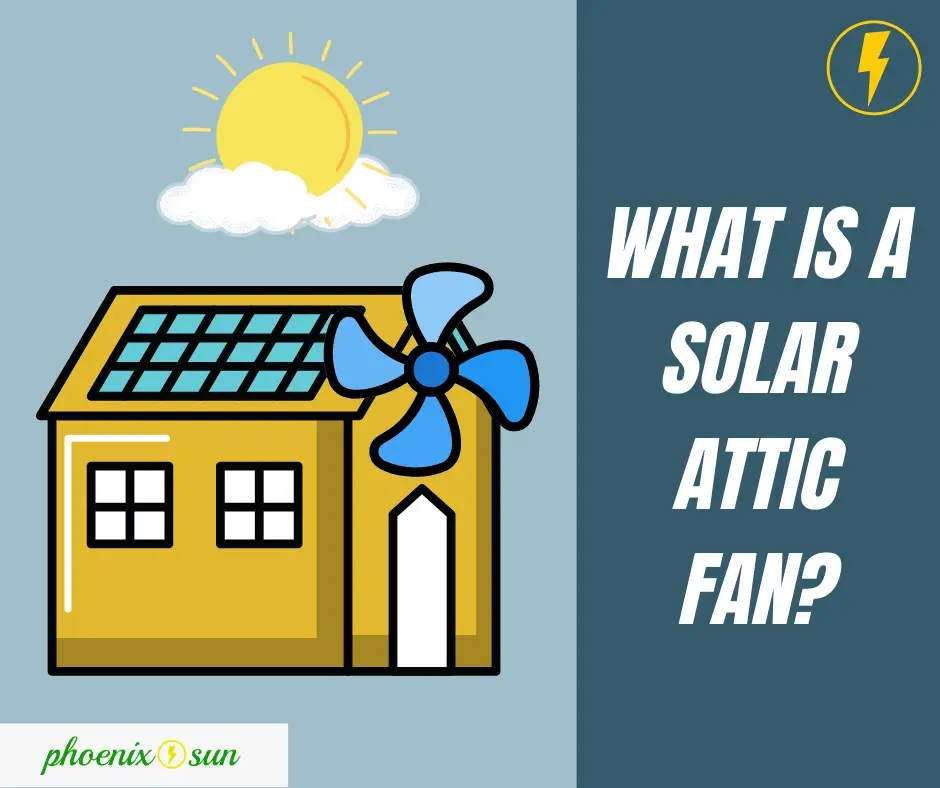 A solar attic fan is an electrical gadget that you mount on your roof to ventilate the attic. Cooler air is drawn through the attic vents as the fan vents out the hot air. A solar panel drives these attic fans mounted on the roof's exterior.
Solar panels are made up of photovoltaic cells, popularly referred to as solar cells. These materials react with light energy to generate electricity through a chemical reaction known as the photovoltaic effect.
Thus, when the sun shines, or sufficient indirect sunlight penetrates the clouds, the solar panel powers the fan, expelling air from your attic.
Advantages of Solar Attic Fan
Solar attic fans are an environmentally friendly and economical method of ventilating the attic without electricity.
Durable and straightforward to build in a matter of hours due to the absence of wiring, installation, or mess to clean up afterward.
Maintain a comfortable attic in the summer by avoiding excessive heat accumulation in your house.
Reduces power, service, and maintenance costs.
Prevents the deterioration of roof structures and materials.
ECO-WORTHY 25W Solar Powered Attic Ventilator
[cua-amz asin="B00ZWK7DYE" src="https://images-na.ssl-images-amazon.com/images/I/71LNGVbpxML.AC_SL1201.jpg" name="ECO-WORTHY 25W Solar Powered Attic Ventilator"]
How Many Solar Attic Fans Do I Need? Our Complete Table
Numerous variables may influence the amount of attic ventilation required by a household.
When measuring the amount of attic venting required, variables such as vaulted ceilings, the amount of current venting (soffit, ridge, roof), the form, pitch, and obstructions of the attic must all be considered.
This will significantly simplify and ease deciding the number, shape, and location of solar fans. Let's discuss some important factors while determining the number of Attic Fans you need for your premises.
The first factor we must understand is the capacity of the solar attic fan. The ability of a fan to vent air is expressed in Cubic feet per minute or CFM. In simple words, it indicates the amount of air that a fan will displace every minute under optimal operating conditions.
Knowing the capacity of your fan, you can very well determine the number the fans required to cover the entire house.
Next is the amount of energy or power consumed by the fan. Power consumption is always measured in watts. You may decide on two fans with lower wattage than a single fan consuming more power per the space to be covered.
After all, the main idea of installing a Solar Attic Fan is to minimize energy consumption and its cost. 
The size of the attic space of your roof is one of the essential factors in determining the number of fans you require for your premises. The size of the attic is measured in square feet. Determining the area of your attic is simple.
All you need to do is multiply the length and width of your house. This will give you the size of attic space in square feet. 
The next element to consider is the slope of your roof, or more precisely, the attic slope or pitch of your attic. Your attic roof's steepness is expressed as x/12, where x is the slope of your roof.
A low slope or pitch roof is generally up to 4/12 or 18°, while a High Slope or Pitch roof can be up to 45° or 12/12. The slope of your roof is essential since it determines the amount of air space available in your attic.
Because an attic with a low pitch holds less air, you won't need too many solar fans to vent it out and suck in cooler air. For a steeply sloping roof, the same is true; it can contain a large volume of hot air, possibly requiring the use of multiple fans.
Amtrak Solar Powerful Attic Exhaust Fan
Sale
It is possible to drive hot air out of your attic by using a solar attic fan, but this hot air must be replaced with cold air from somewhere else. Luckily, the majority of residences have soffit vents.
These are nothing but air ducts placed at the edge of your roof under the eaves of your house. This is an essential factor to determine the number of Solar Attic Fans. It is a general rule to ensure that you have four square feet of soft ventilation for each solar fan mounted.
If a grill conceals the soffit vents, we must multiply that number by 2 to get a figure of 8 ft² of soffit ventilation per solar fan.
The following chart can be used as a guideline for determining the required number of Solar Attic Fans for residential installations depending on square footage and roof pitch.
| | | | |
| --- | --- | --- | --- |
| Size of Attic | Low Slope/Pitch[up to 18° or 4/12] | Medium Slope/Pitch[up to 33° or 8/12] | High Slope/Pitch[up to 45° or 12/12] |
| 1076 Square Feet or 100m² | 1 Fan | 1 Fan | 1 Fan |
| 1614 Square Feet or 150m² | 1 Fan | 1 Fan | 1 Fan |
| 2152 Square Feet or 200m² | 1 Fan | 1 Fan | 2 Fan |
| 2690 Square Feet or 250m² | 1 Fan | 1 Fan | 2 Fan |
| 3230 Square Feet or 300m² | 1 Fan | 1 Fan | 3 Fan |
Number of Solar Attic Fan per Square Footage and Roof Pitch
Summary
From being environmentally friendly to being most economical, Solar attic fans can be considered the giant leap towards an Off-Grid Style of living.
The essential parameters discussed above should determine the quantity, type, and placement of solar attic fans much easier and more effectively for you.