Today most electric devices are capable of running with solar energy. Consumers want to apply this renewable energy to reduce electricity costs and get instant power anywhere.
Camping is considered the best outdoor recreation activity, and you can not stay outdoors in winter without a heater.
If you don't want to get stuck with the cold bite of the winter, you should select a portable heater for camping. But, what about the power source?
Don't worry. We will make it clear to you in this writing. Here, we will present the best options to run a solar heater when camping.
Besides, you get the answer to the most common questions regarding a solar-powered camping heater. Let's explore effective ideas.
Can you run a space heater on solar panels?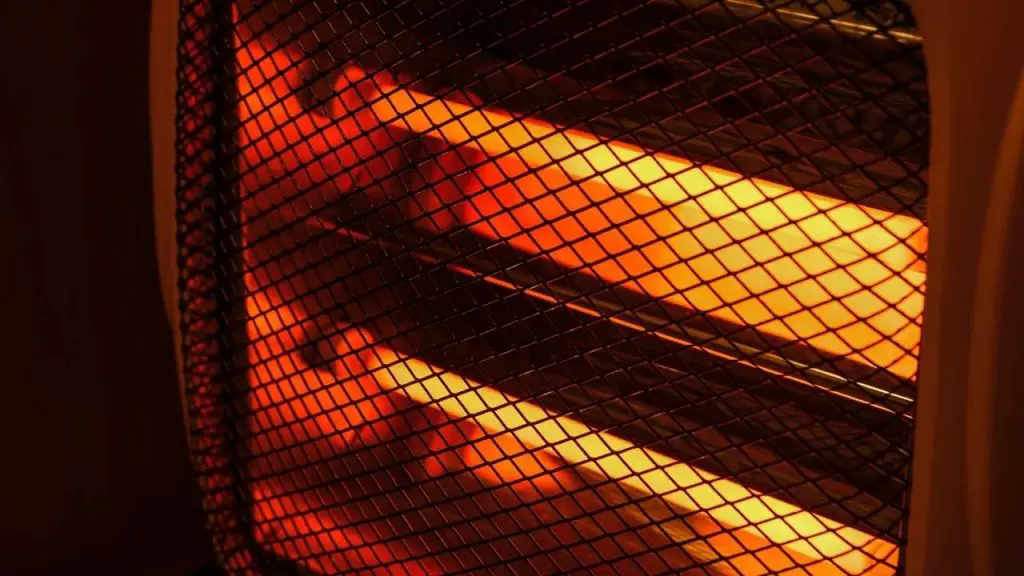 Yes, you can run a space heater on solar panels, but not directly with the solar panel.
You have to install and connect other devices including battery, and inverter to run a space heater on solar energy.
A solar panel can not directly provide power to the heater. It will collect energy from the sun and store it on the battery through an inverter. Then the battery will provide power to the space heater. 
On the contrary, if you have a space heater that consumes little energy, you can run the heater directly like a solar attic fan. 
Is there a solar-powered space heater?
Yes, there are solar-powered space heaters, and you can connect them to the existing system or new battery-based power storage.
You have to purchase a battery, inverter, and solar panel to run these space heaters. The system will provide the necessary power to the heater.
To run a space heater, you can choose a portable battery and panel. It will enable you to use the device in any place. Besides, you will get instant heating access whenever you want.
Best Ideas for Solar Powered Space Heaters
There are several ideas when searching for a space heater, and you can grab the most flexible one for you.
In the above section, we discussed that a space heater requires a solar panel, battery, and inverter to run on solar power.
Here, we present the best accessories for a space heater while thinking about solar power. You will get a hassle-free way to power your space heater without electricity.
Let's check the detailed information and review the best solar space heater accessories with it's pros and cons.
Best Solar Panel to Power a Heater When Camping
If you love adventure and exploring the world by camping, you can use a space heater to get the warm temperature in remote places.
During camping, it is not possible to connect to the grid, and you have to think about other options.
Here we present the best solar panel to run a heater with solar power. Let's take a look!
New to solar energy? Do you want to know how solar energy works? Read our Solar 101 to learn more about solar energy.
Renogy 100 Watts 12 Volts Monocrystalline Solar Starter Kit
Sale
Renogy 100 Watt 12 Volt Solar Panel Starter Kit with 100W Monocrystalline Solar Panel + 30A PWM Charge Controller + Adaptor Kit + Tray Cables + Mounting Z Brackets for RV Boats Trailer Off-Grid System
【Efficient Performance】The Starter Kit will produce an average of 500Wh of electricity per day (Based on 5 hours of direct sunlight condition). The Cell Efficiency can reach 22%. The bypass diodes ensure that the panel has an excellent performance in a low-light environment and the TPT back sheet dissipates excess heat to ensure smooth output performance.
【Solid Quality】Advanced encapsulation material with multi-layered sheet laminations protects cells from physical damage and distortion, improving cell performance and providing a long service life.
【Smart Function】The Wanderer PWM Charge Controller is compatible with four different types of batteries: Sealed, Gel, Flooded, and Lithium batteries. It also features advanced 4-stage charging (bulk, boost, float, and equalization) to ensure your battery is efficiently and safely charged to 100%.
The Renogy 100-watt solar panel comes with high-efficient monocrystalline silicon cells. It can produce 500-watt energy per day and charge a 50a battery within 3 hours.
Besides, the solar panel has the highest efficiency of 21 percent, and it will continue to operate for 25 years with a low degradation rate.
The solar panel contains a charge controller to make the operation easy. You can carry the solar panel anywhere because of its compact design.
This cost-effective solar panel has a corrosion-resistant system, and it can perform in any weather condition.
Rating: 4.7 out of 5
Overview:
Spec 1: Monocrystalline cell
Spec 2: 100-watt
Spec 3: 12-volt
Spec 4: High-efficient
Spec 5: Corrosion-resistant
Spec 6: 500-watt energy per day
Spec 7: Fast battery charging
Spec 8: Charge controller and cable included
Spec 9: 21 percent efficiency
Spec 10: 47.01 x 1.5 x 20.87 inches 
This is an ideal solar panel to run a heater when camping. With this portable solar panel, you can run the space heater during all camping hours. It is easy to hook up and comes with good value for money. You can easily install it based on your requirements.
With the all-weather energy production system, the panel will lead you to generate sufficient energy for heating. Besides, the corrosion-resistant feature makes this solar panel more effective for camping.
It is entirely portable, and you can use this panel for your home, office, business, or other outdoor activities.
The device includes a charge controller to directly charge the battery from the solar panel. It works great with any solar battery, and the battery will get fully charged within a few hours.
If you think about the price, it is the most affordable and portable solar panel for running a heater for camping trips.
Pros
Cons
Portable
Affordable price
Easy to store and carry
Not suitable for large devices 
Battery to Power Your Heater
After purchasing a quality solar panel, you have to select a reliable solar battery to power the heater and store the energy. You should know that it is not possible to run a heater directly with the solar panel.
We search for the best solar battery to run a heater when camping and find the following device. Let's get started.
Renogy Deep Cycle Hybrid Gel Battery
Sale
Renogy 12V 100AH Deep Cycle Hybrid Gel Battery, Over 750 Cycles, Rechargeable for Solar Wind RV Marine Camping UPS Wheelchair Trolling Motor, Maintenance Free
【Maintenance Free & No Leakage】This battery is comprised of gel instead of liquid, so there is no maintenance required to keep the battery working properly. Manufactured with an advanced valve regulated technology, Renogy Deep Cycle Hybrid GEL Batteries save you from acid leakage and frequent maintenance.
【Extended Service Lifetime】Corrosion-resistant grids enable a design life of up to 12 years in standby applications and more than 750 charge/discharge cycles at 50% DOD in cyclic applications.
【Longer Shelf Life】Made of high purity materials, Renogy Deep Cycle Hybrid GEL Batteries reduce the monthly self-discharge rate below 3% at 77℉ (25℃), which is 5 times lower than their Flooded counterparts. No need to recharge the dormant battery frequently.
The Renogy Deep Cycle Hybrid Gel Battery comes with advanced valve-regulated manufacturing technology. This 12-volt battery will provide you with adequate power to run a space heater with ease.
It has max discharge capability and leak-proof sealed battery technology, for long-lasting performance.
This powerful battery has a minimal discharging rate that is below 3 percent. You can use the battery for multiple purposes.
The battery is lightweight, and you can easily carry it to the camping area with the solar panel.
With the three years manufacturing warranty, you will get the after-sales service, and they ensure the materials during this time frame.
Rating: 4.5 out of 5
Overview:
Spec 1: 12-volt
Spec 2: 100 Ah
Spec 3: Advanced valve regulated technology
Spec 4: Compatible with solar panel
Spec 5: Max discharge current
Spec 6: Fully sealed 
Spec 7: Leak proof
Spec 8: Self-discharge rate below 3%
Spec 9: 63.9 lb. 
Spec 10: 3 years warranty
This battery is compatible with a solar panel, and you can connect the heater easily to this power source. It will store the necessary power from the solar panel and provide it to run the heater.  The battery is durable, long-lasting, and efficient enough to fulfill your heating requirements while camping.
With the advanced charging and discharging technology, the device will store maximum power within a short time. It will enhance the outdoor heating experience without electricity.
You can use this battery to run other appliances and devices during camping. It is suitable for power banks, LED lights, and more.
The portability of this battery enables you to set it wherever you want. You don't have to worry about the cold temperatures and darkness in a winter outdoor camping area.
Besides, the manufacturer got thousands of positive and reliable reviews.
Pros
Cons
Easy to connect
Enduring performance
Affordable price
Portable Generator to Power Space Heater for Camping
A portable generator can be a great solution to power your camping space heater. You can use this compact device to get the ultimate power in remote areas.
Westinghouse iGen160s Portable Power Station
Sale
Westinghouse 155Wh 150 Peak Watt Portable Power Station and Solar Generator, Pure Sine Wave AC Outlet, Backup Lithium Battery for Camping, Home, Travel, Indoor/Outdoor Use (Solar Panel Not Included)
VERSATILE OUTLETS CHARGE UP TO 9 DEVICES AT THE SAME TIME: Pushing 100 Rated Watts and 150 Peak Watts Through (2) 120V Household Outlets, (2) USB Ports, (1) Quick Charge USB Port, (1) USB-C Port, (3) 6mm 9-12V DC Outlets - Strong Enough to Easily Power a 36" LED TV, Box Fans, or Heated Blankets.Low voltage protection, short circuit protection, and overload protection protects the battery and connected devices to ensure peace of mind and reliability
HOURS & HOURS OF POWER ON A SINGLE CHARGE: 155 Watt-Hours of Lithium-Ion Battery Capacity - Provides Long-Lasting Power That Charges Smartphones Up To 17 Times, Tablets Up to 9 Times, DSLR Cameras Up To 16 times, Drones Up To 23 Times - Delivers Hours of Power for a Nintendo Switch, Bluetooth Speakers, and GPS Systems
SMALLEST, LIGHTEST PORTABLE POWER STATION IN ITS CLASS: At 3.75 lb. the iGen160s Is Lighter Than a Full 36 oz. Yeti Rambler and Smaller Than a Lunchbox - Backpack Ready Mini Generator With a Convenient Carrying Handle and Built-in Flashlight and Reading Lights - Perfect Compact Charging Station for Camping and Other Outdoor Activities
If you are looking for a powerful generator to run a heater in camp, this is an ideal device for you. It comes with 3 ways of charging capability, and the device is compatible with solar panels.
Are you planning to buy solar panels to power your house? Read our Solar Panel Buying Guide first before purchasing.
The generator contains 5 DC USB outputs and a 110-volt AC. Besides, the battery included 3 modes of LED lighting.
This power storage is designed with high-quality materials, and the lightweight feature makes it portable.
It has an ultra fast-charging 3.0technology for a quick charge. The battery will get fully charged within 3 hours.
Rating: 4.5 out of 5
Overview:
Spec 1: Solar and grid tied
Spec 2: Multiple outlets 
Spec 3: 3.75 lbs
Spec 4: 110V/100W AC Outlets
Spec 5: Outdoor and indoor usage 
Spec 6: Car charger included
Spec 7: LED light
Spec 8: 3 lighting modes
Spec 9: 5 DC USB outputs
Spec 10: No sound
This is a great device for campers, and it will provide you with a versatile user experience. The device will get a charge from the solar panel when camping. You can run the heater and other equipment easily with this powerful generator.
With the lithium-ion technology battery, the device can generate adequate power for running a heater.
You can use this solar power storage for camping, fishing, cooking, and getting a bright light where electricity is not available.
The multiple ports of this device enable you to connect to several devices at the same time. You can charge smartphones, power banks, smartwatches, and more.
The LED light will illuminate the darkness at night and secure the area when camping.
Pros
Cons
Useful for any occasion
Ultra portable
Easy to install
No major issues found
Hook-up Cable
Hook-up cable will help you to run the heater from the car or caravan. It is the best alternative to power a solar or battery heater when camping. 
If you are looking for the best alternative to run a portable heater without electricity, this hook-up cable is ideal for you. 
It is a flexible cable and comes in 25-meter length, and you can connect the cable easily to the car or caravan adapter. 
This cable is designed with high-quality PVC materials and the orange color increases the visibility of the cable. 
It has 3 pin outputs with 240-volt power. With this device, you can easily run the heater while camping. 
With the all-weather condition feature, you can use the cable in extreme snow or rain.
Rating: 4.8 out of 5
Overview:
Spec 1: Flexible
Spec 2: Free cable carrier
Spec 3: 240V 2P+E (3 Pin)
Spec 4: 25 meter
Spec 5: Extension Lead
Spec 6: Durable material
Spec 7: Quality manufacturing
Spec 8: Perfect for outdoor
Spec 9: PVC cover
Spec 10: High visibility
This high-quality hookup cable is ideal for portable heater generators and batteries. By connecting this cable, you will get adequate power from the car.
With the extension facility, you will be able to use it for a long distance from the car. For example, you can easily make camp in the deep side of the forest by parking the car on a clean surface.
It is also suitable for homes, offices, and businesses. In case of a power shortage, you can use the cable to run small appliances at your home.
Besides, this is a flexible cable, and it will allow you to use it for zigzag connectivity. You don't have to worry about leakage and short circuit. Because of the high-quality cover and effective connecting power will ensure safety.
Pros
Cons
Easy to install
Easy to store
Lightweight 
No issues found
Conclusion
Finally, you get the best ideas about solar-powered space heaters. Now you can select the best option for you. You can choose a battery, solar panel, inverter, or generator to run the space heater.
Besides, the hookup cable is also suitable for solar space or portable heaters when camping. But, you can not use this device without a vehicle.
To get the best experience, compare the devices with your expectation and needs, then select the most effective one from the review list.
It will provide you with the ultimate product that can run the solar space heater hassle-free.