The solar industry is growing, with global manufacturers and the leading companies trying to establish a holistic market for consumers of all classes.
Panasonic and Sunpower are the pioneers of solar panels for the global market. These two energy giants develop a different energy sector and market of renewable energy.
If we discuss the Panasonic solar panels vs. Sunpower solar, it will be easier to understand product specifications and features.
In this article, we present a solar panel buying guide and short reviews of the solar panels of these two manufacturers.
Besides, we find each company's best solar panel model and compare their products in detail.
What Need to Look for When Buying Solar Panels
Installing the best solar panels will provide you with adequate energy and efficient solar panels to ensure long-term service with the value of money. 
Before selecting a solar panel, you have to consider some key features to understand the specifications and production capacity of the solar panel.
Best solar panels go through quality control manufacturing and contain the latest technology.
To find the best solar panels, you must specify the quality with some essential matters. 
Let's explore the characteristics you have to look out for when buying solar panels.
Manufacturer
The best product comes from the best manufacturer, and it applies to solar panels too. If you select a solar panel manufacturer with years of experience and the latest technology, you will get the best product. 
Leading solar panels manufacturers try to enhance their service for the global competition, and they are offering a reasonable price.
Before purchasing your next solar panels, you have to consider the brand. It will ensure an efficient product for this renewable energy system.
Besides, leading brands have a wide supply chain to provide one-stop solar panel delivery.
They will offer you the best installation facilities if you ask for the installation.
Efficiency
Solar panels will absorb sunlight and produce electricity. The system will generate adequate power for your home, office, or business if you have efficient solar panels.
Besides, you have been installing solar panels for a long time. It will last for 25 to 30 years. That is why efficiency is important. Without powerful solar panels, you can not get energy for a long time. 
For example, if you have installed solar panels with the highest degradation rate, it will never be fruitful for 30 years. 
Inefficient solar panels will just use your rooftop without producing sufficient energy. So, consider this fact before installing solar panels.
Solar Panel Type
Imagine installing solar panels without any idea of solar panel types. It will be a crucial mistake for you as a homeowner.
If you don't have any idea about solar panel types, an installer can provide the least efficient solar panels at the highest price.
On the contrary, if you know solar panel classification facts, you can ask the manufacturer for the best type.
Similarly, each type has an individual efficiency rate of energy production.  You have to find a suitable type for your solar energy solution.
Monocrystalline, polycrystalline, and thin-film solar panels are the most used types in the solar industry.
Solar Cell Technology
Global manufacturers are producing solar cells with the latest technology. Hybrid solar panels are more efficient than traditional solar panels. 
Besides, companies try to develop new solar cells with a combination of previous technologies and types. 
As a renewable energy consumer, you have to consider solar panels with the latest technology. It will enhance the solar system's efficiency and allow you to get more power with the same space.
For example, in the above section, we present the Sunpower X22 and Panasonic N325 that come with the latest solar technology and produce more energy.
Power Degradation
Power degradation represents the efficiency loss of the solar panel per year. It will reduce the production rate every year with a minimum percentage of the total efficiency of the solar panel.
Quality solar panels have a minimum degradation rate, and they will remain serviceable for the next 30 years. 
On the other hand, normal solar panels will be unable to perform in the long run, and their degradation rate is higher than quality solar panels.
Before installing solar panels for your energy solutions, you must understand the fact before installing solar panels. Otherwise, your primary investment will be a loss project.
Installation and Manufacturing Process
You have selected your solar panels to install, but have you thought about the installation? You can't install solar panels at home. 
It will never be professional if you want to follow the DIY process. Solar panels are the most important parts of a solar system. 
Solar panels require professional installation and an accurate mounting option. For example, you don't know that solar panels must be installed facing south. 
If you install it in the other direction, it can not get sunlight for the whole day. So, it is better to install solar panels by professionals.
On the contrary, the manufacturing process is also important because only proper manufacturing can ensure the best cells.
Size of the solar panel
Solar panels need space to mount for getting sunlight. You can install solar panels on the rooftop or the ground. Consumers like to install solar panels on the rooftop because they will utilize the space above.
So, you have to select efficient solar panels that will take less space and produce more energy. For example, Panasonic solar panels will save 60 percent space with high-efficient solar panels.
You can compare the size of a solar panel regarding its cells and wattage. In general, a traditional solar panel comes with 65 inches in height and 39 inches wide.
Price
The value of money is a significant part of solar panels that you can't ignore. You are going solar because you want to save your electricity costs.
 If the solar panels do not have the perfect price compared to the efficiency, it is difficult to get sufficient energy from the system.
Similarly, grid-tied and off-grid solar systems have different requirements. After installing a solar system, it is not worth paying thousands of electricity bills.
So, try to find out the best solar panels for your renewable energy solution. Panasonic and Sunpower have several models to ensure your energy production rate.
Warranty
For solar products warranty provides your after-sales service and ensures the repair in case of any damage. Besides, there are other maintenance issues that you will get from the manufacturer and supplier.
You should install the solar panels that come with wide warranty coverage and provide you with potential customer support.
The warranty for solar panels is divided into two sections, solar panels physical warranty and solar panels energy production warranty.
The first one deals with the manufacturing fault or any physical damages, and the second one deals with the efficiency of the solar panels.
Panasonic Solar Panels vs. Sunpower Short Review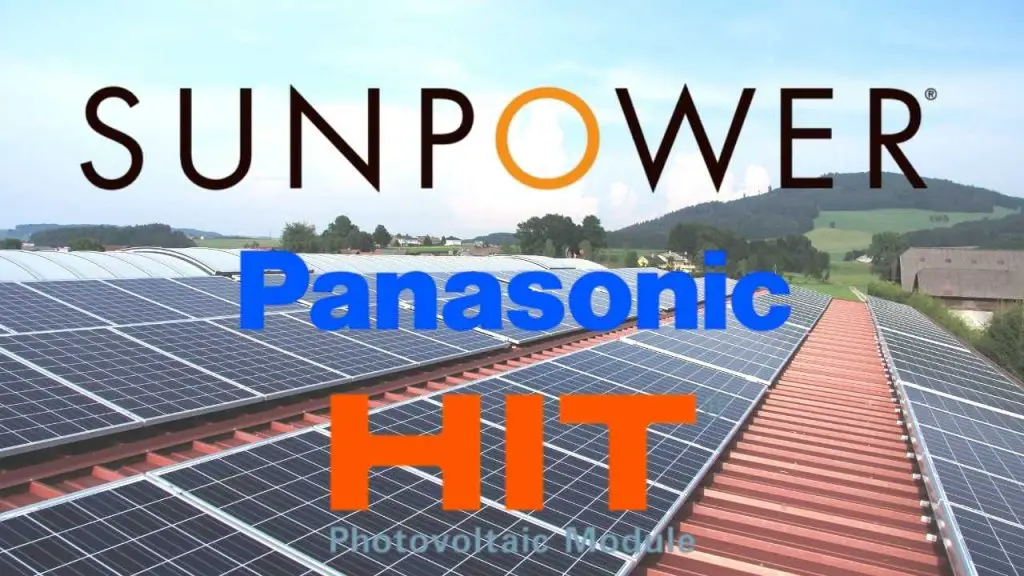 Panasonic is the leading consumer electronics manufacturer, and the company installed millions of solar panels in the U.S. The solar panels of this manufacturer are suitable for home, industry, and business installation.
On the contrary, Sunpower solar panels are perfect for almost all solar systems with the highest efficiency. The company produces the N325 Photovoltaic Module HIT with a record-breaking efficiency of up to 19.4 percent,
The best value point of Panasonic solar panel
Panasonic solar panels have the best technology for the highest efficiency. Panasonic's Heterojunction technology (or HIT) enables them to make a unique solar cell with high efficiency.
With the HIT technology, Panasonic creates solar panels that combine monocrystalline and ultra-thin amorphous silicon layers to reduce power loss. 
Solar cells with HIT modules can produce up to 13% more power during the day and perform perfectly with better temperature characteristics.
This value will enhance the energy production process and enable you to get more energy than a traditional solar panel.
Sunpower best value point
Sunpower has the best value for efficiency when it comes to solar panels. The company is producing solar panels with the technology of Stanford University. They have established solar cells with 22.6 percent efficiency.
It is the value of Sunpower solar panels when you install a solar system for your home or office.
Your primary investment will return soon if your solar panels have the highest efficiency.
Panasonic Solar Panel Best Model
The Panasonic N325 Photovoltaic Module HIT® 40mm is the best model from this manufacturer. The HIT technology enhanced the power production of this module, and this is one of the most efficient solar panels from Panasonic. This solar panel is also known as HIT+ (plus).
Besides, the solar panel comes with 335 and 340 watts variants with 96 solar cells. With the N-Type monocrystalline silicon cells and glass, lamination makes this solar panel the best in its category.
Similarly, the enhanced new frame design and pyramid cell structure are perfect for optimal sunlight capture. It has a low-temperature coefficient mode of -0.285/degrees Celsius. 
It will produce more energy than an average solar panel when it gets a higher temperature. Using heterojunction technology and ultra-thin amorphous silicon layers reduce the electron loss. 
The panel prevents rain accumulation and eliminates water stains from the solar panel surface with the water drainage frame design.
You can run a maximum 600-volt power system with this efficient solar panel. The HIT+ solar panel comes with a complete 25 years warranty on linear power output, parts, and product quality.
Sunpower Solar Panel Best Model
The Sunpower x-series solar panels are the best products from this manufacturer. The company invents this solar panel with high performance and excellent durability. 
It comes with more than 22 percent efficiency and ensures maximum performance at high temperatures. 
The panel is designed to produce the most energy in demanding real-world conditions. It has the premier engineered technology with the newest and powerful Maxeon technology.
Solar cells of Sunpower X series built on a solid metal foundation. Installation of this solar panel will get 60 percent more energy from the same space. X22-360 is the best product of this energy manufacturer. 
Finally, the product has the best warranty with minimum degradation of 0.25 percent per year.
Detailed Comparison Between Panasonic Solar Panels and Sunpower Solar Panels
Here we present a detailed comparison between Panasonic and SunPower solar panels. We try to find out the most important and relevant factors regarding these two solar panels manufacturers.
We hope it will help you understand the matters and select the best solar panels for your next projects.
Efficiency
Both manufacturers have almost the same efficiency while considering the production rate.
The Panasonic HIT technology allows them to increase efficiency by 19.6 percent.

On the contrary, the Sunpower X-series solar panels have 22.6 percent efficiency.
Check SunPower's top solar panels here.
Solar cells
Panasonic solar panels contain 96 cells in a 340-watt solar panel, and the Sunpower solar panel also has the same amount.
Warranty
Both of the manufacturers provide 25 years warranty for solar panels. It will enable you to get world-class warranty service from these renowned companies. 
Installation
Panasonic develops a strong installation network with experts and local service providers. In the same way, Sunpower has the most advanced solar panel installation professionals.
Solar Panel Type
Panasonic uses HIT technology with amorphous silicon layers then form heterojunctions to produce solar panels. This type of solar panel is also monocrystalline.
Similarly, Sunpower also produces monocrystalline solar panels. The difference is that Sunpower has the highest efficiency with the same type of solar panel.
Power Degradation
Comparing the degradation rate, Panasonic solar panels have the best degradation rate of 0.26% percent per year. It is perfect for long-run energy production. They achieve this degradation rate because of using HIT technology.
On the contrary, Sunpower produces high-efficiency solar panels with a degradation rate of 0.20 percent per year. It has the lowest degradation rate of solar panels in the world.
Size of the solar panel
Panasonic tries to manufacture compact design solar panels, and their latest models come with 62.6×41.5×1.6 in dimensions. They use 96 cells within this size and maintain a quality production process.
Sunpower uses a dimension of 65x39x2 inches. The size of their solar panels is larger than Panasonic, but it is a matter of 2 or 3 inches only.
Price
Panasonic HIT 340-watt solar panel will cost you $318 to $450 in the USA. The price may vary depending on the location and installation process.
On the other hand, you have to pay $800-$900 for Sunpower x-series solar panels. They offer $3.4 per watt, and it is comparatively high.
Worldwide availability
You will find both solar panels worldwide, and they have local suppliers and installers in almost every country. If you don't find any direct store, you can ask a solar panels agent for Panasonic and Sunpower solar panels.
Panasonic concentrates mainly on the USA and Australia markets. Sunpower tries to cover the global market by expanding its service every year.
Wrapping Up
Altogether, Panasonic and Sunpower are the global leaders in solar panel manufacturing.
If you want to install high-efficient and cost-effective solar panels for your home, business, and office, you can ask them for the best price and service.
We believe that you will get the best solar panels and professional installation service, along with a perfect warranty.
Besides, they have the latest technology to provide hassle-free solar energy service. It will be long-lasting and organized when you get solar panels from already established brands. They can provide excellent service to consumers.