Do you want to know what every solar product should have? Then this is the right place for you. If you're planning to buy solar products but are unsure of what they should have, this can be a great solar panel buying guide.
Imagine buying a product in the store only to find out that it's overpriced and has similar products that are cheaper and way better than yours. You don't want to be in that situation, do you?
The rapidly growing fame of solar products has made it a bit challenging to choose the best product.
In this article, we have listed a few things to keep in mind before buying solar products. Let this be a simple guide for you if you plan to purchase solar products in the future.
Here are things you need to look for in solar products: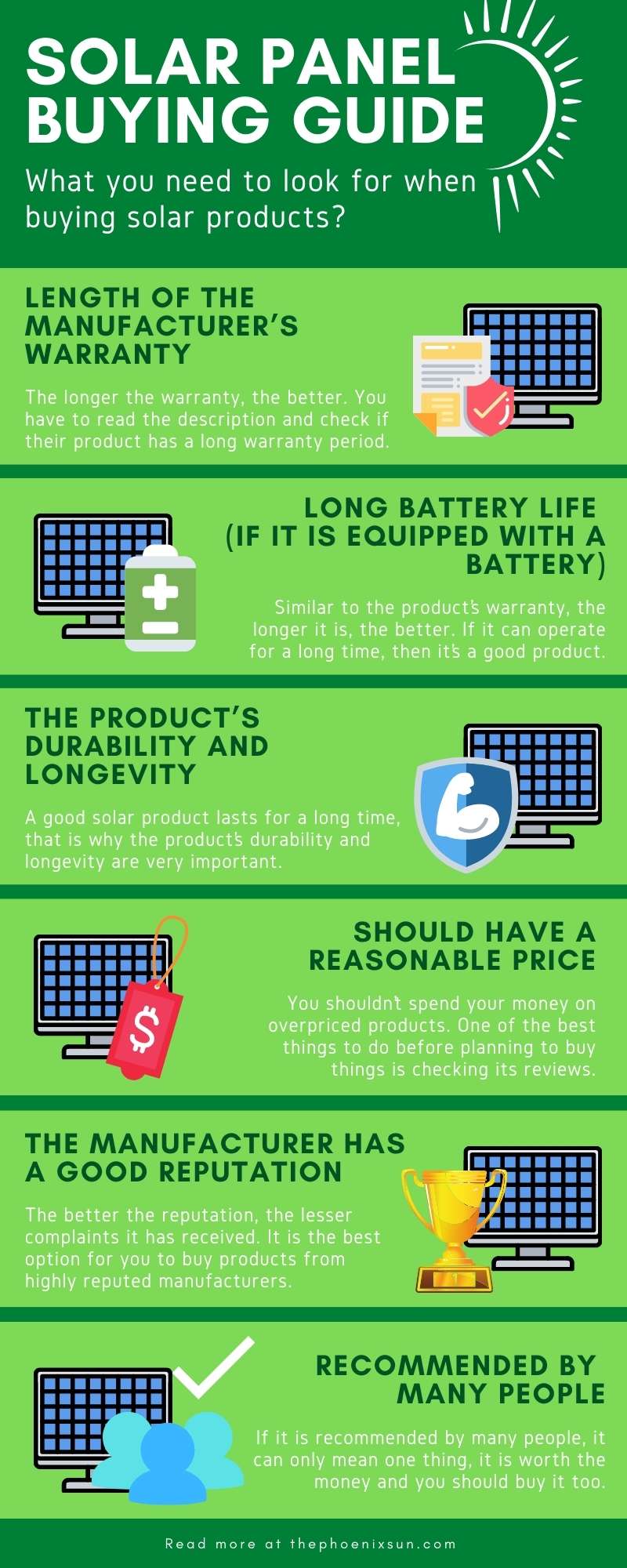 Length of the manufacturer's warranty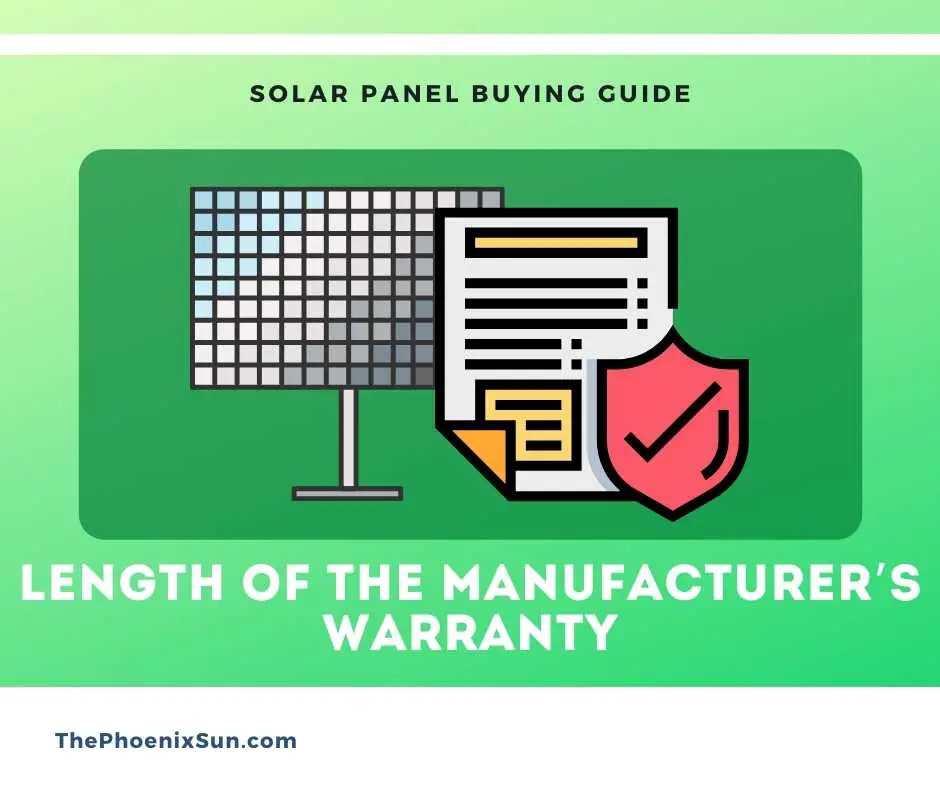 The manufacturer's warranty is extremely important if you want to buy large-scale solar products like completely going off-grid and relying on solar energy.
For example, solar energy systems in your homes are built to last for about 12-15 years. Having a warranty close to that period is very important if you have problems with their products.
However, if you want to buy small products like solar lanterns and solar pathway lights, a 1-year warranty should be enough.
The more extended the warranty, the better. That's why before you decide on buying solar products, you have to read the description and check if their product has an extended warranty period.
Long battery life (if it is equipped with a battery)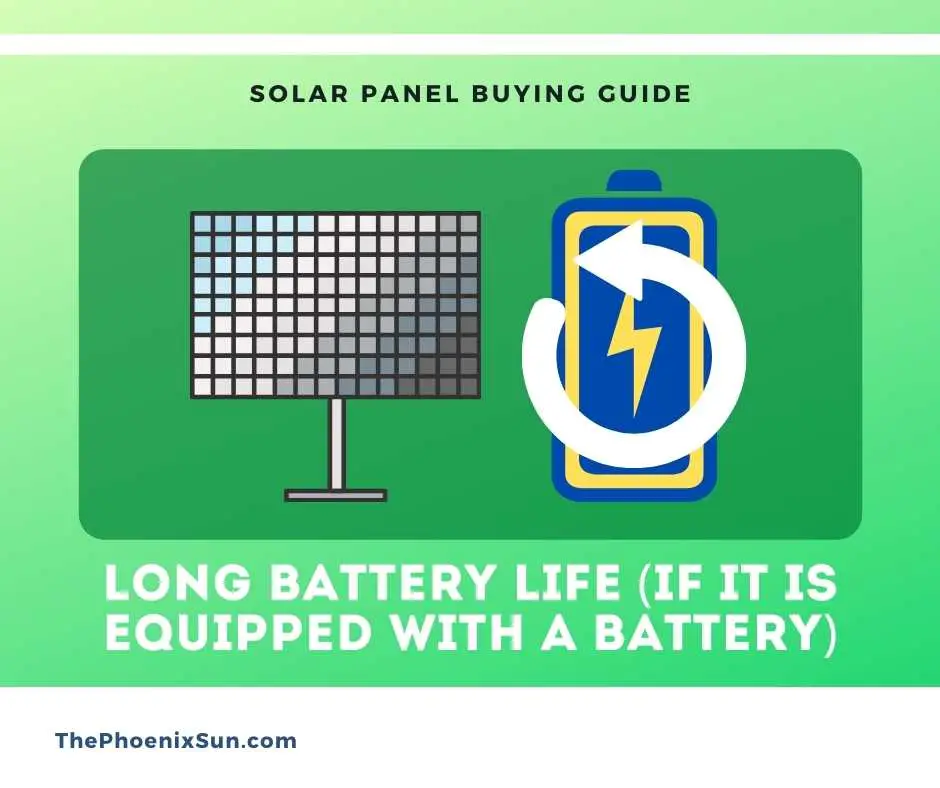 Some products are equipped with rechargeable batteries that enable them to operate even without the sun's presence.
Similar to the product's warranty, the longer it is, the better. If it can operate for a long time, then it's a good product.
Although it can operate for a long time, only a few products maintain their quality over a long period.
However, if you buy products like solar lights, then battery life is essential. It can also be helpful to purchase solar products where batteries can be replaced to make it easier for you to switch out old batteries.
The product's durability and longevity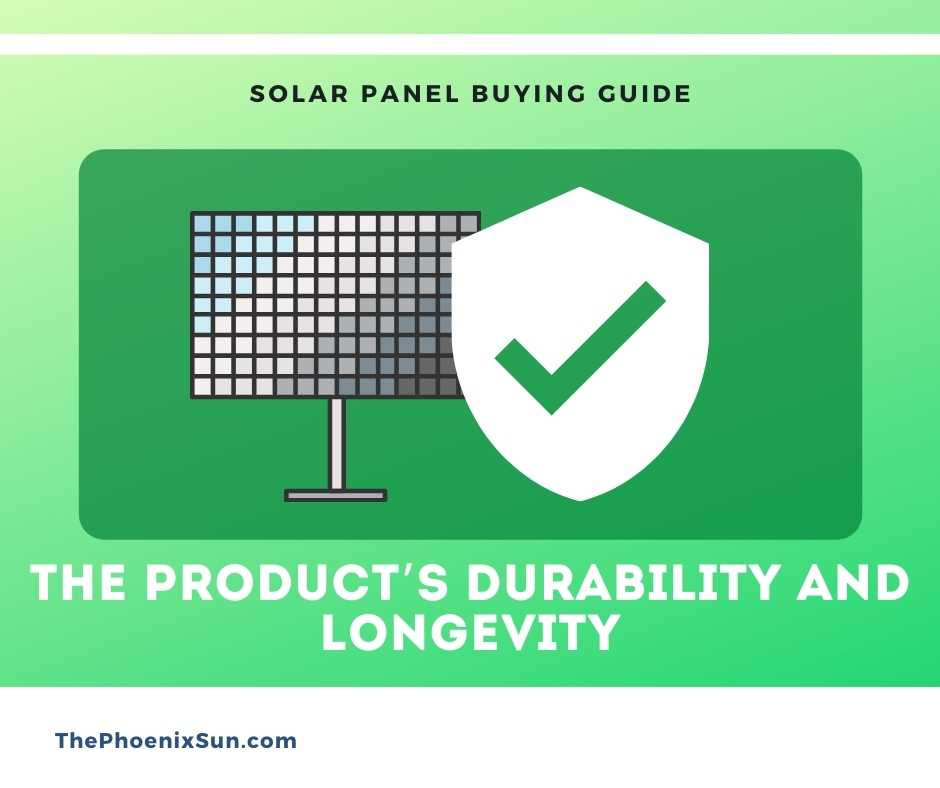 A good solar product lasts for a long time; that is why the product's durability and longevity are very important.
Before buying these products, you should consider the materials used to make these things. You should see if they are made out of high-quality materials that are built to last long.
One way of spotting a good product is by checking its reviews. If you manage to spot some reviews that say it lasts for a long time, you should buy it.
The more durable the product, the less money you have to spend on replacing it or its maintenance.
Should have a reasonable price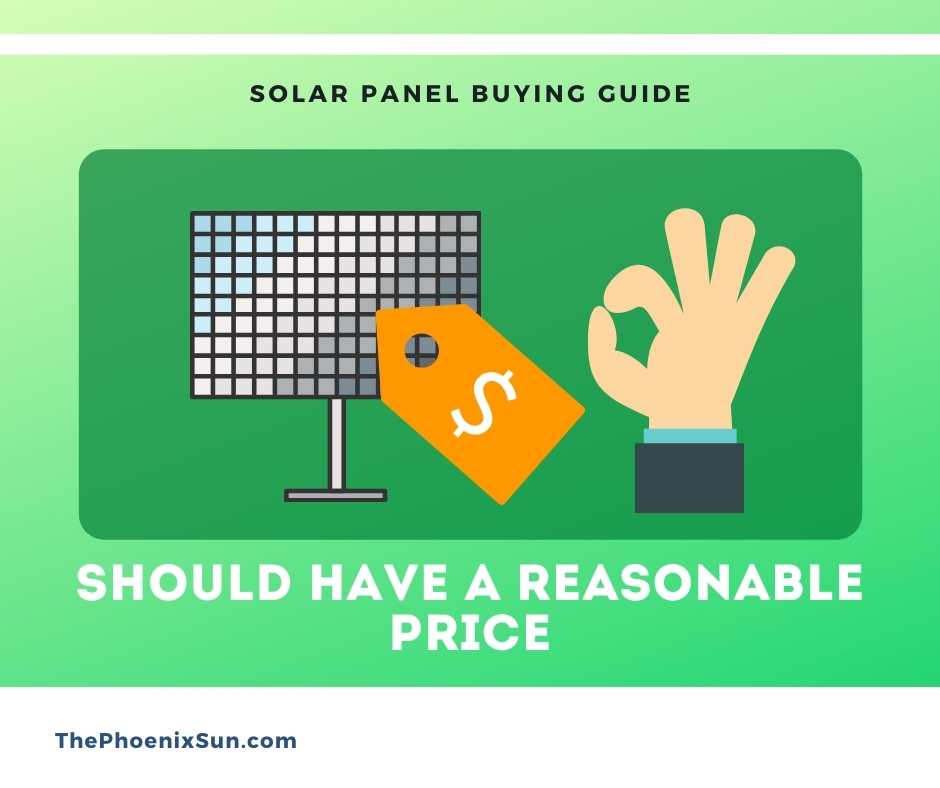 You shouldn't spend your money on overpriced products. One of the best things to do before purchasing any product is to check its reviews.
Some reviews like "good for the price" should be the reviews you should be seeing if you want to ensure the product you are buying comes at a reasonable price.
You can also see and compare products with similar specs and see which ones are cheaper and has good reviews.
Optional things to look for in solar products:
The manufacturer has a good reputation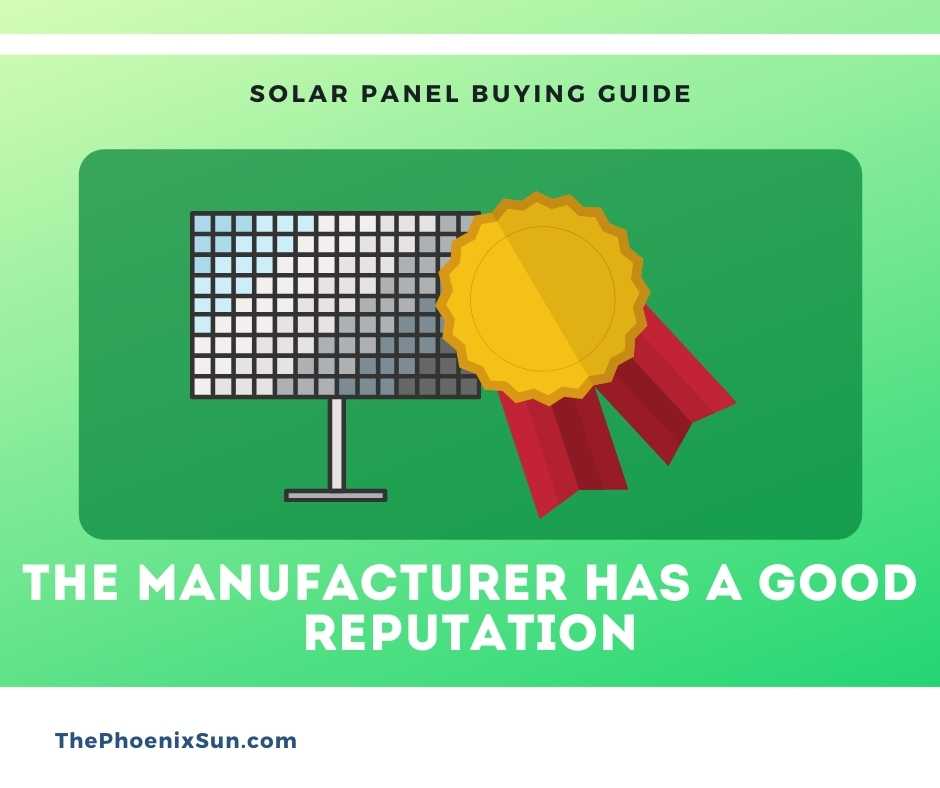 Well-known manufacturers provide good solar products. If the company that supplies you with solar products is reliable, there is a great chance that the products you receive are made out of high-quality materials.
A well-known manufacturer may also be able to help you with problems and issues that arise with your products.
The better the reputation, the lesser complaints it has received. It is the best option for you to buy products from highly reputed manufacturers.
Recommended by many people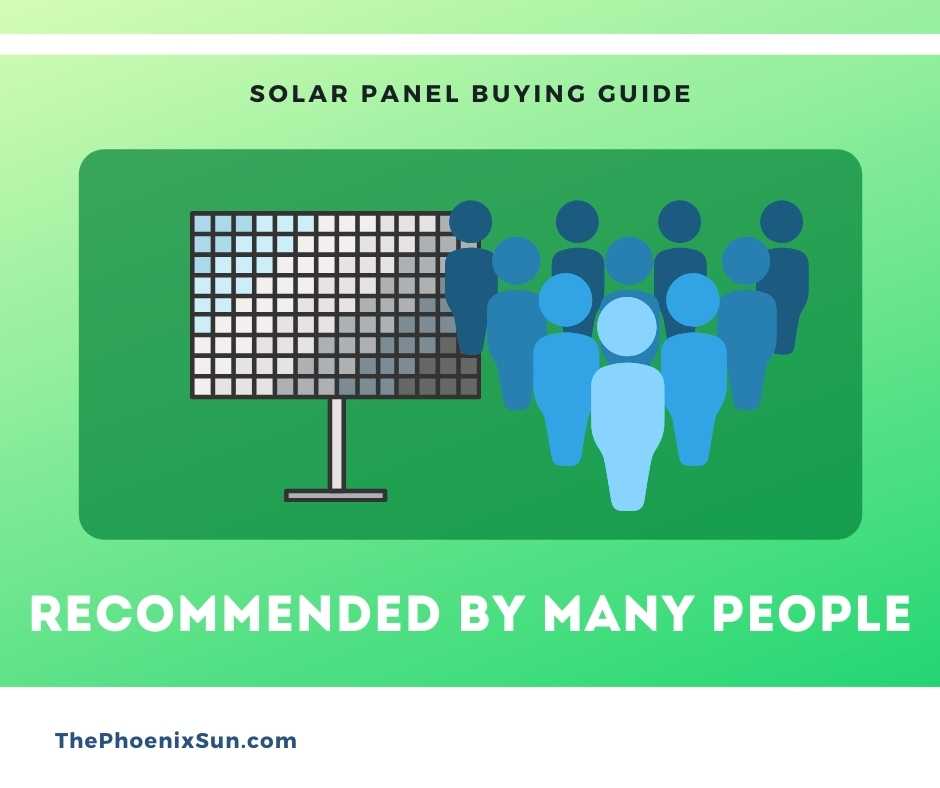 This might be the simplest thing you should look for in buying solar products. If many people recommend it, it can only mean one thing; it is worth the money, and you can buy it too.
Listening to other people's honest opinions about the products is one of the most helpful things you can learn about the products.
You can read their experience with the product and decide for yourself whether you still want to buy it or not.
TOP Solar Product Manufacturers In The Market
You can buy solar products directly from the manufacturers in the market or online.
We also have listed the best manufacturers together with their pros & cons and the type of solar products they create.
This can be a good guide for you if you plan to buy products made by reliable manufacturers.
All of them are trusted and are well-known in the solar community. If you plan on buying solar products, then the list below might be able to help you determine the best manufacturers in the market.
Jinko Solar
Jinko Solar is one of the world's leading solar energy companies. Their headquarters are located in Shanghai, China.
They distribute solar panels for commercial or residential use in different countries like the United States, Japan, Germany, the United Kingdom, Chile, Spain, France, Belgium, and other countries and regions.
They create solar energy systems that can be used in both residential and large-scale environments to generate electricity.
Pros:
The Jinko Solar panels are very effective and can gather solar energy efficiently.
Because of the panels' efficiency, you don't need much roof space to power up your house, compared to other similar brands.
The materials used to create the solar panels are made out of high-quality materials.
They are built to last long in your homes. That's why you don't have to worry about your solar panels breaking down after mild rain.
Jinko Solar is always active with its customer support. They do not fail to satisfy their customers with their solar energy systems.
They even offer a 10-year warranty that can be very useful just in case it breaks on the way. 
Cons:
Only have standard solar panels
They may not have premium solar panels, but they are reliable and get the job done.
As long as the solar product provides a quality amount of electricity for a long time, it is more than enough considering the benefits you gain from relying on solar energy.
Overall, Jinko Solar is a cost-effective company that supplies you with good solar panels that can last for a long time. Not to mention, their considerate customer service will make sure that you are content with the services they give.
Canadian Solar Inc
The solar panels made by Canadian Solar Inc will not fail to impress. For starters, unlike the standard 10-year warranty, they offer a 12-year warranty with their solar energy systems.
That's an extra two years of warranty which can be very helpful. Canadia Solar Inc has 17 different manufacturing facilities spread across Asia and America.
They are producers of tier 1 panels, which means they are highly efficient and well-known by many people. It has gained the trust of its customers because of its product's reliability.
Pros:
Great value for your money
With its 12-year warranty, the solar products Canadian Solar Inc provides its customers are definitely worth the money.
Customers love solar energy systems by Canadian Solar Inc because of the reliability of their products.
Like most of the best solar companies, the panels are efficient and don't require a lot of roof space.
This can be helpful if you live in a small home and wish to go off-grid and rely on solar energy to generate enough electricity in your home.
Cons:
Although the company is based in Canada, the solar panels are made from different factories around Asia and America.
So if you're going to buy solar products from Canadian Solar Inc, don't expect them to be made in Canada.
Canadian Solar Inc is a good manufacturer and is known for creating reliable products to wrap things up. They offer a unique 12-year warranty which can be helpful in the maintenance of your solar energy system in the long run.
Trina Solar
Trina Solar is a well-respected tier 1 solar product manufacturer. You can depend on the reliable solar energy systems that they produce.
Trina Solar also creates salt mist corrosion-resistant solar panels. This means people living near the ocean can use these solar panels without worrying too much about corroding the panels.
They even have a "TrinaBESS Powercube," a home battery storage system that enables you to use the electricity gathered during the day at night.
The TrinaBESS Powercube is very helpful in many situations, like unscheduled power interruptions in urban areas.
Pros:
Home battery storage system
With their TrinaBESS Powercube, you can use electricity even without the sun's presence.
For example, if you use television during the night, it is possible with their home battery storage system.
This can also be used in other situations like power interruptions in the city or complete blackout.
Cost-effective combination of price and reliability
Because of the reliable materials used to create Trina Solar panels, you don't have to worry about getting the panels damaged easily.
Together with the standard 10-year product warranty, you can enjoy the eco-friendly way of getting electricity from the sun.
Cons:
Requires an adequate amount of sunlight
Some reviews state that solar panels are not very efficient in absorbing energy when the weather isn't perfect.
Just a slightly overcast day, and they stop generating as much energy as it was advertised.
To finish things, Trina Solar, a solar energy system, is a reliable manufacturer. Its unique home battery storage system enables you to use electricity even without the sun's presence which can be helpful in power outages/interruptions.
Wrapping Up
It is essential to spend your money wisely on products that are worth their features. More importantly, you should be satisfied with what you have.
These are the things you need to look for in solar products. You should also be aware of deceptive marketing and advertising. Carefully read the description to avoid misunderstanding.
Recommendations from other people can also help, especially ones who bought the product. You can learn from their experience with the product and decide whether you want to buy it or not.
Overall, you can make this your guide if you are struggling or unsure of choosing the right solar products for your use.