Many choices are available if you want to decorate your backyard, garden, or business, but not many are as creative as string lights.
String lights can turn your average night mood into a festive and decorative one in your backyard or garden. It is a creative lighting solution for the gorgeous appearance of the place.
You need to choose the best solar string light to light up your expected places. String lights are perfect for both indoor and outdoor decorations.
Traditional string lights require complex cable connections and consume power from the grid. This means they will raise your electricity bills and also can be hard to connect outdoors.
Solar string lights will save you money by using solar energy and providing an elegant lighting solution with a comfortable installation facility.
This writing will provide a complete buyer's guide and reveal the reviews of the best solar string lights in 2021 with significant key features, advantages, disadvantages, and FAQs.
Buyer's Guide: What to Look for in a Good Solar String Light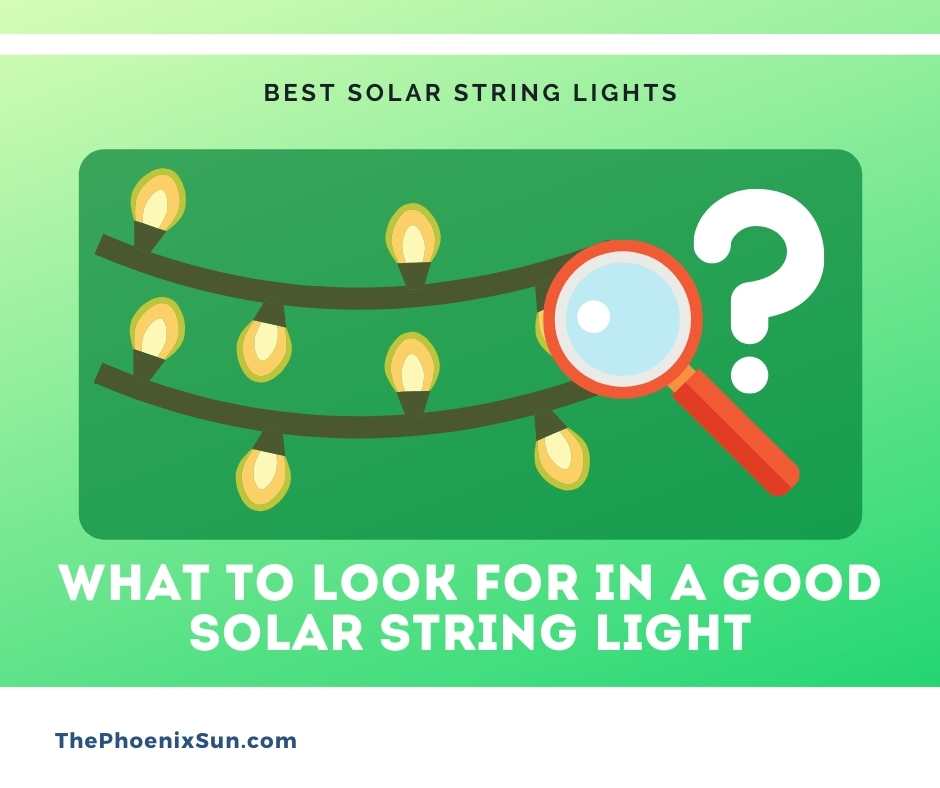 Finding the best solar string lights by yourself is not easy without prior knowledge and a complete buyer's guide.
You must understand some basic features and options to select a good solar string light that will provide you with a long-lasting service apart from problems.
Here, we have created a list of our top picks of the best solar string lights based on their specifications and user experience.
Some important factors to consider when you are looking for the best solar string light include;
Energy Efficiency
For a solar-powered string light, the measurement of energy consumption is significant.
An efficient and low energy consumption solar string light will enable you to get an extended lighting period and cover more areas with decorative lights.
Similarly, a solar string light requires sunlight and powerful solar panels to generate electricity. A proficient lighting system provides you with a complete solution and generates more electricity within a short time.
The solar system stores energy during the day and provides power at night to the string lights, so a powerful and effective system is required.
Decorative Activity
Remember, you are using string lights to decorate the house, garden, business, or backyard.
In this sense, the selected model should have an ideal design and lighting capacity for several decorative activities.
A good string light contains multiple functions and colors for making different and attractive designs.
We select models that have powerful decorative facilities and attractive features.
Versatility
When a device can perform multiple functions, it will provide more usage opportunities for you. Like other products, you may find several purposes for a solar string light.
You can install the best solar string light on a tree, wall, building, fence, or any other site. A versatile design will permit you to do that easily.
This versatility makes the decorative work easy and provides several ways to use your string light for decorations.
Besides, multipurpose solar string lights save your time and costs and provide excellent results.
Durability
Picking a durable solar string light will help ensure your string light provides long-term service and purpose.
Durability is an important factor to consider when you are choosing a string light. This is because a string light can be used on different occasions in different places.
For example, you want to cover your garden for a party, and there are lots of trees. In this situation, a durable string light allows you to install it even on the trees and their branches.
Similarly, if you want to install a string light permanently in the back, then a strong design will let you install it without damage.
So, we consider durability as one of the major features of the best solar string lights.
Installation Process
An easy installation process is required to get a hassle-free service. The string lights that come with the quick installation process are perfect for rapid setup and usage.
You have to consider the wire and solar panels setup process before selecting the best solar string light.
In our list, we recommended the lights with a simple setup to help you turn that dark spot into a lively one as fast as possible.
Besides, the best product quality should contain an effortless setting capacity to ensure a one-touch service. 
Warranty
The warranty ensures quality and reduces maintenance costs in case of any damage or problem. 
It is important to find a product with a warranty and ensure that the manufacturer provides the after-sales service accurately.
Costs
Decorative purposes are not the only reasons to consider getting a solar-powered string light. In general, solar-powered lights will reduce electricity consumption and enable you to run the lights without electricity.
So, the best solar string light costs must be affordable and considerable to save electricity costs for several years.
A good string light consumes less energy and provides lights at a low cost. The primary investment is only required.
Solar String Lights Reviews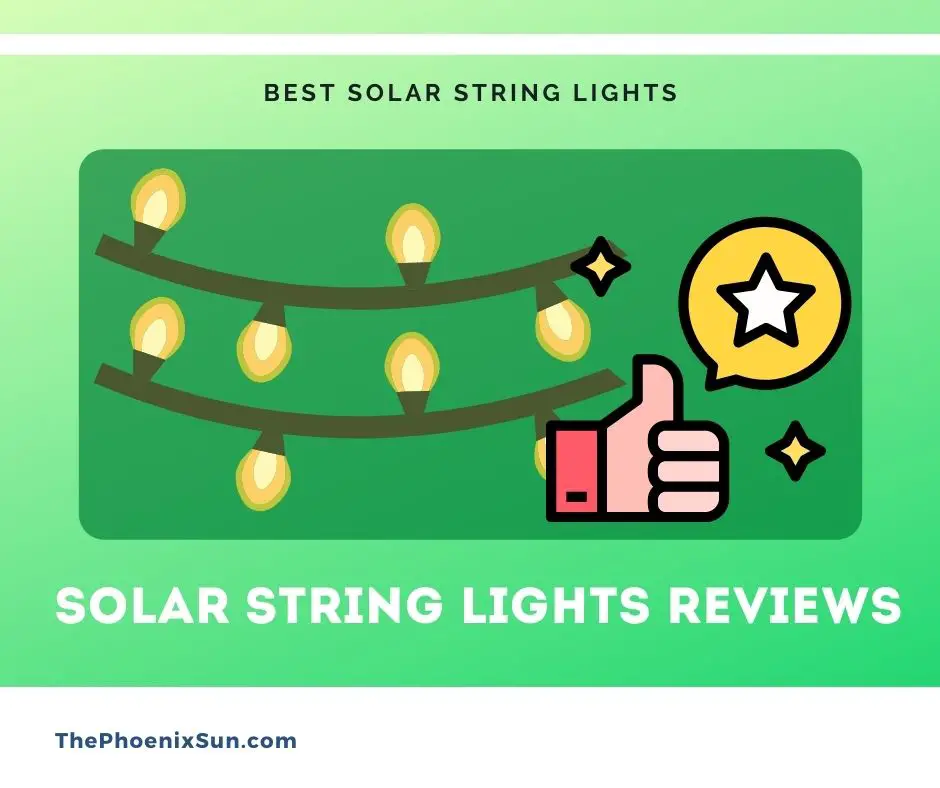 We present the 9 best solar string lights of 2021 based on their specifications, functions, features, and customer satisfaction.
Our goal is to select the most valuable and durable solar string lights by following quality guidelines.
We select string lights that are energy-efficient and cost-effective so that you can get the real reviews of the expected string light.
Besides, we include the latest products in the market to keep you up to date with smart and elegant designs.
If you are looking for a solar string light suitable for your garden or any other parts of your home, you should go for the AMIR Upgraded Solar Powered string lights.
This solar system string light comes with two different LED light facilities, and you can pick 100 or 200 LEDs based on your necessity. 
The system has a 33 feet high-quality copper wire and a 360-degree viewing angle for focusing on every direction. 
These energy-efficient lights have auto power on/off system and two-button switches. The attractive lighting will be turned on automatically in the dark and turned off during the day. 
In the same way, the AMIR solar string lights are waterproof and come with IP65 water-resistant standards. 
The solar panels are very powerful and can charge the battery quickly. With this lighting system, you will get warm white color lighting and quality solar panels.
Rating: 4.1 out of 5
Overview:
Spec 1: 100/200 LEDs
Spec 2: Warm white color
Spec 3: 1 Lithium-ion battery
Spec 4: Art decorative style 
Spec 5: Flexible design
Spec 6: Copper wire
Spec 7: Water-resistant
Spec 8: Push on/off buttons
Spec 9: Multiple applications
Spec 10:4.72 x 2.76 x 4.72 inches dimensions
Review
This excellent string light is easy to install and store. The system comes with flexible copper wire, and you can easily create any shape of the wire to fit the light on your gate, tree, fence, or other structures. 
The coil storage system allows you to store it quickly and keeps it ready for nest use. It has a low energy consumption rate and can run for a long time with a single charge.
You can create a romantic night with the bright light of these solar string lights. 
The tiny, cute and stylish design makes excellent sense, and you can start the lights without plugging in. 
You don't need to replace the battery because it is rechargeable, and the auto on/off system saves battery power with zero operating time. 
Besides, these solar string lights come with 12 months of warranty and 60 days easy return.
Pros and Cons
Pros
Cons
Build any shape you like
Easy to store
Quick installation system
Lightweight
Solar-powered
Flexible
Sunlight is required
Brightown LED G40 Outdoor String Lights are energy efficient and suitable for multiple decorative purposes. 
The solar string lights come with LED G40 clear bulbs made of plastic and can stand in extreme temperatures, rainy, windy, or damp climates. 
Long-lasting LEDs remain cool even after hours of illumination. It has 50 LEDs and has a 50ft length. 
Each bulb stands with a 12 inches space, and the plug is 6 inches from the socket. You can customize the arrangement according to your need. 
This widely used bulb consumes less energy and provides attractive lights all night. The easy installation process makes it more effective and effortless. 
Shatterproof plastic bulbs come with IP44 waterproof technology, and a single bulb can produce 40 lumens.
This energy-saving string light has a C7/E12 candelabra socket and can run with low voltage along with less energy consumption. 
The lifespan of these bulbs is very long, and they will serve you more than 10 to 20 times from a traditional bulb.
Rating: 4.5 out of 5
Overview:
Spec 1: 1W each bulb
Spec 2: C7/E12 socket base
Spec 3: IP44 waterproof 
Spec 4: 40 Lumens each bulb  
Spec 5: 125V 5A fuse
Spec 6: 50 feet wire
Spec 7: Waterproof
Spec 8: G40 globe bulbs
Spec 9: 20000 hours lifespan
Spec 10: Connect up to 7 strands
Review
Brightown brightness led patio string lights are made of high-quality material and perfect for indoor/outdoor decoration, home, backyard, garden, bistro, porch, balcony, etc. 
You can also use the lights for commercial decoration, including market, cafe, bar, city, rooftop, restaurant, business, festival, and many more. 
The clear LEDs will create a warm and romantic atmosphere that will bring an elegant look and promote your business. 
Besides, you can decorate your party to provide a relaxed and warm light for your friends and family. 
These lights can be used for pool decoration to convert your swimming brighter at night. 
With attractive focus and multiple powerful lights, you can also decorate a standing umbrella and get a beautiful landscape at night.
The quality of these string lights is incredible. It features waterproof and shatterproof technologies that provide you with excellent service in most weather conditions.
In the same way, you can use the perfect arrangement of this bulb at a wedding party. The excellent design and easy installation make it outstanding in this category.
Pros and Cons
Pros
Cons
Energy saver
Easy to connect
Lightweight
Multiple usages
High-quality materials
Flexible and durable
120 V energy source is required
If you are looking for small and powerful solar string lights, the Solvao string lights are ideal for your outdoor areas. 
These attractive lights come with a battery that can work up to 10 hours on a full charge. 
The inviting lighting system has 30 LEDs, and each light contains a 1-inch diameter. 
These charming outdoor decorative string lights can be a great solution for Christmas and holidays. 
The water-resistant system makes the lights able to work outdoors, even on a rainy day. It will fit elegantly on your balcony or patios with a 20 feet long wire. 
A 2V 100mA solar panel provides fast charging capacity, and a 600mAh battery is perfect for energy storage. 
You will get a whole night lighting after 8 hours of charging. Besides, the adjustable ground stake allows you to use it in expected places.
Rating: 4.6 out of 5
Overview:
Spec 1: Rechargeable battery
Spec 2: 30 warm white plastic bulbs
Spec 3: 2 lighting modes 
Spec 4: 8 to 10 hours working time   
Spec 5: 20 feet long wire
Spec 6: Adjustable ground stake
Spec 7: Waterproof
Spec 8: 6 hours sunlight to charge
Review
Solvao creative, warm white solar string lights are perfect for your decks, patios, porches, balconies, umbrellas.
Similarly, you can use it on fences, fire pits, gazebos, roofs, sheds, and other places.
It will make your outdoor places attractive and elegant with excellent outdoor lighting. 
You can use this lighting system also for camping, musing festivals, parties, and a wedding because it comes with portability. 
You can set it anywhere easily, and the direct sunlight will charge the battery within a very short time. 
The solar panel needs sunlight, and you have to angle it towards the sun; nature will handle the rest. The manufacturer adds a "set and forget" feature for this instant and fast charging capacity. 
The durable materials make the lights heavy and help it handle extreme weather conditions like rain, snow, and others. 
The waterproof system turns the lights on rain and helps you to continue the attractive night festival. 
You can enjoy the occasion with friends and family by setting these charming lights.
Pros and Cons
Pros
Cons
Solar-powered
Lightweight
Long wire
Multiple color modes
Heavy-duty materials
Flexible ground stake
Lifetime product replacement guarantee
Sunlight is required to power the battery
AMIR Upgraded Solar String Lights
Amir Upgraded Solar String Lights come with 8 outstanding lighting modes. You can change its bright lights to fireflies flashing, waves, fading, flashing, fading slowly, twinkle, steady on, and combination. 
The two buttons of the system make it easy to control with an automatic environment power on/off the system. 
With this system, the light turns on and off automatically at night and day. It has 200 bright LED lights and a 72 feet long, high-quality copper wire. 
The lights can spread their power with 360 focus, and you get excellent lighting in every direction.
The lights are waterproof and can run up to 14 hours with a single charge. The warm white color removes darkness and brings a natural atmosphere.
Rating: 4.1 out of 5
Overview:
Spec 1: 8 Lighting Modes
Spec 2: Solar powered 
Spec 3: 2 Switch Buttons 
Spec 4: 72ft high-quality copper wire   
Spec 5: 200 LEDs
Spec 6: Automatic power on/off
Spec 7: Waterproof
Spec 8: 14 hours working time
Spec 9: 1 AA battery
Spec 10: Warm white light's color
Review
This excellent string light is perfect for any special occasion, including indoor, outdoor, wedding home, party Halloween, Christmas, and provides you with a charming accent. 
It can spice up your party instantly with different lighting modes. The ideal length of the light enables you to decorate your yard, patio, deck, front porch, living room, or camping area. 
It comes with a simple installation process, and you can assemble the solar panel on the soft ground or top floor of the house. 
The total system only requires 5 minutes to install. You can reveal your endless creativity with these flexible and easily shaped copper wires LEDs. 
Turning the light of your imagination, you can make the place more attractive and fantastic.
Pros and Cons
Pros
Cons
Easy to install and store
Flexible
Several color modes
Lightweight
Sunlight is required 
Spectacular outdoor solar lights provide you with bright decorative light with solar energy. 
The Italian cafe-style lighting modes and vintage Edison bulbs make it outstanding in the category. 
The total system has a commercial-grade waterproof and shatterproof capacity. It is 48 feet long, has high-quality copper, and has 1-watt LED lights. 
These awesome lights are powerful enough to decorate your occasions and family times. It is made with durable materials, and long-lasting lights will serve you multiple times without any maintenance.
The panel can charge the battery with direct and indirect sunlight. Its LED bulb lasts for 20,000 hours. 
The color of the light is 3000k soft white. With 3 years of warranty, you can use it without any problem.
Rating: 4.6 out of 5
Overview:
Spec 1: 8 5-6 hours running time
Spec 2: Water and shatterproof 
Spec 3: 27 feet length 
Spec 4: 12 bulbs   
Spec 5: 20″ space between bulbs
Spec 6: 6 hours to charge
Spec 7: Solar panel included
Spec 8: High-quality materials 
Spec 9: Solar panel's clip
Spec 10: S14 LED bulb technology
Review
These energy-efficient solar string lights are perfect for birthdays and parties, outdoors, indoors, weddings, commercial purposes, and many more. 
The LEDs are covered with a silicon layer, and a durable plastic-based cover makes them more attractive. 
It has a complete protection system that will allow you to enjoy the parties without any risk. 
The total system is easy to install and simple to use. You have to hang the lights in the desired place and turn on the switch. 
The panel and wire can be connected easily and provide you with a hassle-free service.
The long cable enables you to cover more areas with attractive lights. It is ideal for every decorative purpose.
Pros and Cons
Pros
Cons
Flexible
Rechargeable
Excellent lighting
Lightweight
Lights are not so bright
VMANOO
This extra bright solar string light comes with sensor control and a high-power battery. The auto on/off system makes it easier to use. 
It is waterproof and contains an IP65 standard. You can use the lights in all weather conditions. 
The Built-in memory chip saves your last used mode, and you don't have to set the mode every time. 
It is a 72 feet long string with eight different lighting modes, including auto change, wave, sequential, SLO, GLO, chasing, slow fade, twinkle, steady on.
VMANOO string light system contains 200 bright LEDs. 
Rating: 4 out of 5
Overview:
Spec 1: 2V 300M solar panel
Spec 2: 1800MA AA NI-MH battery 
Spec 3: 72 feet length 
Spec 4: 200 LED bulbs   
Spec 5: 10cm space between bulbs
Spec 6: 12hours 
Spec 7: Solar panel included
Spec 8: Auto power switch 
Spec 9: 8 lighting modes
Spec 10: Solar panel clip and stand
Review
These lights are perfect for indoor and outdoor decoration. The built-in lighting sensor technology helps them light up automatically and turns off the system during the daytime.
You can use these LED string lights for parties, celebrations, special occasions.
It is perfect for home, window, bathroom, festival, holiday, shows, restaurant, hotel, yard, garden, commercial building, and shopping center.
The lights are designed with colorful LEDs and make your party more interesting.
So, if you select this light, you get a beautiful decorative light system without electricity costs. The primary investment will serve you forever.
Pros and Cons
Pros
Cons
2 sets bulb
No electricity required
Outstanding design
Lightweight
Powerful solar panel
Need sunlight to power
The Ankway Solar String Lights come with a durable design to allow you to decorate your place with customized shapes. 
These fairy lights are connected with copper wire, and three adjustable solar stands for perfect installation. 
It has eight lighting modes and gorgeous colors to enhance your party experience. 
The whole lighting system is a combination of a powerful solar panel and 200 LED solar string lights. 
You can use the 72 feet long wire to cover or decorate your fence, tree, balcony, and many more.
It is waterproof, and the IP65 function makes it more defensive to stan on rain, sun, snow, or storm.
Rating: 3.9 out of 5
Overview:
Spec 1: Solar powered
Spec 2: 8 lighting modes
Spec 3: 72 feet length copper wire
Spec 4: Waterproof IP65  
Spec 5: 200 LED solar lights
Spec 6: 360-degree view
Spec 7: 14 hours running time
Spec 8: 12 months warranty 
Spec 9: Auto on/off
Spec 10: Versatile uses
Review
You will get an outstanding decorating facility with this decoration lighting. 
It has a memory function to save your preferred lighting mode. The auto on/off system allows you to operate it easily. 
You can decorate your swimming pool or fountain with these lights because they contain standard waterproof technology.
The wire is more durable and flexible for converting on any shape, such as twist, expand, and span life.
You will get perfect decorative lights without electricity costs, and solar power allows you to turn them even in remote places.
Pros and Cons
Pros
Cons
Easy to install
Easy to store
Flexible design
Durable materials
Sunlight is the only power source
SunnyOn remote control solar string lights are best for your decorative purposes. 
These fairy lights come with a versatile remote control that allows you to adjust several functions and set different modes. 
The system contains 300 LEDs and 105 feet of durable copper wire to cover more areas of your outdoor and indoor places. 
Besides, the solar string light system is powered by a bigger solar panel, and it will run the lights for 40 hours after a single charge.
You can set the brightness of the light in 4 different modes. Similarly, it has 8 lighting modes for outstanding service. You can set a mode regarding the place and occasion.
Rating: 4.5 out of 5
Overview:
Spec 1: 300 LEDs
Spec 2: 8 lighting modes
Spec 3: 105 feet length copper wire
Spec 4: Waterproof 
Spec 5: 4 brightness modes
Spec 6: Auto on/off
Spec 7: 40 hours running time
Review
These nice and long lights are pretty, and the string is long enough to decorate a large plant or fence. 
The beautiful design and great function are suitable for a porch and balcony. You will get full night lighting with a single charge, and it can change the darkness into fantasy. 
The professional and durable design makes it perfect for homes and commercial places too.
An excellent and flexible design helps you to install and store it easily.
Pros and Cons
Pros
Cons
Durable design
Customize shape
Easy to set up
Suitable for multiple purposes
Only works at night
The Vivii long-lasting solar string lights can be a great solution for your night decoration. 
It has an 800mAh powerful and rechargeable battery and 20 feet long wire with 30 bubble globes.
These LED lights are solar-powered, and you can run them for several years without any costs. It is a combination of two-pack waterproof solar string lights and a perfect garden, home, holiday.
It will serve you for 8 to 10 hours after a single charge, and you get a whole night charming string light without electricity.
Rating: 4.1 out of 5
Overview:
Spec 1: 20 feet long copper wire
Spec 2: 30 bubble globes
Spec 3: 800mAh rechargeable battery
Spec 4: Waterproof 
Spec 5: Different brightness modes
Spec 6: Powerful solar panel
Spec 7: The battery will charge with low sunshine
Review
You can run the string lights with solar power, and they are perfect for decorating passages, gardens, patio, parties, weddings, etc. 
The easy install system will allow you to set it up within a few minutes. It has two flashing effects, and you have to adjust the lighting mode. 
It will enhance the beauty of the night and create an excellent atmosphere. It contains double buttons for a box panel and a controlling unit.
Pros and Cons
Pros
Cons
Powerful solar panel
2 modes
Easy to install
Versatile usage
Sunlight is required
Best Solar String Lights FAQs
How long do solar string lights Last?
In general, the solar string lights last for at least 2 years. It depends on the power of the battery and the efficiency of the solar panel.
Can you fix solar string lights?
Yes, you can fix solar string lights in case of any problem or damage. It comes with an easy installation and maintenance system.
Can I use normal batteries in solar lights?
Conclusion
Altogether, solar string lights are perfect for night decoration, and they will provide a charming look to your parties, birthdays, weddings, or other decorative purposes.
Sometimes, finding the best solar string lights can be challenging, especially if you are searching for the first time.
In this situation, you can follow our recommendations to help you find the best solar string lights for 2021.
You can consider the Brightown LED G40 Outdoor String Lights with outstanding features and functions to the best decoration.
Besides, the SOLVAO Solar Globe String Lights are best for your indoors and outdoors decorative purposes.