Television is your best choice for entertainment at home. You may be spending a few hours a day watching TV.  
Similarly, television is one of the major energy consumers at home, so to reduce energy consumption, you can use solar panels for TV.
It will minimize your electricity costs and give you access to continuous entertainment.
In this post, we will present the electricity consumption of a TV and the ability to run with solar power. Besides, you will get the idea of solar panels and batteries that are required to run a TV.
Let's explore the power of this green energy for a TV.
How to run TV on solar panels?
Before answering the question, you need to make it possible to power your TV on solar energy. Then we will do some further research on how much electricity a TV uses. Lastly, how many solar panels does it take to run a TV daily?
Choosing a TV that consumes less energy than a regular one is what you should think before running a TV on solar.
We have included the list of the three best TV for solar power in another article. You can have a look at it.
Can You Run a TV With Solar Panels?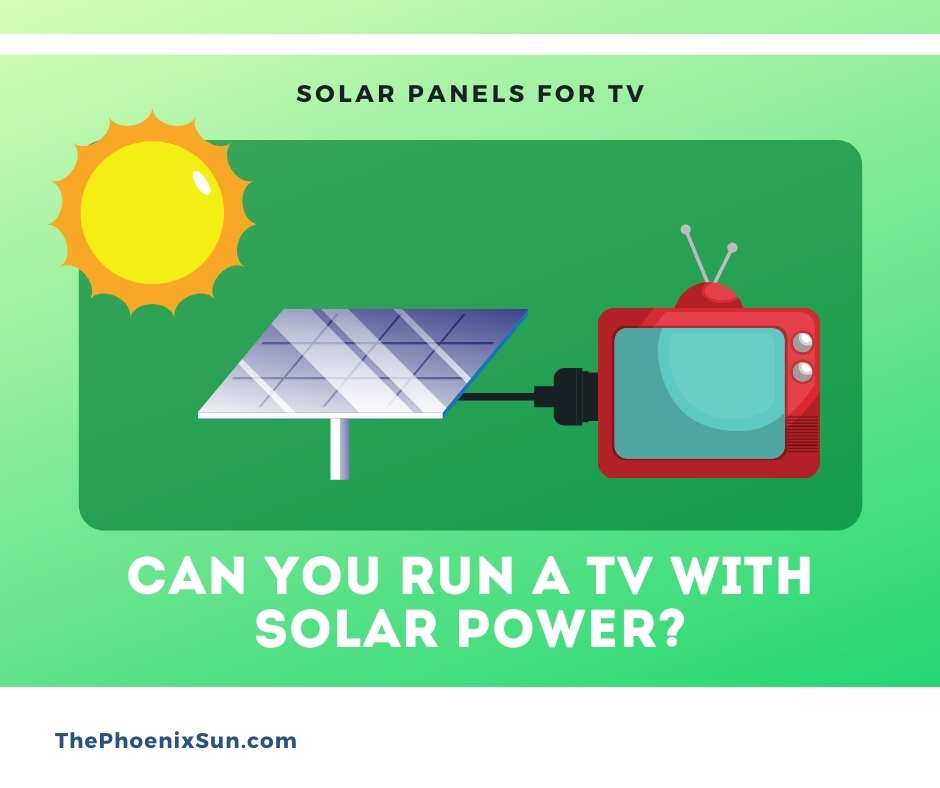 Yes, you can run a TV with solar power. Renewable energy will enable you to continue your entertainment without too many expenses.
In general, a TV is powered by conventional energy, which means it requires electricity.
But the modern world is changing over time, and the latest technologies enhance the ability to use more power at the lowest costs.
Solar power is becoming a substitute for electricity. Recently, most home appliances and devices are getting power from solar energy.
It is also true for television. You can enjoy your favorite shows and movies even on an off-grid power source.
To run a TV with solar power, you have to install solar panels and additional instruments of a solar system.
There are several options available for running a TV with solar power. You can convert solar power to AC for providing power to your television. It requires solar panels, batteries, and a converter with a solar charging controller.
On the other hand, you can buy built-in solar-powered tv and solar panels.
A solar-powered TV can run directly with solar energy. Manufacturers produce this type of TV for customers to reduce electricity costs.
Altogether, you can use green solar energy to run your TV and help the environment remain safe.
Running TV on solar Panels (System design)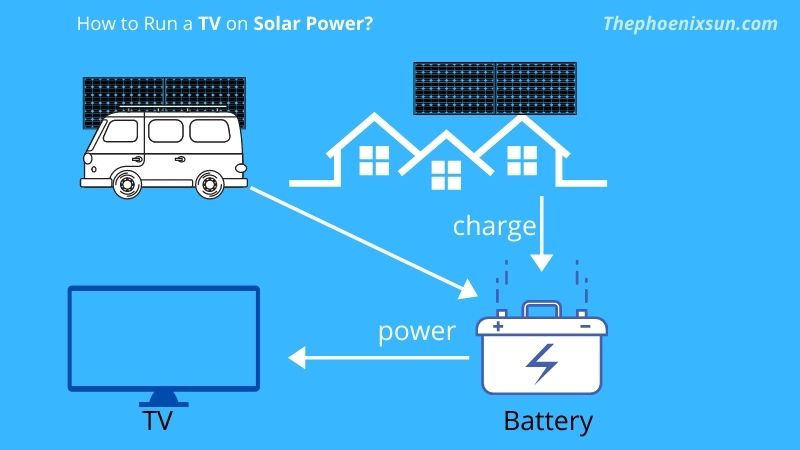 How much electricity does a TV use?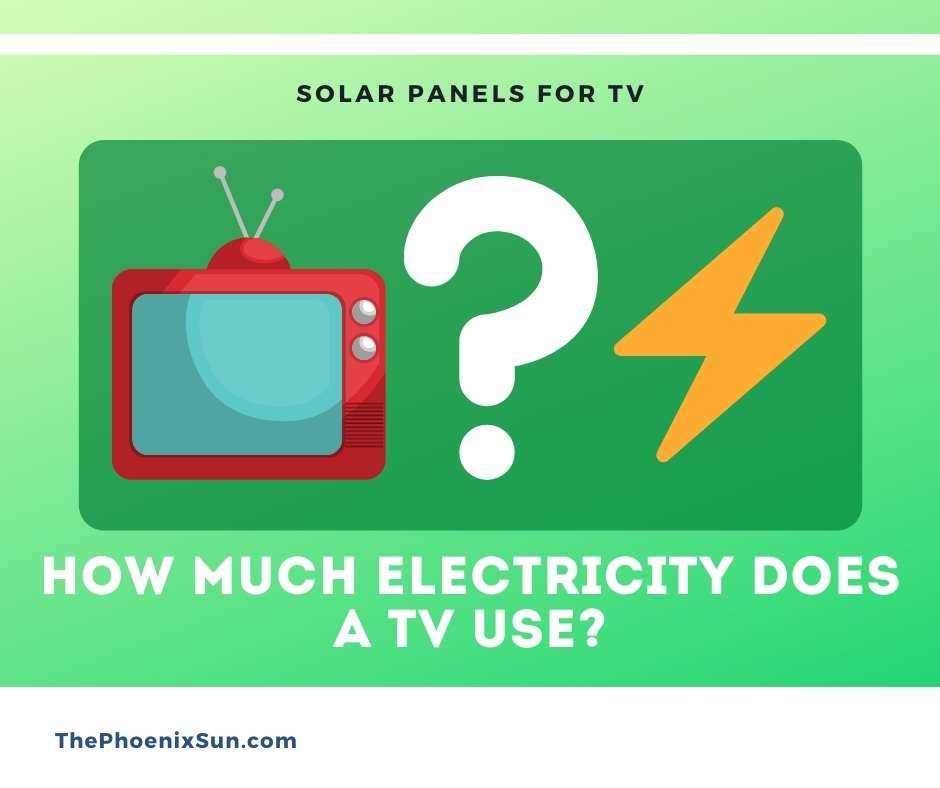 When you are thinking about running a TV with solar power, you first have to understand how much energy televisions consume.
You will get the answer by calculating the kilowatt of the TV and its usage. The process goes in the same way as your electricity bill.
You have to multiply the watt of the television by time. Then you will get the estimated kilowatt per hour (kWh).
The amount of electricity consumed by a TV depends upon how long you turn it on.
Besides, you have to consider the model and type of TV to calculate the exact power expenditure.
If you have a high-definition television, it will consume more power than a normal one.
A modern 32 inch LCD or LED TV requires 150-watt energy, and a plasma TV needs 300-watt power.
But, you may find a 32 inch LED TV with 80-watt out there. It depends on the manufacturers and technology of the television.
For example, if you continue a 32 inch LED of 150-watt for 5 hours a day, it will consume 750 Wh (0.75kWh). 
The TV will need 0.75 kWh energy a day. So, after 30 days, it consumes 22.5kWh electricity.
You can easily get the electricity cost of your TV to understand energy consumption.
How many solar panels do you need for a TV?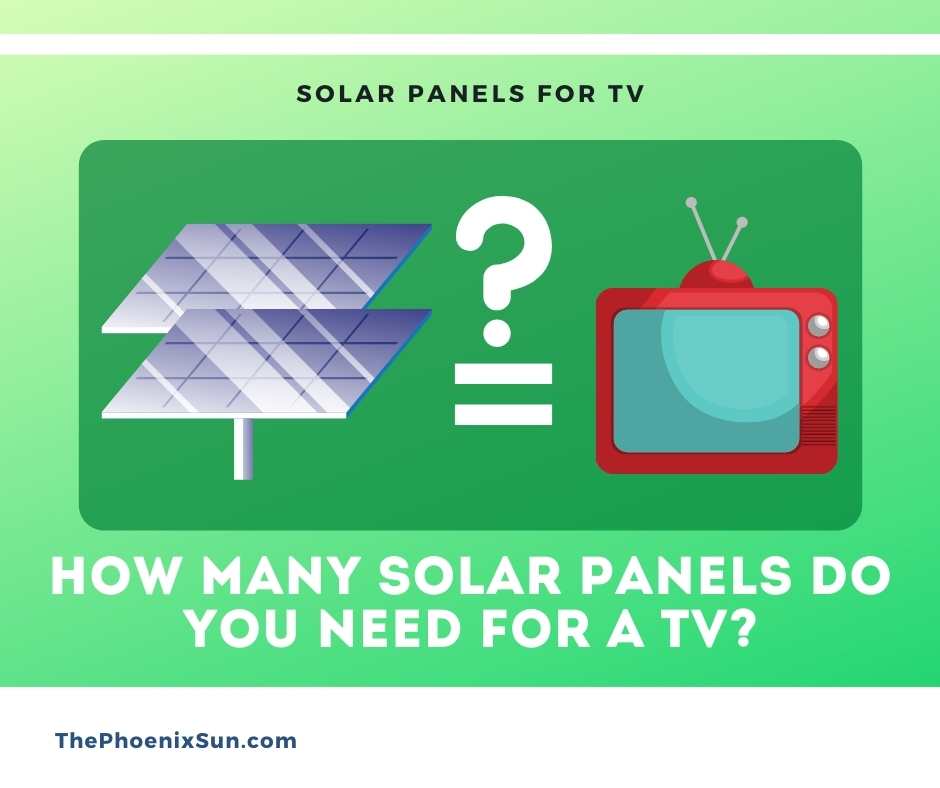 The number of solar panels depends on the wattage of the TV.
Solar energy is renewable energy and gets power from the sun. To run a device with solar power, you have to understand the energy consumption rate of the TV and the energy production measurement of solar panels.
Besides, you must consider the technology and type of solar panels. Several solar panels come with different technology and efficiency.
The latest solar panels are more efficient and can produce up to 20% green energy from the sunlight.
Before knowing how many solar panels are needed to run a TV, you need to know how much electricity is required to run a TV show. Let's assume you will binge-watch for 5 hours every day, and you are planning to watch it every day. Then we have the simple calculation below.
Number of solar panels you need to run a TV
If you have a 150-watt 32 inches LED TV, it will consume up to 22.5-kWh electricity for a month on daily 5 hours of running. Then, you need to install two 100-watt solar panels to power 5 hours of TV show daily.

On the contrary, if you have a plasma 56/72 inches TV that requires 300-watt, you can install 3 solar panels of 100-watt to power your 72 inches TV.
Nowadays, many high-tech TVs only use half the energy compared to a standard TV. With 60-80 watts TVs, you only need one 100-watt solar panel (the high efficiency) to power your tv watching time.
One of those energy-efficient televisions is Caixun 32 Inch Smart LED TV. It uses an average of 60-watts per hour operating. Check the full list of the best TV for solar power here.
Small note: It is better to install efficient solar panels to get sufficient power for a TV.
Sale
So, the calculation of solar panels relies on the number of wattage and power of the solar system.
When you want more energy then, you have to install additional solar panels compared with the system's power production.
Batteries Needed to Run TV
The solar system gets power from the sun, and the sunlight is only available during day time. So, to run a TV at night, you have to store the additional energy on a battery.
In that case, a powerful battery or a set of batteries are required to run a TV on solar power.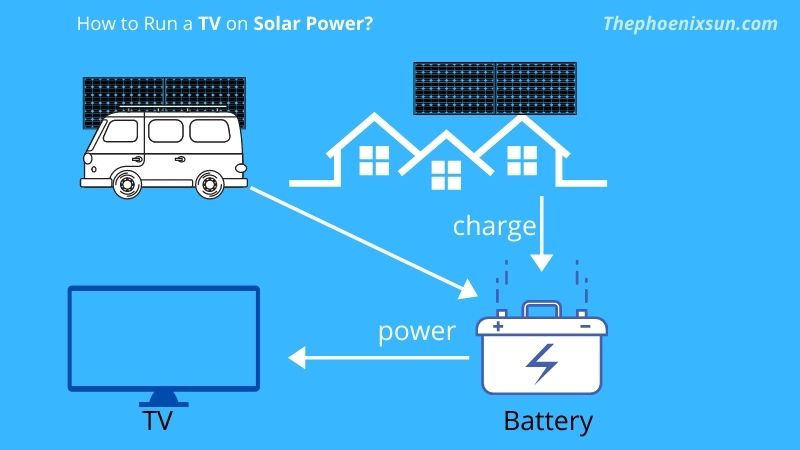 Small notes: normally, a solar system comes with solar panels, a charge controller, a converter, and a battery. But we cut off the charge controller and converter in the diagram above to make it easier to understand.
The battery receives the energy from the charge controller and stores extra power to serve at night.
Before installing solar panels and batteries, you should consider the power storage of the solar panels' battery and energy production rate.
The process will help you understand the right battery for your TV and solar system.
How Many Batteries to Run a TV?
The number of batteries depends on the TV's wattage and energy consumption rate. If you have a TV with a big screen, it will consume more energy than the average. If you buy 60-80 watts TVs, you only need one battery (110V-1000W) for 5 hours of running time.
Sale
Jackery Explorer 1000 Portable Power Station, 1002Wh Capacity with 3x1000W AC Outlets, Solar Generator (Solar Panel Not Included) for Home Backup, Emergency, Outdoor Camping
Clean and Unlimited Solar Energy: 100% green energy with smart MPPT controller for optimal charging efficiency. The power station can be fully charged with 2 Jackery SolarSaga 100W solar panels (Should be bought separately) within 6 hrs or only 5.5 hrs via AC wall outlet charging. Ideal for your camping or family emergency storage.
Easy to Use: The ergonomic shape of the handle grants an ease grip. And use in one touch with simple and speedy setup within 60s to enjoy outstanding charging efficiency.
Safe & Reliable for Outdoor Camping: Features industry-leading cylindrical batteries (popular with manufacturers of Electric Vehicles) that meet UL safety standards. Certified with Impact-Resistance Class 9, passing the UL drop test (withstanding 3 drops from 0.9m height on any surface). The pure sine wave inverter delivers constant voltage that protects equipment from damage.
Wrapping Up
Finally, you can run a TV with solar power, and you need single or multiple solar panels to provide sufficient power for a TV. Batteries will allow you to run the TV for the whole day, even at night.