Solar power is no longer confined to houses and commercial spaces. Rapid uses of solar energy take the technology to a camper van or other RV.
Have you ever imagined an independent power source on the camper van?
A solar power-powered camper van will enable you to reduce fuel consumption and provide green energy on the go. You can use solar power for all the activities of the vehicle.
You will get access to more gadgets and devices with sufficient power.
Besides, it is the best alternative to generators, and the battery will get instant power from the sun.
You can do many things on the camper van, like at your home when you install the solar system on the vehicle.
This writing includes everything related to solar power installation on a camper van.
We present the energy measurement, the number of solar panels, the installation process, and costs for solar systems with a camper van.
Let's get started and explore more.
Can You Power Camper Van On Solar Power?
Yes, you can power a camper van on solar power. Solar energy is powerful enough to run all the appliances and devices you will use on the van. So, solar power for a camper van is a valid idea.
In general, the camper van contains several electrical items, including lights, fans, a mini-refrigerator, power bank, hot shower, and more.
For instance, if you have a camper van without a solar panel, you can not run all the devices simultaneously from the vehicle's battery. An independent power system like solar energy enables you to get additional power outdoors.
On the contrary, you need continuous power for some devices like a wifi router/booster, cooling system, interior lights, and more. Solar energy helps you run all the devices and make your camping smooth.
So, there are no limitations when it comes to running a camper van with solar energy; you will get additional power if you make your next camping plan to remotest places. It is a flexible power solution for your outdoor recreation.
How Many Solar Panels Do You Need For Camper Vans
It depends on the size and number of appliances of the camper van. If you have a large or medium camper van, it requires the same power as a small home.
An average-sized camper van requires 4-6 solar panels if you use 300 or 500 watts solar panels.
To find out the number of solar panels, you have to decide the power consumption first.
Another important thing is that you don't need excessive energy to run a solar-powered camper van. The reason is that you don't use all the devices simultaneously.
For example, when you turn on the fan and take a rest on the bed. You don't need to power the oven on the induction cooker.
Similarly, you can run the toaster or electric kettle during the morning, when you don't need to run the LED lights.
So, it is crucial to find the average energy consumption rate similar to your daily needs on a camper van.
Answer Before Building Your Solar Camper Van
As we discussed in the above paragraph, the number of solar panels depends on the power consumption of the camper van.
If you have a long list of appliances and devices that you want to use in the camper van, it will need more power to operate.
But, really you can reduce the energy consumption and number of appliances. More clearly, you have to cut off some devices to save energy.
So, ask yourself and select the less essential devices. You can disconnect them for a certain period.
What will change? The total power structure of the solar system will be changed after applying this calculation.
You will need fewer solar panels, and there will be a chance to put less pressure on the vehicle's roof. Decide to install solar on the system.
8 Steps Install Solar Power for a Camper Van
Before doing and installing anything, a proper plan will give you a perfect workflow. It is also applicable for converting your camper van into a solar system.  
A step-by-step guide will help you to understand and complete the process accurately. In the below paragraphs, we present the general and technical steps of solar panel installation on the camper van. 
Calculate Your Needs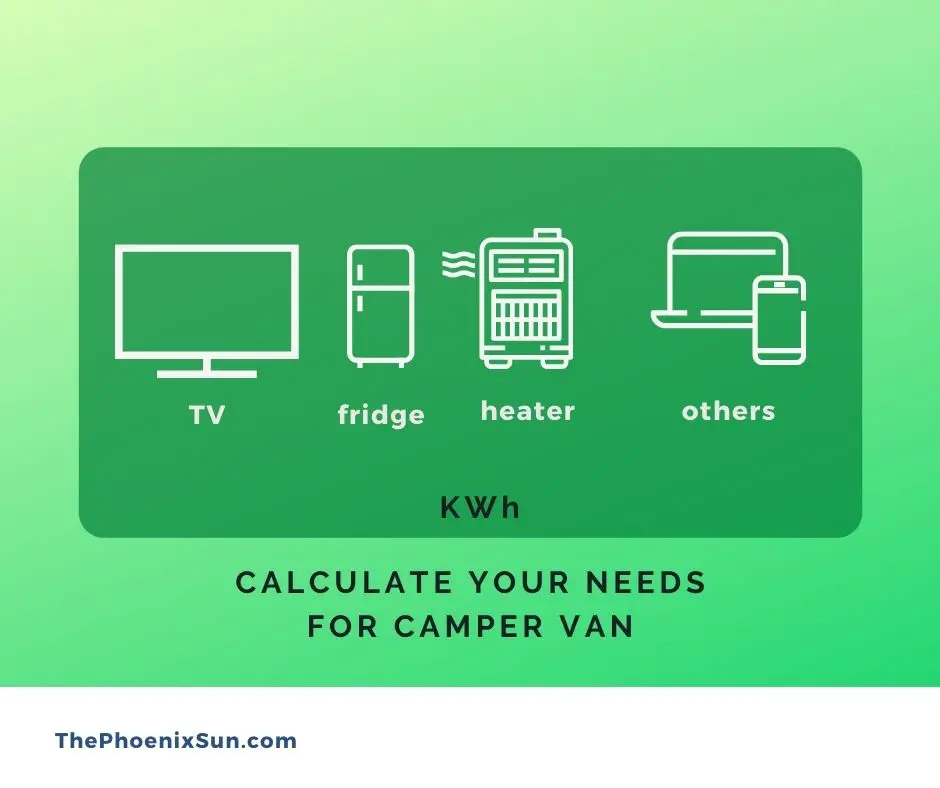 What do you want? What is the energy consumption rate? 
Yes, the above questions are more important than buying a solar panel, and it is the first step of installing solar panels. You have to calculate the needs first wherever you install the solar system. 
This calculation can be divided into three simple parts. 
First, you have to find out the needs and consumption. You can make energy consumption measurements by calculating the power of devices you have installed on the camper van. Then make a draft for average energy needs per hour. 
During this process, exclude the devices that you don't use at the same time as other devices.
Second, find solar panels with the same power production system. There are different types of solar panels with distinct power production capacities.
The final step is to compare the size and number of solar panels with the roof of the camper van. Remember, different companies offer various solar panel sizes with the same power.
Your responsibility is to find the most effective solar panels with the smallest size and the same power. 
Check If You Can Install Solar Panels On Camper van Roof 
There are two popular systems for installing solar panels on camper vans. The first is to permanently put the solar panels on the vehicle's roof.
On the other hand, you can take the solar panel with you and put it on the ground when using it. That means it will be a portable solar panel system.
The first option is perfect for large camper vans and independent power sources. You will get a complete power solution to run different devices.
The problem is that when you want to remove the solar panel, it will be costlier and requires too much technical work.
On the contrary, the portable option is best if you want to use the same solar panels for other purposes. But, the panels will acquire more space in the vehicle.
Comparing the features and advantages, rooftop solar panel installation is best for the camper van.
It is up to you, and you can check the best option for your RV.
List Out The Equipment To Install Solar Panels on the Camper van
The installation process is the same as the residential buildings. But, you need some extra equipment to ensure a quality installation on the top of the camper van.
The primary equipment is a solar panel, charge controller, power inverter, cables, battery, and installing materials. 
The solar panel will receive the power from the sun and convert it to electricity. You need other additional devices such as screws and nuts to set up the solar panels. 
The charge controller receives the power and sends it to the battery. The battery will store the power for further use, and you can charge the power bank, run an LED lights fan from the battery when sunlight is unavailable.
Renogy Wanderer 10 Amp 12V/24V PWM Negative Ground Solar Charge Controller
Sale
Renogy 10 Amp 12V/24V PWM Negative Ground Solar Charge Controller Compact Design w/LCD Display for AGM, Gel, Flooded and Lithium Battery, Wanderer 10A
【12V/24V Automatically Detect】 Automatically detects the voltage of the battery system (for non-lithium batteries) and adjusts the charging parameters accordingly, ensuring that the battery is charged safely and efficiently.
【Full System Protection】 Designed to safeguard your solar system. It provides a comprehensive and reliable safeguard for your equipment and devices protection for overcharging, over-discharging, short-circuit, overload, reverse polarity, reverse current, and temperature compensation, keeping your devices and systems running smoothly and safely.
【Multiple Types of Charging Ports】 Integrated with 5V 2A USB ports, allowing you to conveniently charge your phones, tablets, and other USB-powered devices directly from the controller without the need for an additional power source or adapter. With a variety of charging options, this charge controller is perfect for those who need flexibility in their charging solutions.
With the power inverter, you can convert DC power to AC power. It is required because you can't run some devices on DC electricity.
Furthermore, cables and solar panel holding equipment are also included in the list.
Renogy 1000W 12V Pure Sine Wave off GRID Solar Home Use Solar Inverter
Renogy 1000W Pure Sine Wave Inverter 12V DC to 120V AC Converter for Home, RV, Truck, Off-Grid Solar Power Inverter 12V to 110V with Built-in 5V/2.1A USB Port, AC Hardwire Port, Remote Controller
【POWERFUL DC-AC】This power inverter 12V to 110V provides 1000W continuous DC to AC power, 2000W peak surge during load start-up, 12V to 120VAC pure sine wave with conversion efficiency >90%, reduces conversion loss
【SAFE FOR USE】LED indicators for under-voltage and over-voltage protection, over-temperature protection, over-load protection, and short circuit indication. Cooling funs and ground-fault circuit interrupter (GFCI) protection
【PROTECT YOUR ELECTRONICS】Advanced pure sine wave technology provides quality AC equivalent to grid power which will protect and extend the life of your electronics and appliances, such as flood light,TV, freezer,Laptop,tablet etc. With its quiet and high inductive loads, the solar inverter operates with no buzzing sounds when your electronics are turned on and allow them to run smoother, cooler, and quieter
Purchase
Buy solar panels from a recognized supplier and find the best brand for the camper van. Some specialized companies manufacture solar panels for vehicles.
It will be better if you purchase solar panels from them. But, you can also use regular solar panels for camper vans.
Wherever you purchase solar panels, efficiency and durability are important. An inefficient solar panel will be a burden to produce sufficient energy.
On the contrary, the solar panels on the camper van will move, and you will use them at different locations.
So, a strong and durable panel will ensure safety along with long-lasting usability. Buy solar panels that stand out with quality, production, and durability.
Install Solar Panels 
Installing solar panels on camper vans is not as easy and straightforward as residential solar systems.
It is technical enough, and you have to hire a professional who is an expert in solar panel installation for vehicles.
You have to change the interior part for some camper vans and install new devices.
Similarly, the roof needs to be made suitable for solar panel installation. You need exact measurements and equipment to make it flawless.
The cables and other devices should be kept in a perfect place. You have to ensure that it takes a standard place and doesn't' acquire a large interior area.
Connect The Equipment
Connecting the equipment is a little bit technical when installing solar systems in a camper van.
There is separate connectivity that comes from the vehicle, and the vehicle manufacturer already installs it.
So, you need a specialist worker who can connect solar power and vehicle power simultaneously.
You have to connect the solar charge controller, battery consciously, and panels to make them more productive.
On the contrary, the connection needs multiple outputs for several devices and extra connecting cords for outdoor usage.
However, a good connection will ensure safety and keep everything secure while using solar power in the camper van.
Test Out The Output Energy 
You have invested in solar power. It is time to check the output of solar energy. You can calculate the production hourly or daily.
However, it depends on sunlight and how much energy you are getting. In general, an efficient solar panel needs more than 6 hours of sunlight to produce energy for the whole day.
You can compare the production by consuming electricity by different devices. It will help you understand the standard energy production rate of the solar system.
Besides, you have to test DC and AC electricity output because different devices require alternative powers.
Complete Your Installation
If you are satisfied with the output and the solar system set up on the camper van, you can complete the installation with a final inspection.
Make sure that everything is connected securely.
Now, you have to ensure the rearrangement of the vehicle body you changed during the installation.
A complete installation will provide sufficient energy during the day and store additional energy on the battery.
Your vehicle is ready now, and you can enjoy the next outside camping with this powerful camper van. It is important to run scheduled maintenance and check the connection and devices regularly.
How Much Do You Need To Spend To Power Your Camper Van On Solar?
Are you looking for a cost-effective power solution for your camper van? Yes.
Solar power is the best solution, and after a single investment, you will get power at least for 25 years.
It is said that solar panels remain, but the vehicle will be unable to run.
The cost and number of solar panels depend on energy consumption. As much energy is needed, it would be more expensive.
Let's have a look at the possible installation costs.
Energy Needed (Per day)
How Many 300 Watt Solar Panels
How Many 500 Watt Solar Panels
Spend on Others
(Inverters, Batteries,…)
Total Cost
1500 watt
2 panels
1 panel 
$2000
$2500
3000 watt
3 panels
2 panels
$2500
$3200
4000 watt
4 panels
2 panels 
$3000
$4800
5000 watt
4 panels 
3 panels 
$3000
$5200
Cost to go solar for your camper van
The table only contains the cost for the solar system battery and inverter. You have to spend more on the vehicle reshaping, installation, and power checkup.
Wrapping Up
Finally, you get a perfect estimate for the camper van's solar panel installation. If you follow these steps and hire a professional, the installation process will be easier and more effective.
Depending on the power consumption and production, you have to decide on solar power activity during the comparison.
Without a scheduled operating system, you can not run all the devices at the same time. But, it is possible to power maximum devices at different times.
Enjoy the time with your family and friends without power interruption, even outdoors.