Solar lights are increasingly becoming popular as people resort to off-grid living. We will talk about the top four solar lights you must have to light your home. These products solve your worries about utility bills.
In addition to top solar lamps, we will define what they are and shed light on some solar lights with bad user reviews. In the end, you will also learn how to install them all by yourself.
What Is A Solar Light?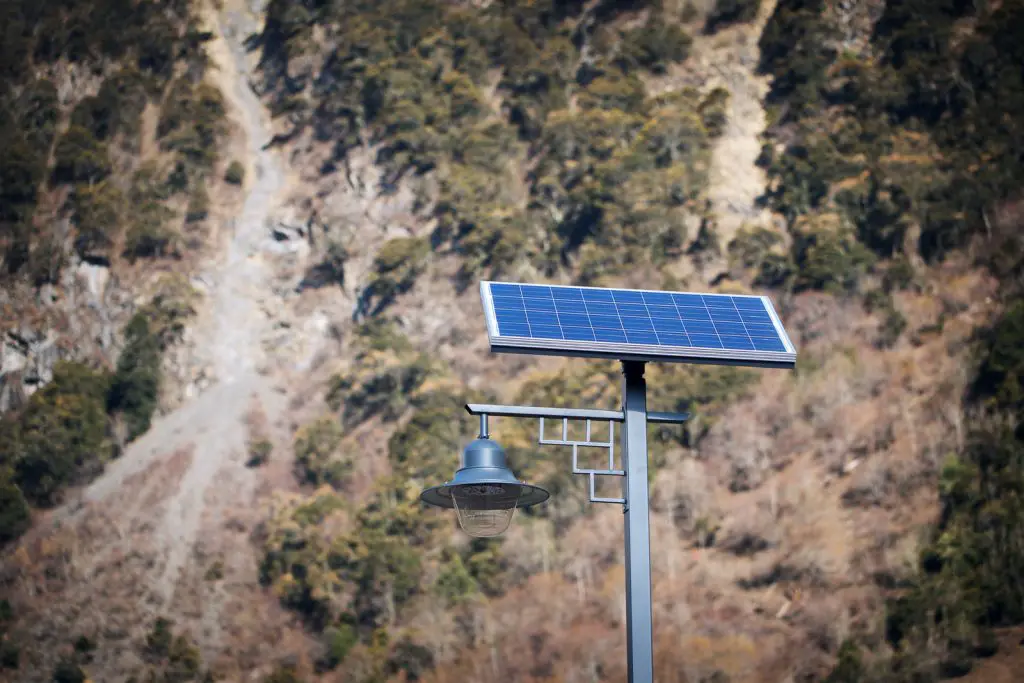 Solar light is one solar product that uses electricity generated from the sun's rays. The unit consists of a solar panel, a power storage unit, and most LED bulbs. The solar panel converts the energy from the sun to excite electrons in the silicon cells into electricity.
Solar lamps or solar flood lights are usually compact units used to illuminate a space at night. They use the electricity stored in the battery bank during the day to produce lumens. That allows you to have enough light you need at night, even if there is a power outage in your area.
Solar lights are mainly LED lights, which are energy efficient. They give enough light even at a low wattage rating, making them suitable for those seeking an off-grid living.
Many people are switching to solar panel lights to remain at peace without being bothered by the utility service provider. You can have your solar lights on all night long without worries about the electricity bill.
You only spend once when buying and installing them and forget about recurrent expenses for many years to come.  
Uses of Solar Lights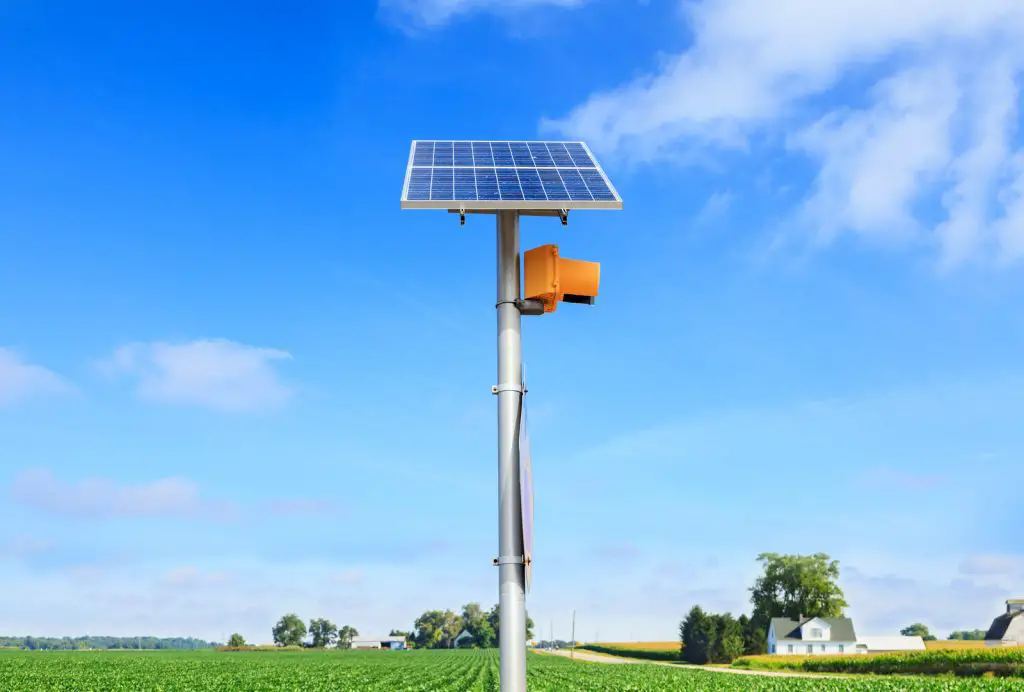 Solar lights can be used in many different ways. Outdoor solar lights or solar flood lights are used for general home security. They can provide enough luminance to keep intruders at bay at night.
There are also outdoor garden lights, solar fence lights, and many other types, which you can use outdoors. You can brighten your yard, footpaths, driveway, patio, and decks with solar-powered floodlights.
Solar lamps or solar lanterns are also great indoors. You can use them for decoration or as a general indoor lighting system. Solar spotlights also come in handy when looking for things in dark areas, and you enjoy all these benefits without paying for electricity.
TomCare Solar Lights Flickering Flame Metal Solar Lantern
Sale
TomCare Solar Lights Flickering Flame Upgraded Metal Solar Lantern Outdoor Hanging Decorative Lanterns Heavy Duty Solar Powered Waterproof Outdoor Lighting for Patio Garden Christmas, 2 Pack (Bronze)
All Metal Frame: This solar lantern is constructed from high quality metal with rustproof finish, so it is durable for year round use outside. Its four clear side faces is convenient for you to enjoy the beautiful flickering flames effect. It is entertaining when the lantern emits warm glow at night.
Elegant Design: The retro-style finish makes it look more unique with aesthetic sense. These solar outdoor lights are equipped with a durable hook, so you can not only put them on the tabletop, but also hang them on the shepherd hook. The best outdoor decoration to your patio, garden, walkway, backyard and deck.
Beautiful Dancing Flames: Special flickering flame design, which looks like real flame, making this outdoor lantern more attractive; The warm yellow glow creates a welcoming ambience. These flickering flame effect outdoor solar lights will be the best choice for decorating home, party, barbecue, wedding, Christmas and Halloween, which will make it different and impressive.
Top 4 Solar Lights You Should Have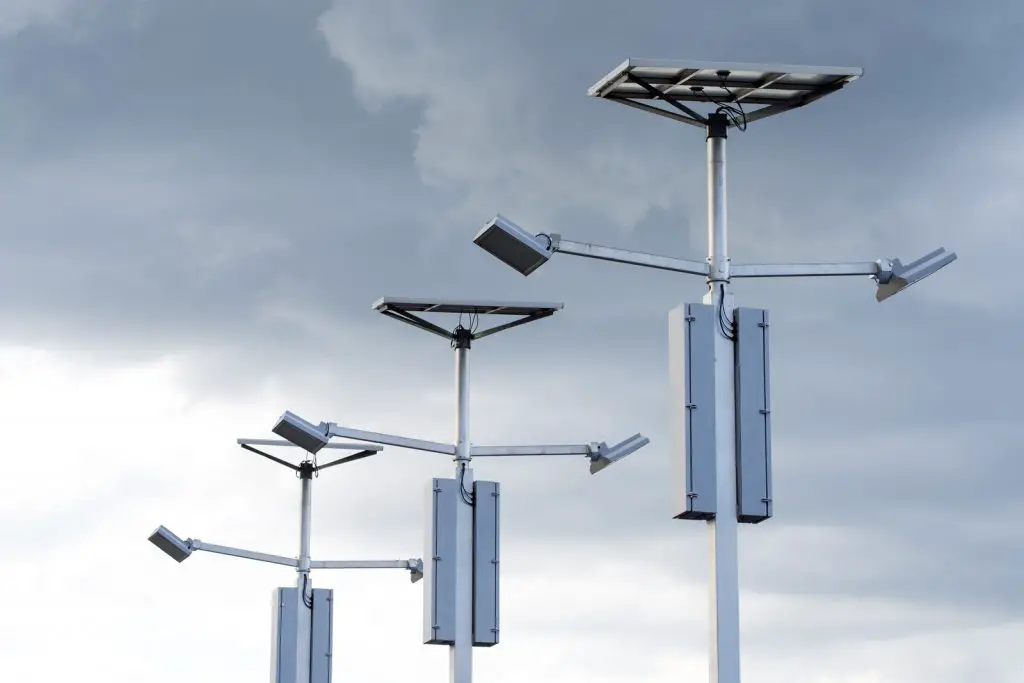 You can readily achieve an off-grid living with these best solar-powered lights. After extensive market research and comparing user reviews, we have come up with the top four products. So, these products are what you exactly miss to live your dreams.
Aootek 182 LED Outdoor Solar Flood Light
This is one of our best pick solar panel floodlights for outdoor security. It features a built-in motion sensor, allowing it to turn on or off depending on the selected operation mode. The sensor detection range is 26 feet and 120-degrees field of view.
The three operation modes are security, permanent, and smart brightness control. In the first mode, the solar flood light turns on only when a motion is detected, while in smart mode, it is always on but brightens when movement is detected.
This solar flood light has a highly efficient solar panel; an energy-efficient LED array, and a 2200mAh lithium-ion battery. These specifications can make it provide light all night long. Additionally, it is waterproof and heatproof.
Aootek Solar lights outdoor 182 Leds
Sale
Feature summary
Built-in motion sensor
Wide LED array
High battery capacity
Three operational modes
Highly efficient solar panel
IP65 rated – waterproof and heatproof
The average price for solar flood lights is $35, but this particular one costs $29.95. Check the latest price on Amazon!
Ring Solar Pathlight
Ring Solar Lights are designed for lighting pathways, walkways, and driveways. They are equipped with motion sensors and only turn on when movement is detected. It means your path will get brighter and brighter as you move along.
A solar ring light is manufactured with cutting-edge technology that allows you to access its smart features. When correctly configured, you can get notifications on your smartphone and control the lights remotely.
Turn the lights on and off and schedule the time in your comfort zone.
Like all other solar products, Ring solar light gets its power from the sun and stores it in its built-in lithium-ion battery for night use. You do not have to worry about your electricity bills as this emits up to 80 lumens to brighten your walkway.
Alexa integration is another feature that puts solar ring light on another level. You can group all the lights together with other ring products in your home and remotely monitor everything that happens around your home.
Ring Solar Pathlight
Sale
Ring Solar Pathlight - Outdoor Motion-Sensor Security Light, Black (Starter Kit: 2-pack)
Perfect for walkways and pathways – a solar-powered pathlight that shines 80 lumens of light when motion is detected.
Ring Bridge included – this Starter Kit includes a Ring Bridge so that you may enable smart features for your Ring Smart Lights.
Smart features – when connected to a Ring Bridge, get mobile notifications, set schedules, turn the lights on and off remotely, customize settings, and connect to other Ring devices – all from the Ring app.
Feature summary
Alexa integration
Integration with other Ring products
Built-in motion sensors
Rechargeable battery bank
The price on Amazon varies depending on the specific model you choose. On average, you will spend about $90 on this product.
Brightech Ambience Solar String Light
Solar string lights are commonly used for decorations, and you are better off choosing the Brightech product. This string light will make your patio look like an Italian café or create a warm ambiance in your bedroom, to mention a few.
This is a heavy-duty, commercial-grade string light for both outdoor and indoor use. It can withstand a 50MPH wind and is also made weatherproof. With a long lifespan and high energy efficiency, you are safe even if the lights are on all year round.
The dimmable feature is just fantastic that we cannot forget to mention. You set your preferred ambiance for your activity or party. Whether you want to set up a romantic venue for dinner, a nighttime party, or a wedding reception, this one fits it all.
Brightech Ambience Pro – Waterproof Outdoor String Lights
Sale
Brightech Ambience Pro Outdoor String Lights - Commercial Grade Waterproof Patio Lights with 24 Ft Dimmable Incandescent Edison Bulbs - Porch String Lights for Patio, Backyard, Outdoors - 11W
Energy Saving Outdoor String Lights: 24 ft long string lights with 7 hanging 11 watt bulbs spaced 3 feet apart. Brightech porch string lights are approved for residential and commercial lighting. Works with Alexa to turn on/off, requires hub sold separately. Connect up to (12) 24 FT strands end to end. (Please NOTE: Bulbs are dimmable, dimmer sold separately. Made for use with 110v only.)
Commercial Grade Weatherproof Patio String Lights: Brightech's Ambience Pros hanging lights string has our own WeatherTite technology - withstand winds up to 50MPH, rain & snow. The rubberized flexible heavy-duty cord withstands the wear of indoor and outdoor use. The lights are UL listed. Confidently leave these lights on display year round.
Flexible Installation & Widely Used Backyard Lights: Brightech outdoor decorative yard lights are the perfect decoration for balcony terrace, garden, bistro, bedroom, living room, pergola, gazebo, tent, barbecue, city roof, market, cafe, umbrella, dinner, wedding, birthday, party etc. Brightech string lights are easy to assemble, and are plug and play. You can string them straight, or wrap them in trees to create different designs.
Feature summary
Flexible connection cords
Dimmable brightness
All-weather
Ideal for outdoor and indoor use
Long-lasting and comes with a 3-year warranty.
Presently, the string solar light costs around $30 on Amazon, but that is subject to change. You can keep checking for the latest price.
Aogist Solar Ground Lights
These solar ground lights provide a fantastic way of lighting your patio, garden, yard, deck, and pathways. They come as a set of 8 disk-shaped bulbs that lie flat on the ground and provide the luminance you need to brighten your home.
Aogist Solar Ground lights have sensors for detecting light intensity. They automatically turn on when the dark falls, drawing power from a 600mAh lithium-ion battery. They can provide up to 8 hours of brightness, just enough to keep your home illuminated.
The solar ground lights are IP65-rated, which should make you worry-free about weather conditions. They cannot be damaged by rain, wind, or sleet because they are sealed and protected by design.
You do not need the expertise to install solar ground lights. You simply insert their spiky bottom into the ground, and that is it, about a 20-second procedure. In case the ground is not soft, you can use water and dig a sizable hole.
Aogist Solar Ground Lights,8 LED Garden Lights
Feature summary
Light intensity sensor for automatic on and off operation
IP65 rated – Weatherproof
600mAh lithium-ion battery – lasts up to 8 hours.
Small and compact design
Two white light options
Get these ground lights on Amazon for only $20 and lighten your lawn and yard at night. The services are worth the price!
Top 2 Solar Lights You SHOULD NOT Buy
Not all solar lights in the market are worth the price. Some of them will just cost you money for nothing, especially those that cannot light at all at night. Either they have weak batteries, or the batteries have a problem recharging. The following are two such products:
Solar Powered LED Solar Step Light
This solar Step light comes as a set of six stainless steel enclosed LED lights. According to the manufacturer descriptions and specifications, all six should provide all-night light to your outdoor stairs. So, what is the problem?
They are easy to install as described by the manufacturer, but the performance is way below the expectations. Many users have reported bad experiences with just a few out of the set producing a dim light.
These solar lights are generally faulty, or the manufacturer never tested them before releasing them to the market. Being unable to light at all can only be attributed to a faulty battery or charging system.
Do not wait to be disappointed by your investment. You can look for better solar step lights in the market to add style to your home. Go to Amazon to read the reviews for yourself and decide on whether to buy or not.
Alternatives Solar Step Lights
ROSHWEY Solar Step Lights
Oyria Solar Fence Lights
Oyria Solar Fence Lights are advertised as waterproof and ideal for outdoor use. They are best recommended for patio, fence, garden, garage, stairway, etc. All that sounds fantastic, doesn't it? Let us find out whether they live to this expectation.
Going through the user reviews reveals a shocking truth. Some people received 2 instead of the advertised eight solar fence lights, which is a daylight robbery. As if that is not all, the products are falsely advertised as waterproof.
One customer, who was lucky to get all the eight pieces, reported that all the solar lights were full of water after the rain. Do you expect them to ever work again? The answer is a definite big NO. Yet another reviewer added that his solar lights did not work at all.
Now you know. If you need robust solar fence lights that are weatherproof, look for other products, not the disappointing Oyria Solar Fence Lights.
Alternative Solar Fence Lights
DIY Your Solar Lights from Scratch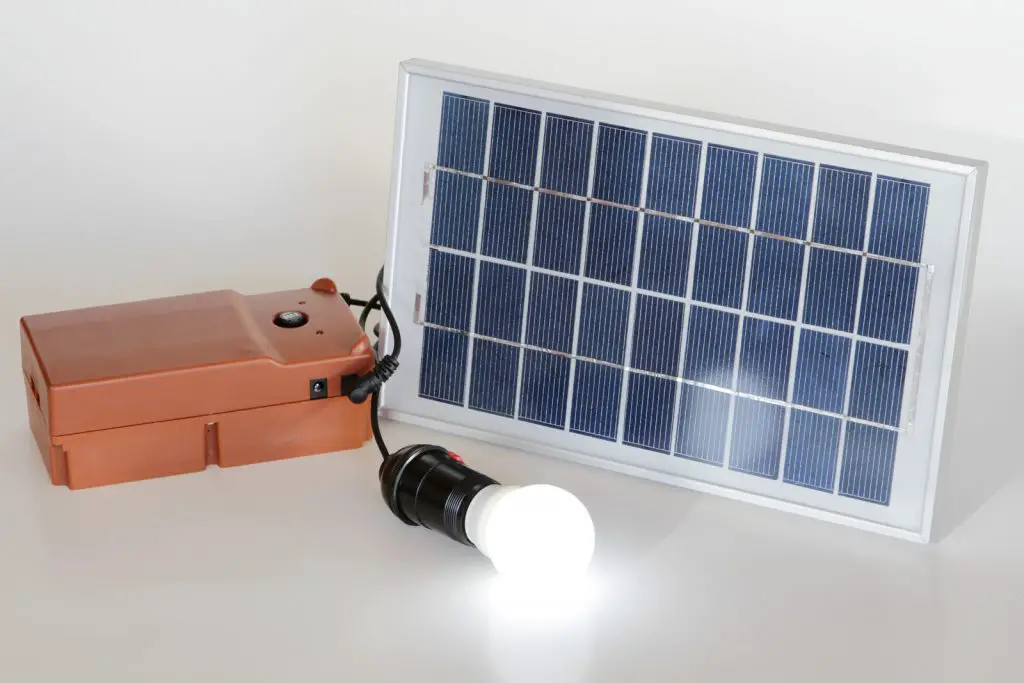 You can make a solar light or solar lantern from scratch, provided you have the materials. And since you cannot make or improvise everything from home, you will need to buy some parts and components. Here, we will learn how to make a DIY solar lamp at home.
Step 1: Gather all the required materials
You need a solar panel, light bulbs, rechargeable battery, connecting wires, switch, and a control circuit. Designing a control circuit requires expertise. So, you are better off buying an already built solar charge controller.
Step 2: Wiring the system
Connect the solar panel to the controller and then to the battery. Next, connect the solar bulb through a switch. You can substitute the manual electrical switch with a light intensity sensor if you can afford it.
Step 3: Testing the system
Take the connected system to the sun to check if it charges the battery. Next, switch it on to see if the bulb lights. If all is well, use a transparent jar to weatherproof the bulb.
Step 4: Deployment
Find the best site for the solar and place the bulb strategically to provide light. Depending on your connections, the entire system can be compact or decentralized. Check out the complete solar light connection diagram below: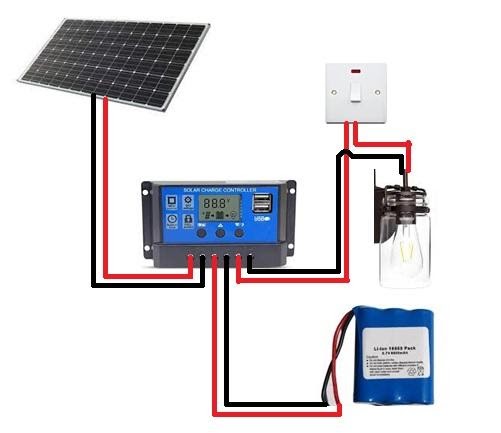 Wrapping Up
Solar lights make you detach your life from a utility power system. With them, you can have enough light in your home without worrying about the electricity bills. The good news is that solar-powered lights are very affordable and come in all sizes and shapes.
You can buy a solar light for your garage, stairway, walkway, deck, garden, patio, fence, and many other areas. Illuminate your home with energy-saving LED solar bulbs to achieve off-grid living.
It is only the best way to have peace of mind. You invest in it once and enjoy free lighting for many years to come.