Providing electricity for irrigation is a challenge both for developing and developed countries. Governments have tried to establish a stable power system for farmers where they can get cost-effective and non-stop solutions. 
Solar water pumps are eco-friendly and effective for remote areas where electricity or a grid is unavailable. In general, it is more expensive to connect remote farmland with the national grid.
On the contrary, it is related to the production of foods. So, if you have to pay more for irrigation, the price of crops and foods will increase. 
Getting a solar irrigation pump system will help you reduce the production cost and enable you to access water independently. 
It is really helpful for small farmers and also for landlords and commercial agriculture.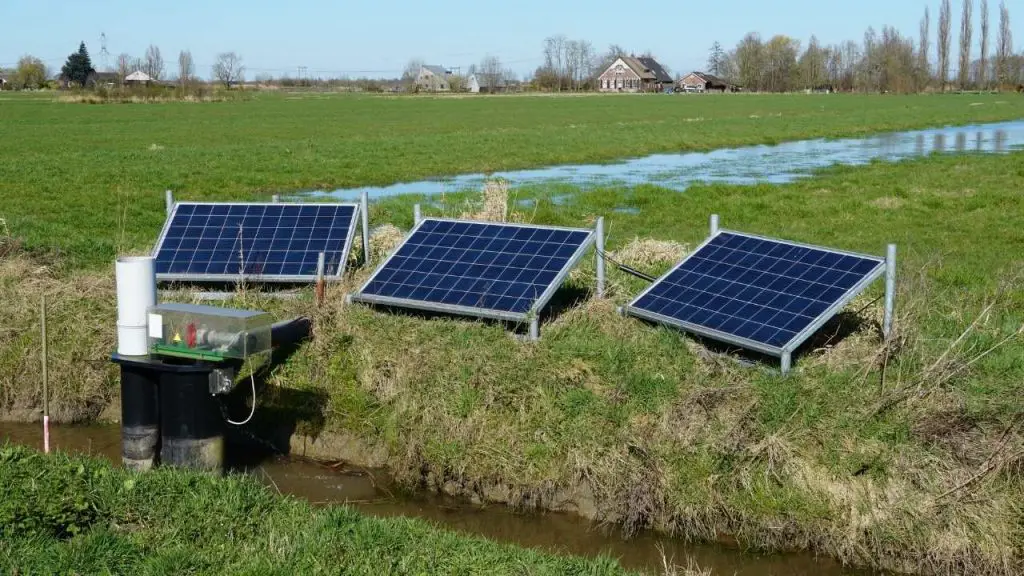 This article reviews the best solar pumps for irrigation along with their buyer's guide. Besides, we guide you to make a DIY solar pump for irrigation and answer FAQ related to solar pumps. 
Buying Solar Pumps For Irrigation? 4 Factors To Consider
Solar water pumps pump water at no cost in remote locations, such as off-grid homes and irrigation. With a simple solar water pump system, you can have water in any location without wiring.
The buyer's guide will help you select a good solar pump for irrigation. It is the presentation of significant key features of any device. You can consider these features before purchasing a solar pump for irrigation.
Efficiency
Only an efficient pump can lift more water from the ground. A good solar water pump comes with efficient solar panels and pumping systems. You have to calculate the pump's capacity and water that you need to irrigate the farm.
Flow Rate
A flow rate of a pump indicates the water lifting capacity per minute. You should ask the installer or manufacturer about this capability. It will ensure that you are getting sufficient water for irrigation.
Head and Pump Type
You will find different types of pumps and heads when planning to purchase a solar irrigation system. It is better to install a suitable pump for your area and can lift water according to your needs. Without a perfect pump's head, you can not deliver the water to the right place.
Cost
Calculate the cost per liter of water and ask the installer to provide a cost-effective system. You are going solar because you want to reduce irrigation costs. You will get the best solar irrigation pump at an affordable price.
Best Solar Pumps for Irrigation Reviews
We include the best three solar pumps for irrigation in this review. These pumps are most efficient and provide you with expected service for a long time.
We do market research and test most of the product's features and performance. This list only contains pumps that have passed our standard testing session.
Our goal is to provide your verified information about excellent products. We only suggest high-quality devices that are worth every penny.
ECO-WORTHY Solar Water Pump Kit
If you are looking for a complete solar pump and kit, this package is ideal for you. It contains solar panels, a pump, a charge controller, and a cable.
You will get a plug-and-play solar irrigation system for your daily needs.
Overview:
100-watt solar panel
20 A
12-volt water pump
1110 gallon per hour
Power cable 
USB output
LCD
13.1 feet delivery head
Short circuit protection
Heavy-duty aluminum frame
This solar pump kit is easy to assemble and durable solar water pump that can be used for multiple purposes, including garden and farm irrigation, tank filling, remote watering, etc.
It has a 100-watt polycrystalline solar panel, and you will get instant energy wherever you are. The plug-and-play system will enable you to start the pump directly from the solar panel.
The solar panel is protected with a heavy-duty aluminum frame, but the material is lightweight, making it portable.
This device can pump 110 gallons per hour. It is sufficient for almost all household and farming-related work.
You will get a long power cord to maintain the distance of the solar panel and a 13.1 feet long head allowing you to spread the water at a great distance.
The only problem is that it has no warranty coverage, but the spare parts are available in the market.
ECO-WORTHY Solar Water Pump Kit Pros and Cons
Pros
Cons
Easy to use portable
Portable
Complete package 
No issue found 
ECO-WORTHY Solar Water Pump Kit Pros and Cons
---
Solariver Solar Water Pump Kit
This solar water irrigation system comes with an efficient brushless magnetic pump. It works silently underwater and enhances water flow capacity than a normal solar irrigation pump. 
Overview:
70-watt
900 gallons per hour
Submersible 
Brushless magnetic pump
10 feet lifting distance
16 feet flexible water tube
27.2 pounds 
Dual solar panel
Extension cable
1-year warranty 
This is a high-quality submersible water pump, and you can use it for waterfalls, streams, large fountains, pond aeration, aquaculture. It works great for garden and agriculture farms too.
You will get a 16 feet long flexible water tube to flow the water at different speeds and distances. You can move 900 gallons of water per hour with this extra working pump.
This package includes double solar panels with efficient solar cells and a durable design.
The water pump and solar panel are both made with lightweight materials. You can easily carry the pump outside. Similarly, it can be stored in a small space.
It has an instant power option. That means the pump will automatically start you keep the solar panel under the sun. No battery is required.
Its durable wiring and long power cable will enable you to use the pump separately for indoor purposes.
Solariver is a famous solar pump manufacturer with thousands of happy customers. You can rely on them, and the company offers a 1-year official warranty with this pump.
Solariver Solar Water Pump Kit Pros and Cons
Pros
Cons
Durable design 
DIY installation
Double solar panels
Maximum efficiency 
No warranty found 
Solariver Solar Water Pump Kit Pros and Cons
---
MNP Powerful Twin Panel Solar Powered Submersible
Finally, we have the MNP solar-powered submersible pump with a double solar panel and complete kit. 
It has a powerful 50-watt solar panel for instant energy production to ensure sufficient energy.
Overview:
Complete kit
23 pound
50-watt solar panel
Twin solar panels
898 gallons per hour
10 feet head
16 feet electric cable
Durable design
It is a medium-level solar irrigation pump that works great for pumping water from an irrigation canal, fountain, and outside watering.
The pump is designed with high-quality ABS plastic materials, and it will serve you for years. A solar irrigation pump like this one is perfect for portable watering.
You can lift the water up to 10 feet, and it will help you send water to the right place without a canal.
The total system is portable, and this kit comes with a 23-pound lightweight design. You can quickly bring this pump to the farmland and take care of your crops.
Besides, the design of this pump is ideal for home and outdoor usage. With an extended power cable and water pipe, you can get through the water at a minimum distance. It will enable you to use the solar panel and pump separately.
The portable solar panel can be used for other works at home if you want.
This pump is waterproof and submersible. So, You can set the pump underwater when using for fountains, water cannons, spray, and other displays. 
MNP Powerful Twin Panel Solar Powered Submersible Pros and Cons
Pros
Cons
No battery required 
Automatic charging
Excellent performance
No issue found 
MNP Powerful Twin Panel Solar Powered Submersible Pros and Cons
---
DIY Your Solar Pump For Irrigation
We have mentioned the best solar irrigation pumps and kits in the review section. But, you may notice that the maximum capacity of these pumps is around 1000 gallons per hour. This is perfect for small and medium water needs.
But, when you need more water for a large area or project, you have to install powerful solar panels with effective pumps. It should be developed according to your demand.
The average cost of a solar irrigation pump is around $1800 -$2000, depending on the product's quality and your location. It includes $250 for a 100-watt solar panel, $1000 for a pump, $300 for other connecting devices, and $250 for installation.
What Do You Need?
To install your first DIY solar irrigation pump, you have to get knowledge about a solar system. After you understand how it works, the installation will be easier than you think. 
So, a solar system collects Direct Current (DC) from the sun, and a charge controller and inverter receive and distribute the energy to the devices. 
So, what do you need? 
First, you need solar panels according to your demand, and the wattage should be compatible with the pump's capacity.
Second, you need a charge controller that receives energy from the solar panel. It will help you to monitor the voltage and power conversion rate. 
Then, an effective water pump and water flowing pipes and hoses. It will allow you to move the water at a great speed to your desired space.
You can not connect all things without cable and installation kits. Next, you must install and attach the panel and other equipment with the necessary screws and frames.
If you want to make it portable, you have to purchase a carrying bag or box. 
Finally, you need a battery to run the water pump at night. The solar panel can only generate power under the sun.
With a battery, you need an inverter for converting Direct Current to Alternating Current. It depends on the pump type. In general, large water pumps run on Alternating Current (AC). So, you should have this device.
How to Connect Devices?
It is as easy as connecting the pump to the general electric line. You will find all the devices ready in the local market.
After purchasing the devices, you have to just plug in all the connections in the right place.
The latest power cables come with a cigarette lighter connector and crocodile clamp. You don't need to do wiring that is complex and costlier.
Put the solar panel under sunlight, connect the power cable to the charge controller and inverter. If you have a battery, connect with the charge controller and pump.
Finally, you need to assemble the pump according to the manufacturer's instructions.
Do You Need a Battery?
It depends on your use of time and duration. When you need a water pump at night, you can't run it without a battery.
The battery will store and provide power to the pump when sunlight is unavailable. 
Pros and cons
Solar energy is the blessing of technology, and you will have several advantages while installing a solar irrigation pump.
It will save electricity costs and time and provide you with an independent power system for irrigation.
The solar system is eco-friendly, and its soundless operation makes solar pumps more acceptable for homes and farmland.
On the contrary, it is costlier than electric pumps, but you can save monthly costs for the next 25 years.
Solar Pump for Irrigation FAQs
Do solar pumps run at night?
You can not run a solar irrigation pump directly from the sunlight at night. You need a battery to power the pump when sunlight is not available.
Is a solar water pump cost-effective?
All solar devices are cost-effective, including solar water pumps. You can save a huge amount from electricity bills.
Is DIY solar irrigation pump good?
Yes, solar DIY pumps will allow you to get a cost-effective, durable, and long-lasting solution for water flow at home and outside.
Final Thoughts
Finally, you got complete reviews for solar irrigation pumps. You can pick a pump to form the list that fits your needs. 
The ECO-WORTHY Solar Water Pump Kit is the best choice if you want a powerful pump with maximum water flow capacity. 
On the contrary, the Solariver Solar Water Pump Kit is a mid-level water pump at an affordable price. It is perfect for a garden, fountain, and small vegetable ground.
These built-in options are better to calculate your needs and install a DIY solar pump for irrigation. 
You can contact us at contact@thephoenixsun.com  for further assistance and help. We will help you to estimate and install a DIY solar pump.