If you want to efficiently heat a small space like a garage, space heaters are convenient devices for this heating process.
It will be the best choice if you select a solar-powered heater for the garage.
Best solar heaters for garage comes with the latest technology and safe operation that uses renewable energy.
When the temperatures drop in the winter, it is a stiff task to continue the work on the garage or workshop than the summer days.
You will be stuck with the frozen fingers, and there will be no more fun with the nuts and bolts.
In this writing, we present reviews of the best solar heaters for the garage along with a complete buyer's guide.
Besides, we discuss the working process of solar heaters and estimate the number of solar panels and batteries with their efficiency measurement.
Buyer's Guide: What Makes a Good Heater For Garage to Run On Solar?
The best solar heater for a garage should come with the ultimate features and specifications. A complete buyer's guide will help you find the key features and identify the most valuable product.
You can concentrate on these significant key features of the device to ensure quality and enduring service.   
Energy-efficient
It is important to compare the efficiency of the heater while running with solar power. A solar-powered device comes with a solar panel, and you have to consider the most efficient solar cells that absorb more energy simultaneously. 
Less Space
The garage is your working and parking space. In general, you want to utilize the space for tools and work to get a convenient atmosphere.
If you select a too large or small heater, you might face difficulty getting enough heat, and it will take up a lot of space.
Try to select an effective solar heater for your garage with a compact design.
Automatic on/off
For solar power devices, automatic on/off is very effective. It will protect the garage from danger in case of high heat.
Selecting a power-sensitive heater will control the power and maintain the operation by considering the safety and temperatures.
Price
You will invest only one time for a solar device. So, you have to find a device that comes with the best price compared to the features and specifications.
Don't just pay high for the same device that is available from different manufacturers.
How Does a Solar Heating System For Garage Work?
A solar heater for a garage works with solar power, and the system is a combination of several types of equipment.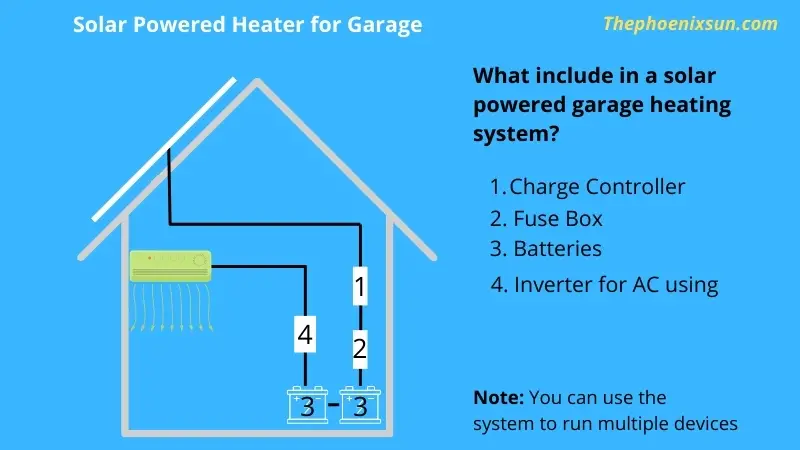 You can run a solar heater in two ways with solar energy. 
First, you can connect the solar panel to the complete system with inverters, batteries.
In this system, a solar panel is installed under the sun, absorbing energy from the sun. The solar panel provides absorbed energy to the inverter. The inverter supplies the AC electricity to the battery. 
This battery will provide energy to the heater, and you will get warmer temperatures in your garage.
With this battery-based system, you will be able to run the heater day and night. 
On the contrary, you can connect the heater directly to the solar panel. In this way, you can only run the heater during the day, and there are no energy backup options for cloudy weather and night. 
So, a solar heater works in these ways to generate energy and convert them to heat.
Watch this video to learn more:
Best Heater For Garage for Solar Powered (One Solar Heater Included)
Here we include the best four energy-efficient garage solar heaters, use less space, and come with automatic on/off.
We find these products best in the category because they have effective features and specifications.
We analyze the local market and search on the internet to grab accurate information about the products. 
Fdit Air Heater Fan for Small Space (12V 100W)
Do you want a portable solar heater for your garage? With a portable space heater, every single space in your garage can be heated. 
New to solar energy? Do you want to know how solar energy works? Read our Solar 101 to learn more about solar energy.
Portability enables you to carry the heater anywhere, not just the garage. You will get warm outdoors without the grid. 
Overview:
100-watt

Size: 2.4 * 2.4 * 1.7inch 
Energy-saving
Long connection cord
Durable design
Space saver
12-volt
Portable 
Plug and play 
The product weighs about 120 grams. This should tell you just how lightweight it is.
Besides, it contains plug-and-play features along with a long connecting cable.
This Fdit Air Heater Fan is perfect for small areas and provides direct heat without any difficulty. 
It has PTC car space heating technology that makes it distinct from the traditional heater. The constant temperature heating and high thermal conversion rate generate more power without flame or fire.
Besides, the heater contains dual power sources, including a solar panel and battery. You can run the heater directly with the solar panel during the day.
If you want to get warm at night, you can power the device with a 12-volt battery. It will allow you to run the heater where/when sunlight is unavailable.
Furthermore, the stability and durability of this device make it perfect for the garage and its durable materials to survive with your daily working environment. 
After two years, it has a less than 10 percent degradation rate that is perfect for a solar-powered heater.
Consumers find this device best in the category, and they mark it as a top-rated product after using it for a long time.
Pros and Cons
Pros
Cons
Comes with a compact design 
Lightweight materials 
Easy to operate and zero maintenance 
No issues found 
---
Solar Infra Systems 18×48 Consumer Solar Air Heater
This heater comes with an automatic on/off the system. You can pick this device to get an instant warm temperature whenever you enter your garage.
The most effective advantage of this device is that it can absorb sunlight even from behind the glass window.
Overview:
Wall-mounted ability
Easy standing
Portable design
Compatible with window
22 pounds 
22 x 5 x 50.5 inches 
Wire-free operation
Effective power production
1-year warranty.
Eco-friendly 
Solar Infra system heater is designed to perform perfectly with an easy standing option, and the portable feature makes it compatible with any space.
Besides, it has one year of warranty that will ensure after-sales service. At the same time, eco-friendly operation keeps your working space safe and secure.
If you want to get an instant heating system suitable for your garage, this solar heater has a unique design with a wire-free design. 
It works like a pro heater, and you can warm small and medium spaces without spending too much. With this heater, you will get a good way to absorb sun rays for a warm temperature.
The lightweight 22 pounds makes it portable, and you will use this single device for multiple spaces.
With the vacant design, it will pass enough light and air to the room. So, you don't have to worry about the air ventilation in the garage.
So, this supplemental heating device enables you to work in the winter without being stuck with the nuts and bolts.
It is a wall-mounted solar heater that will provide you warm temperature without increasing electricity costs.
You can eliminate the heating costs and run a safe operation instantly.
Pros and Cons
Pros
Cons
Start automatically when getting sunlight
No installation requires
Reduce electricity costs 
You can not regulate the heat  
---
OPOLAR 1500W Ceramic Space Heater with Adjustable Thermostat
Next, we have the OPOLAR 1500W Ceramic Space Heater that comes with an adjustable knob and thermostat control.
With the manual thermostat control, you can fix the desired temperature, creating a comfortable atmosphere without excessive heat.
Overview:
Adjustable knob
Thermostat control
Perfect heat distribution
Multiple modes
Powerful battery
Durable design
Fast charging
Portable
Overheat protection
Tip-over protection.
This heater has three operating modes, including low heat, high heat, and fan without heat.
The durable design makes it suitable for producing adequate heat even in the below-freezing temperature.
Besides, it has a noise-free operation, and the easy operating system enables you to control the device in a hassle-free way.
This solar-powered heat will provide you instant heat in your garage with warm air. It has high-quality ABS material that makes it sturdy and durable for heating and operating in the working place. 
It has a unique shape and design to spread the heat perfectly on the whole space. Besides, the powerful battery of this heater allows you to get heat for a long time.
This mini heater is perfect for personal use, and you will get an instant warm temperature even without electricity.
Are you planning to buy solar panels to power your house? Read our Solar Panel Buying Guide first before purchasing.
It is a plug-and-play device that doesn't require any installation or maintenance costs. With the thermostat control, you can maintain the speed of the fan easily. 
Besides, the three running modes provide you with great service in the winter. The fan-only mode generates fresh air without heat. 
This is a versatile heater, and you can use the device for the garage, bedroom, office, living room, counter, deck, and more. 
If you are an adventure lover, you can keep this heater for your next camping in the winter. It will enhance the tent temperature and help you to stay a long night comfortably.
Pros and Cons
Pros
Cons
Cost-effective
Eye-catchy design
No maintenance require
You have to replace the battery after a certain period.
---
Lasko Heating Space Heater, Compact
Why should you select this space heater for your garage? It comes with Save Smart low power using technology that uses only 200-watt energy and reduces the heating costs. 
Besides, this heater is energy efficient and comes with high-quality safety features for long-term use.
Overview:
Convenient power switch
6 inches tall
Energy efficient 
Portable
Power indicator
200-watt
Built-in safety features
Battery-powered
Versatile usage 
Effective heat distribution 
The 6 inches height and the dimension of 3.8 x 4.3 x 6.1 inches enable you to put the heater close to you while working in the garage or on the table.
With the power indicator and manual on/off the system, it is easy to operate, and the convenient switch allows you to turn it on instantly.
Do you want to get effective heat in the workplace, especially in the garage?
The Lasko 100 MyHeat Personal Ceramic Heater is perfect for heating the garage, and it can produce enough power for a person. 
This device uses a ceramic element that heats the space quickly. With the built-in warm distribution system, this heater enables you to spread the heat on the surroundings.
On the contrary, you can take this portable heater wherever you want, and the portable feature enables you to use the heater for versatile purposes.
You can use this heater at your office, desktop, living room, bedroom, and more.
It has an overheat protection feature that controls the temperature and keeps the heating space always safe.
Pros and Cons
Pros
Cons
Ideal for personal use
Ceramic heating 
Quick warming technology 
No issues found
---
How many solar panels are needed to run a garage heater?
Most consumers ask this vital question: how many solar panels do I need to run a garage heater?
The answer is it depends on the wattage of the heater. You have to compare the wattage of the heater and the solar panel to get the specific calculation.
We can find out the energy production and consumption rate of a solar heater easily. For instance, if you have a 1500-watt solar heater, it will need five 300-watt solar panels. 
On the contrary, if you want to use solar panels with less efficiency, it will take ten 160/150-watt solar panels. 
| | | |
| --- | --- | --- |
| Number of heaters | Wattage | Solar panel needed |
| Single heater | 500 | Two 300-watt or four 150-watt solar panels  |
How many batteries are needed to run a garage heater?
Batteries are the best option for energy backup with a solar-powered device. If you have a battery with a solar panel, you can run the device at night and in bad weather. 
A garage heater can run with battery power at night, and it requires single or multiple batteries depending on the wattage of the heater.
In the above section, we mentioned a 1500-watt heater and disclosed the number of solar panels that are required to run the device.
In the same way, if we take a 1500-watt heater, it will take four 12volt batteries to run. 
The actual measurement depends on the manufacturer and usage of the battery too.
How to increase the efficiency of a solar garage heater?
Maintaining efficiency is a vital part of solar devices because you will use the device for a long time.
A solar heater for a garage comes with attractive features, and it will provide you with sufficient heat at the garage.
If you want to increase the device's efficiency, try to set the solar panel in a place where plenty of sunlight is available.
At the same time, monitor the battery power to utilize it during the night and in case of hazardous weather.
Try to keep the heater turned off when leaving the garage for several hours.
Conclusion
Altogether, a solar heater for a garage is an effective heating solution without electricity. You can select the most suitable heater for you according to your needs.
It is important to understand the power measurement before selecting a heater and a solar panel. The perfect combination will provide you with sufficient energy for continuous operation.
Besides, it is better to compare the energy source for the heater to get a warm temperature at night. Battery options are best for night usage.
So, let's get started with the best solar heater for the garage from the above list.