We live in a world where discoveries emerge every day, and the most recent technological innovation is solar electricity. However, with any beautiful innovation, you may face some issues and Solar Lights not working is one such example.
Solar lights may be great, but they could cause specific difficulties for some individuals. If you are facing some issues, you may be surprised to know that we can follow a few easy tips to make them work again.
This article will discuss the problems you can have with your Solar Lights and how you can fix them easily. 
What Are Solar Lights, and How Do They Work?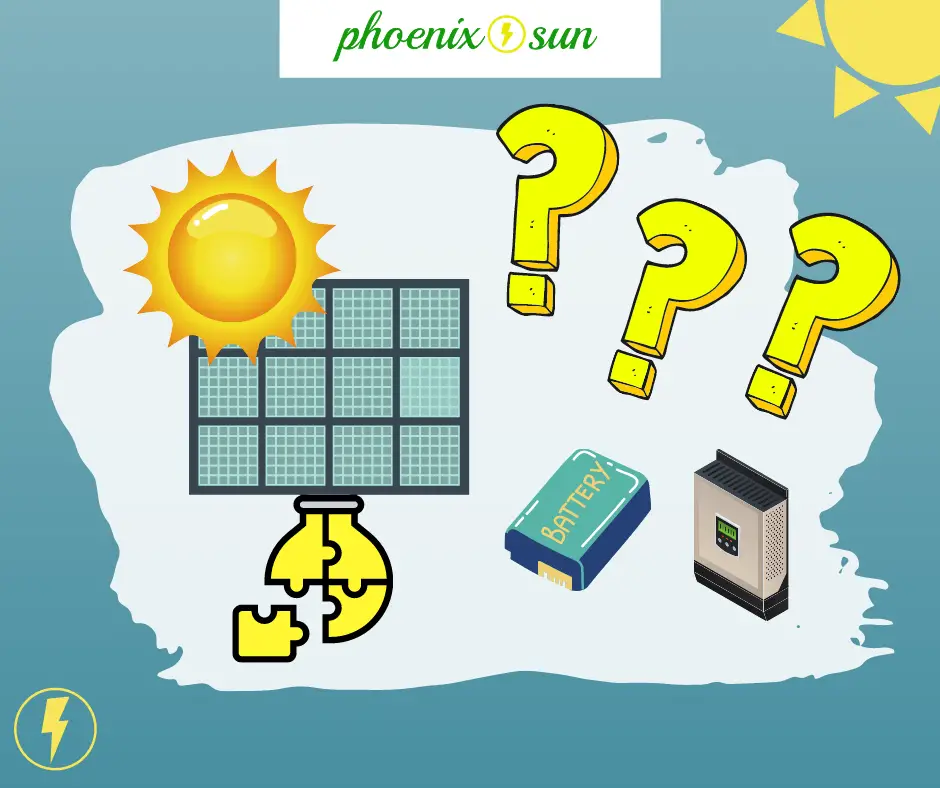 We must know about Solar Lights to understand why your solar light is not working. Solar simply refers to the sun, whereas lighting means the process of providing light. Therefore, light generated using energy from the sun is called Solar Light.
Solar Light includes a Photovoltaic module, a charge controller, a lithium battery, an inverter, and light. The PV module absorbs sunlight and converts energy into a direct current stored in batteries. This energy powers the solar lamp.
You can now design a Solar Light yourself and make your backyard look prettier with DIY Solar Light Ideas. Know how easy it is to make DIY Solar Lights at "LINK."
Flyhoom Solar Powered Light Bulbs
Flyhoom Portable Solar Light Bulb with Remote, 180LM, 4 Light Modes+Timer, Portable Solar Rechargeable Light Bulbs with Clip Hook for Indoor, Outdoor, Camping, Chicken Coop
>Solar Powered for Everyday Use: These solar light bulbs are suitable for use in areas without electricity, such as shed, chicken coop, or outdoor camping. One Flyhoom solar bulb can illuminate about 150 sqft.
>Easy To Charge: With a 6V/1.8W solar panel,the solar camping light bulb can absorb more sunlight in the daytime, makes the solar light bulb works much longer than other style.
>4 Lighting Modes: High brightness of 280lm, lasting for 5-6 hours,Medium brightness of 140lm, lasting for 10-12 hours,Low brightness of 40lm, lasting for 16-18 hours,SOS mode for outdoor emergency use.
Reasons Why Your Solar Light is Not Working?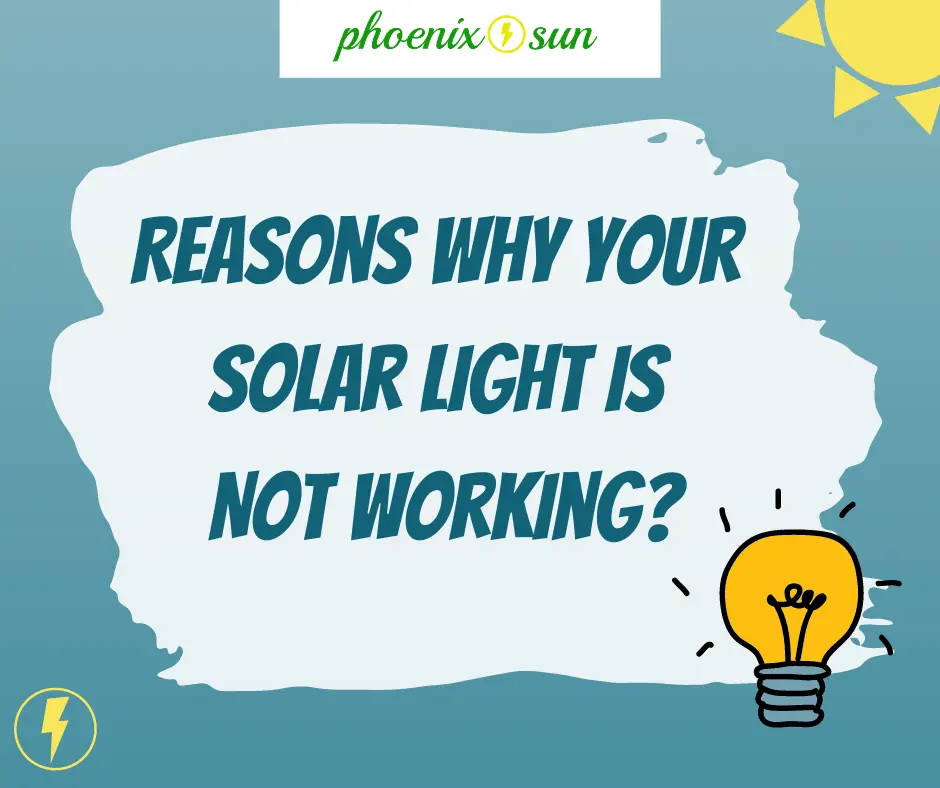 Several reasons why your Solar Lights are not working include faulty cables, dead batteries, a lack of sunlight, and many others.
Here are some of the most common reasons why your Solar Light may have stopped working.
Solar Light Panel is not getting sufficient sunlight.
The solar Panel of your light is dirty.
Solar Light is in close proximity to another light source.
The storage battery has become old.
The Sensor of your Solar Light is faulty.
Now, let's deep dive into each of these reasons to understand the problem better.
Solar Light Panel is Not Getting Sufficient Sunlight.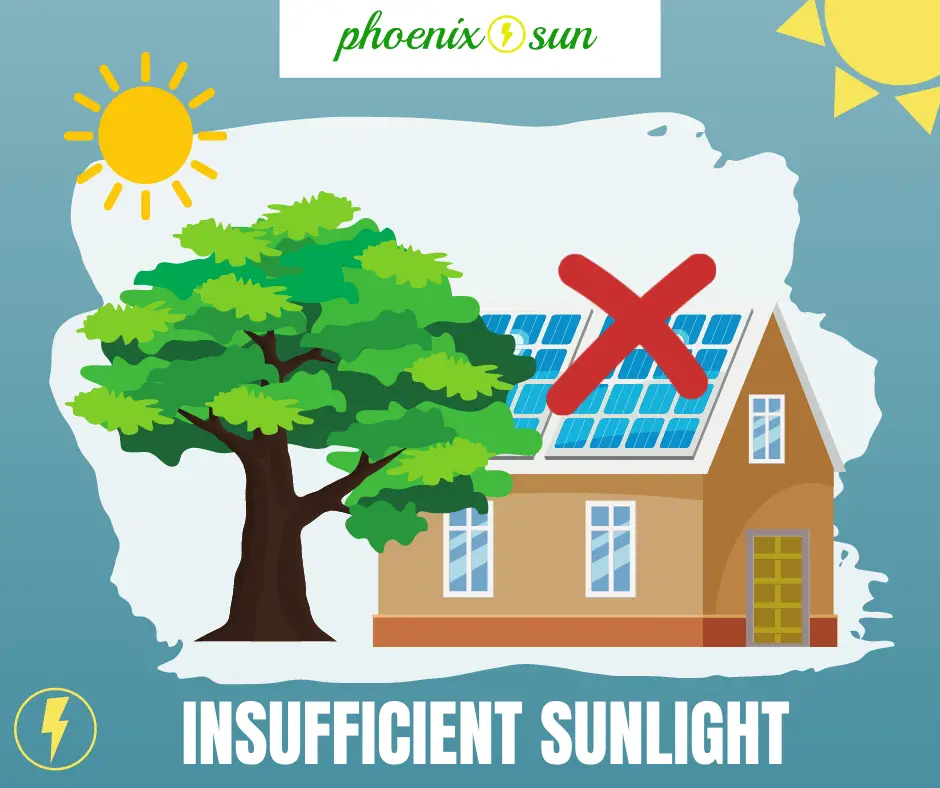 Solar Lights operate on energy stored from the sun, and one of the most common reasons your Solar Light is not working is because it is not getting adequate sunlight. 
If your Solar Lights do not get enough sunshine, they will not be able to charge the batteries fully, and as a result, the light will stop working.
Solar Panel of Your Light is Dirty.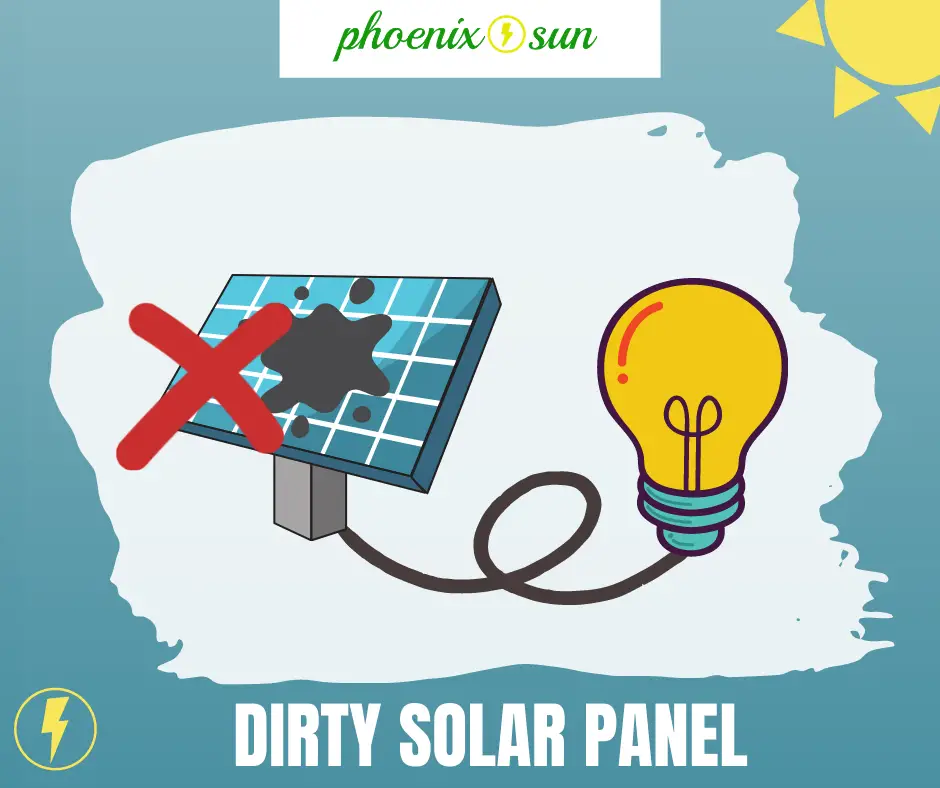 Dust and dirt on a solar panel restrict the absorption of sunlight, and the batteries may not get fully charged with the bit of light reaching the panel.
In addition, the dust might get so thick that the sunlight cannot reach the panels, resulting in no charging of the batteries.
Solar Light is in Close Proximity to Another Light Source.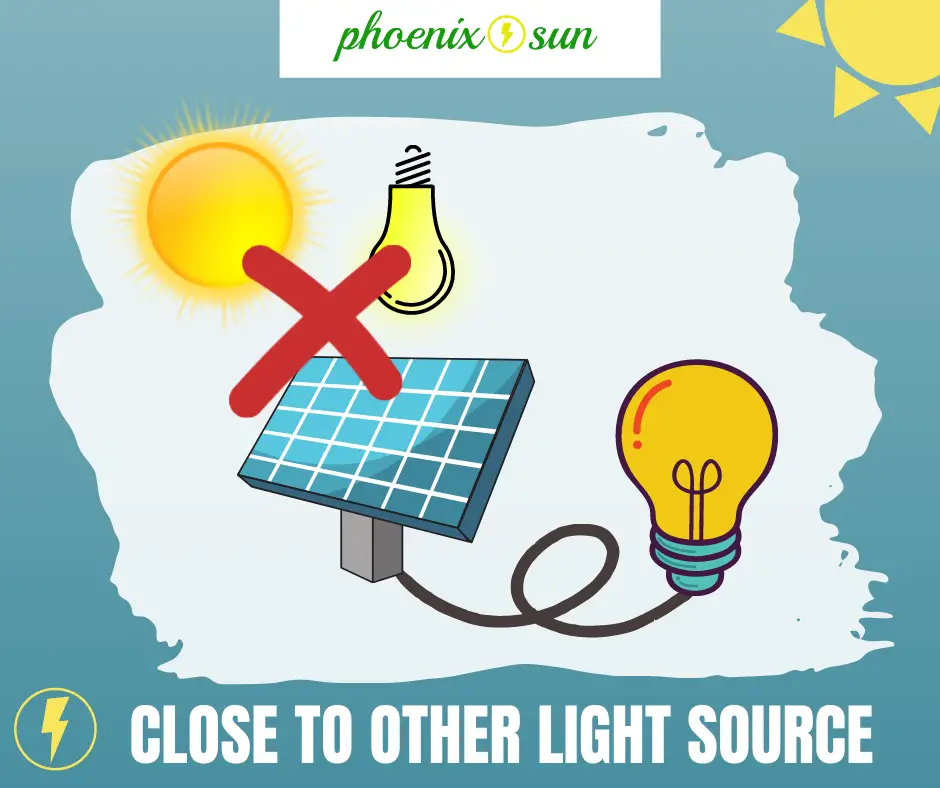 Solar Lights are fitted with a photovoltaic cell-based sensor that detects all types of light, including artificial light. The lights that shine directly on your solar lamps may give a false signal to the sensor, and the light will not work.
The Storage Battery Has Become Old.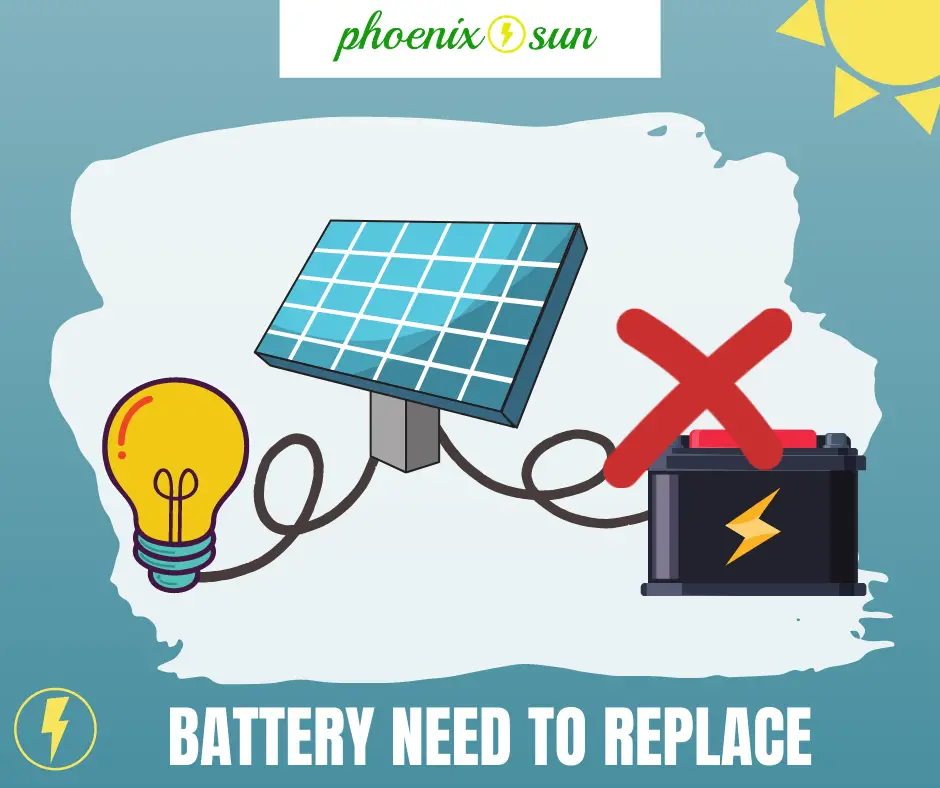 Solar Lights come with a pre-installed battery that lasts for a few years. However, sometimes we tend to forget that battery life has come to an end, and it needs replacement. 
If your Solar Light has stopped working or the performance has dropped, then it may be time for you to get a new battery. 
Mighty Max Battery ML35-12 – 12V 35AH DC DEEP Cycle SLA Solar Energy Storage Battery
Mighty Max Battery ML35-12 - 12V 35AH DC DEEP CYCLE SLA SOLAR ENERGY STORAGE BATTERY
ML35-12 SLA is a 12V 35AH Sealed Lead Acid (SLA) rechargeable maintenance free battery - UL Certified
Dimensions: 7.76 inches x 5.12 inches x 7.01 inches. Listing is for the Battery and Screws only. No wire harness or mounting accessories included.
SLA / AGM spill proof battery has a characteristic of high discharge rate, wide operating temperatures, long service life and deep discharge recover.
The sensor of Your Solar Light is Faulty.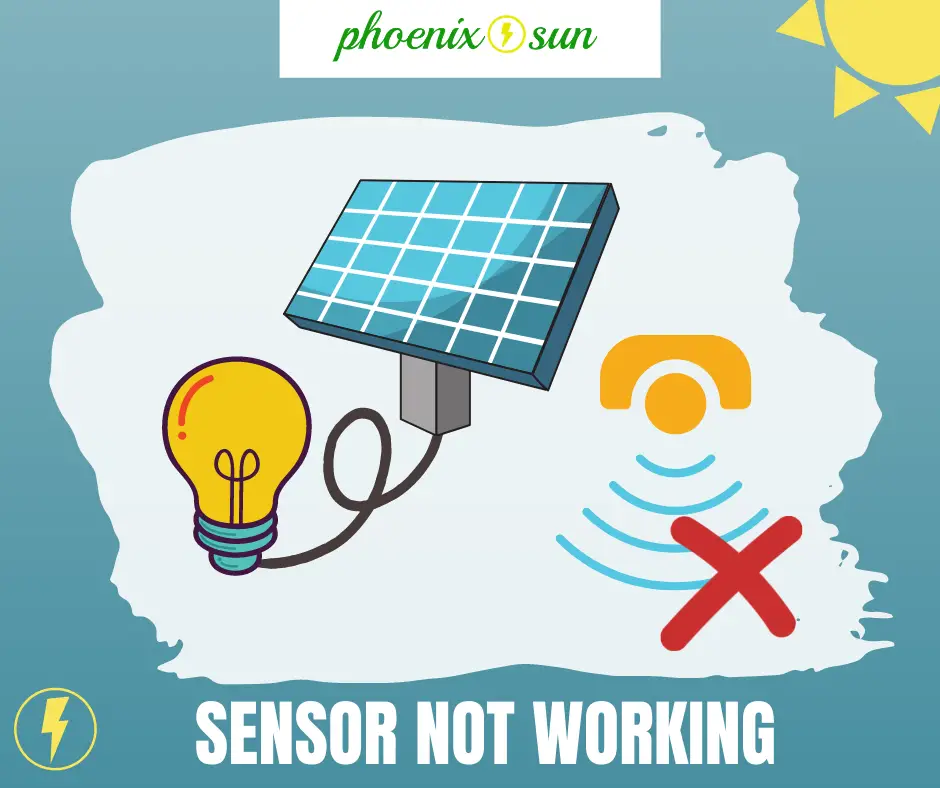 The majority of the Solar Light has a sensitive sensor that switches the light ON or OFF. If the sensor gets faulty, it won't differentiate between day and night. So, the light may stop working.
Fun Fact:
Did you know that you can creatively self-design your Solar Lights with various DIY Solar Light ideas? You can create stunning and elegant light from upcycling old pieces with these DIY Solar Light ideas. "LINK"
Simple Checks and Fix If Your Solar Light is Not Working.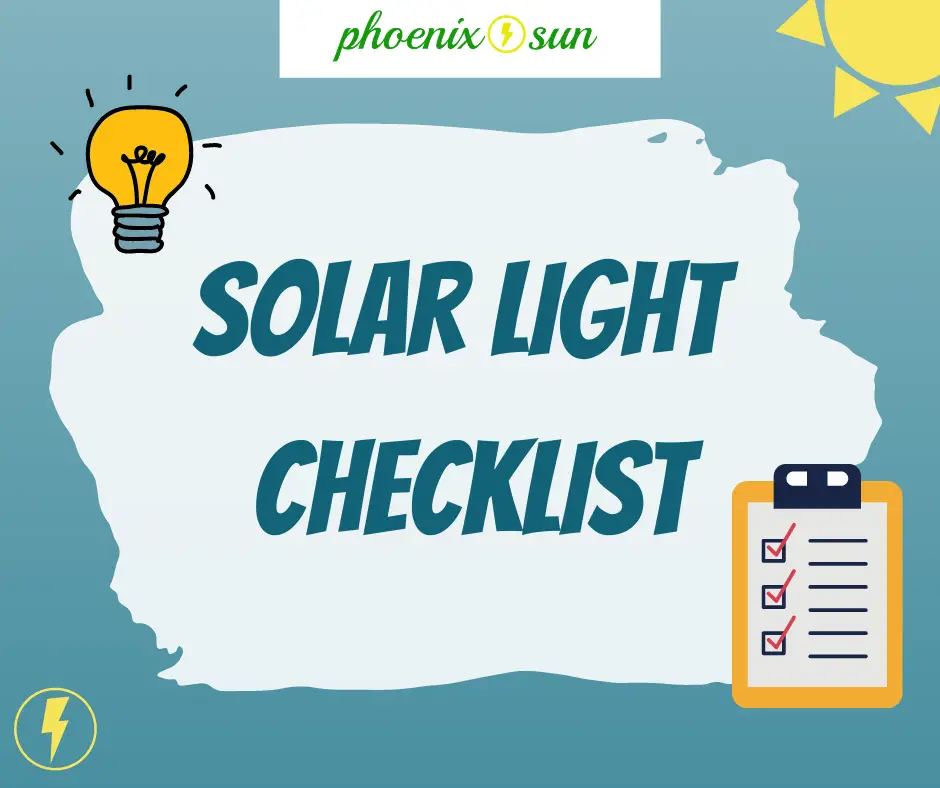 Most of the problems you may face with Solar Light can be solved easily if you understand the components and their functioning. Very few exceptions would require the aid and assistance of a technician or an engineer.
We have already discussed some very common problems you may face with Solar Lights. Now let's find out how to follow some quick checks and fix the Solar Light if it has stopped working. 
Check if your Solar Light is getting adequate sunlight for the battery to charge. If there is any barrier between the lamp and the sun, you may have to clear the barrier or relocate the light.
If there is no barrier, maybe you should adjust the angle of the Solar Panel. The angle of the Solar Panel is critical since it helps you maximize the energy efficiency, and the batteries will get charged adequately.
Solar Lights tend to accumulate dust and get dirty over a period of time. So, regular cleaning is a good practice you need to follow to prevent your Solar Light from malfunctioning.
A clean solar panel provides adequate sunlight to charge the batteries properly. You can use a slightly wet piece of cotton to clean your panels without any random chemicals or additives since the chemicals may damage the equipment.
You must check to see if there is another light source in the area. This light sensor may detect the light coming from a nearby lamp to give a false indication, and the light will not turn ON.
Most Solar Lights are fitted with Lux sensors to determine how dark it must be outside to activate the light. You can adjust the sensitivity of these sensors.
If the light still doesn't work, you may have to relocate it or rotate it away from the nearby lighting source. 
If you have noticed a decrease in the runtime of your Solar Light, then the battery may have discharged. First, check the manufacturing date on the battery and see if the recommended time of replacement is near.
The Solar Lights can be tested with normal batteries of the same voltage to determine if the battery is faulty. If the lamp works on a normal battery, it's time to replace the battery of your Solar Light.
You can simply cover the photocell of the Solar Light with your hands or use a dark piece of clothing to check if the sensor is faulty. If the light turns on, your sensor is working correctly.
You should clean the sensor thoroughly and test it again. If your Solar Light is still not working, you may have to replace it. 
Check if the light is still under warranty to get a free replacement, or you can purchase a new sensor and replace it yourself.
Final Thoughts
Solar Lights are eco-friendly, cost-effective, and an excellent way to illuminate the outdoors of your house. You must switch over to this cost-saving investment for trouble-free, long-lasting performance. Find out Top Solar Lights with Long Warranty here: "LINK."
Despite purchasing a good quality Solar Light, you may face some difficulties over a period of its use. By now, you must have understood the basic difficulties you may face using Solar Light and how you can rectify them easily.