Solar water pumps consume solar energy that is eco-friendly and cost-effective. Many people willingly invest in getting a solar pond pump instead of a traditional wired water pump for these two advantages.
Similarly, a solar pond pump is suitable for multiple places, from remote gardens to residential pools, ponds, or fountains.
You may have different needs for a solar-powered water pump, but the best solar pond pump can be a great solution for stunning and visual water displays.
In this article, we have prepared the list by reviewing the top 8 best solar pond pumps along with a complete buyer's guide.
The buyer's guide will focus on the key features of the best solar pond pump, and the review section presents the advantages and disadvantages of each pump.
After reading this article thoroughly, you will get the complete buying process and the proper knowledge regarding the best solar pond pumps.
Buyer's Guide: What to Look for in a Good Solar Pond Pump?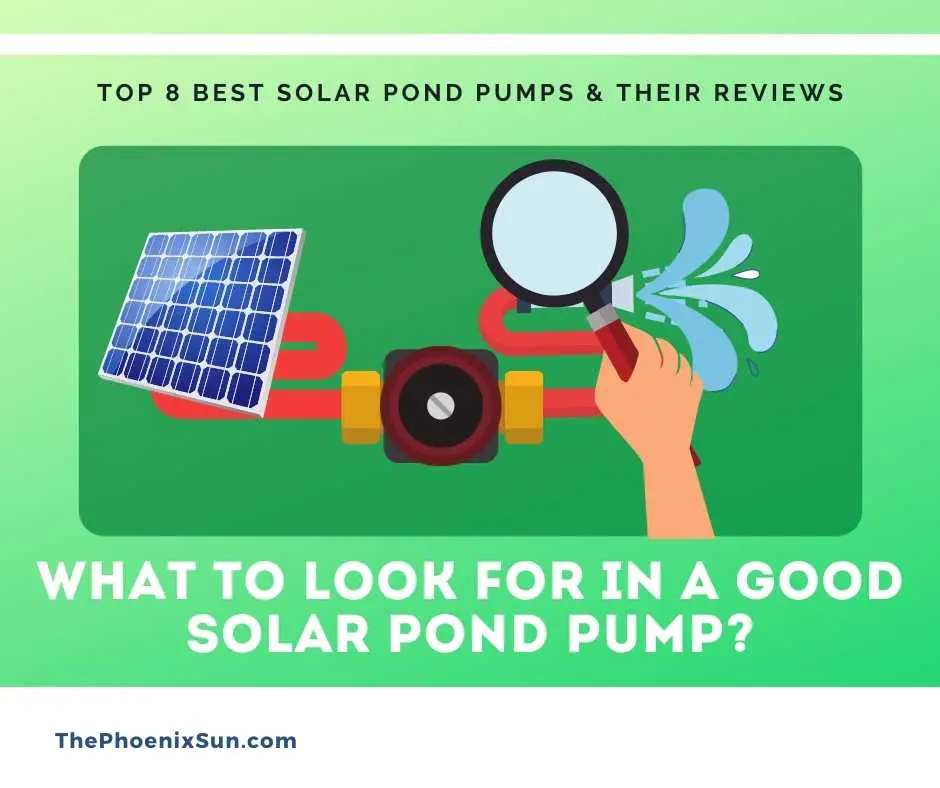 If you have decided to purchase a solar pond pump, you have to consider some significant features that will guide you to select the best pump for your needs.
We organize the basic features with a brief introduction to provide you with the necessary knowledge about a solar pond pump's specifications, functions, and system.
This complete buyer's guide includes location, capacity, panel size, water flow, price, and warranty that are the top features to determine.
However, you can pick the best solar pond pump by following this guide and finding all the expected features.
Location
Where do you want to install the pump? Please determine the place before purchasing a solar pond pump.
The location will help you decide the power and model of the pump. Different locations require separate installations and pumping capacity.
If you live in a place with adequate sunlight, it will be easier to run the pump.
Similarly, a place with conventional electricity requires a pump that can run with AC and DC power.
But in a place where the grid is unavailable, you have to select a model that comes with battery backup. So, the location will guide you to pick the best pump.
Capacity 
Efficiency is the primary feature you must consider before going for a solar pond pump. The best solar pond pump should be efficient, and the capacity needs to be adjusted with the expectations.
Regarding the usage and purpose of a pump, you will find several power systems and production capacity.
However, keep in mind that the pump's water flowing capacity is enough to send the water to the expected height with the standard speed.
An inefficient solar pump will create obstacles to your desired water operations and prevent the benefits of going solar.
Panel Size
Solar devices absorb sunlight via solar panels, and a solar pond pump also works similarly.
The size of the solar panel is essential because the pump will absorb sunlight through it. For the best solar pump and efficiency, you need a solar panel that has a perfect size based on the system's power consumption.
Besides, solar cells come with different manufacturing processes that indicate distinct power absorbing capacity.
Try to select a panel with the latest solar panel technology. It will increase the proficiency and water flow capacity of the pump.
Water Flow
The water flow determines the power of the pump. If you have an efficient solar pond pump, it will generate a powerful water flow to reach water in the destination.
A pump requires easy water flow to supply water for fountains or ponds. Comparing the efficiency, location, and watts, you have to select a pump that can produce different water flow types.
Considering the usage, it will help you purchase the best solar pond pump for your residential or decorative purposes.
Price and Warranty
You are investing in a solar pond pump because it is cost-effective and consumes energy from the sun.
The off-grid system will reduce electricity costs. So, the value of the money regarding the investment is significant.
A good solar pond pump will provide service for a longer time and allow you to pump continuous water.
On the contrary, a warranty is the absolute feature of a solar pump that the manufacturer offers. A good warranty coverage ensures the after-sales service and helps avoid repairing costs in case of any damage.
Find a pump with a manufacturer warranty, ensure that the spare parts are available for further maintenance. Similarly, a warranty reveals the opportunities to use it in recommended situations.
TOP 8 Best Solar Pond Pumps Reviews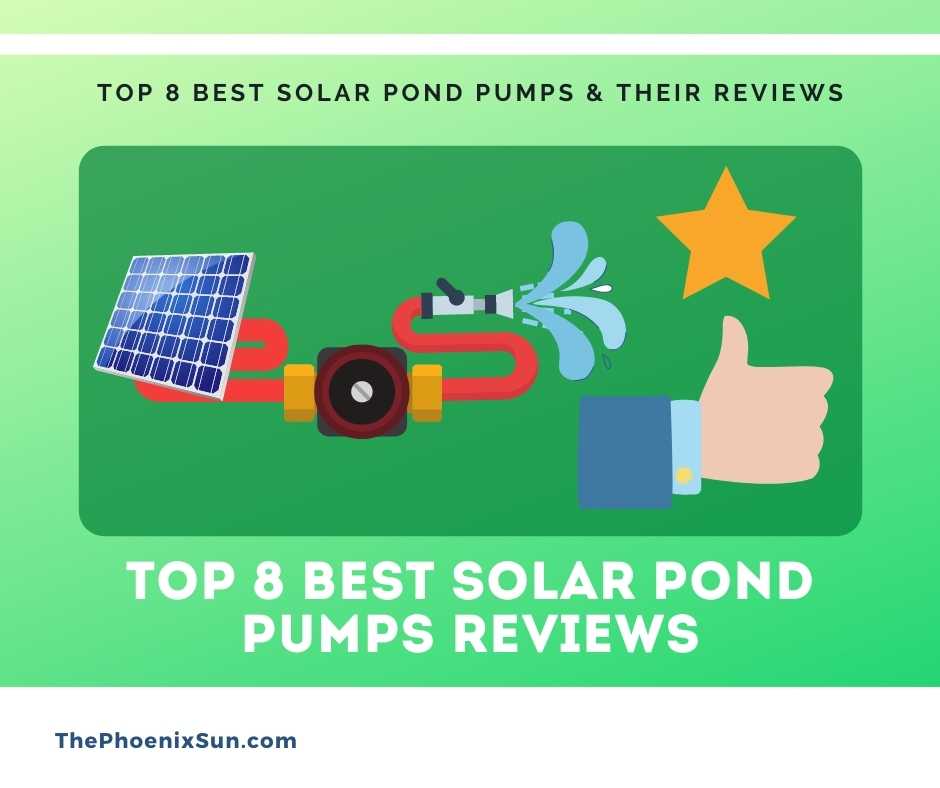 We present the reviews of the top 8 best solar pond pumps here. We have selected these products because they are the best in this category and come with excellent features.
The pumps in the list are most efficient and cost-effective compared to the specifications and efficiency.
Besides, we consider the real reviews of customers from around the globe. It will help you to find the exact review of the users.
We research the market to reveal the top solar pumps for your water flow solutions following the most important criteria.
Nonley Solar Bird Bath Fountain Pump
This solar-powered fountain pump comes with 1.4 watt adjusted solar panels to produce efficient energy. 
It has four different nozzle heads for several spraying options. The nozzles will allow you to set the perfect water flow for the pool, pond, and outdoor garden decoration. 
Each head contains several holes to ensure a regular water supply. The 16cm rounded solar panel's diameter absorbs more sunlight to produce sufficient energy for the pump. 
Besides, the pump can flow 150 liters of water per hour at a maximum height of 27.55 inches. This amount is enough for a small and effective fountain pump. 
On the contrary, the spray heads are easy to assemble, and the complete system works better with multiple operations. 
This effective solar pump comes with a 12 months warranty, requiring zero maintenance.
Rating: 4 out of 5
Overview:
Spec 1: Solar powered
Spec 2: 1.4 watt
Spec 3: Efficient solar panel
Spec 4: 4 nozzles
Spec 5: Multiple applications
Spec 6: Spray height is up to 50cm-60cm
Spec 7: Float waterproof circle 
Spec 8: High-quality solar collector
Spec 9: Works on cloudy days
Spec 10: Birth bath
Review
The Nonley Solar Bird Bath Fountain Pump will attract birds and bring more vitality to your garden. The garden will be full of charm after installing this effective fountain pump. It is a nice novelty for the yard and works well.
Its four head nozzles will enable you to set different water flow patterns, and it is easy to install. You can change the pattern within 2 minutes. It doesn't require any maintenance or mechanism.
Surprisingly, it will start automatically when the solar panel gets sunlight within a few seconds. No on/off function is required, and it is an entirely hassle-free pumping option for your outdoor decoration.
This pump is perfect for a birth bath, fish tank, small pond, pool, garden, etc. It will decorate your garden with an attractive look and catch the passerby's attention.
The solar panel is floatable with the pump, but the main problem is that leaves, flowers, or grass can stop the power production.
Pros and Cons
Pros
Cons
Easy to install
Affordable
Portable
Zero maintenance
High water flow
On a cloudy day, the expected water height may reduce
Lewisia 10W Solar Water Pump Kit
Next, we have Lewisia 10W Solar Water Pump Kit that comes with mushroom and blossom spray heads.
This effective water pump includes a 10-watt solar panel for producing sufficient energy. It has 32 types of water flow adjustment with six spray heads.
The pump can produce water flow with different sprayer heads, and the maximum lift height is 26 feet. Its perfect nozzle heads make this a great height for an excellent water display.
With 16.4 feet long connecting cable, you can install the pump indoors and outdoors. 
The solar panel will absorb heat even from a remote place. Besides, the system's total weight is 1.75kg, and it allows you to carry it wherever you want.
Rating: 3.5 out of 5
Overview:
Spec 1: Solar powered
Spec 2: Long cable
Spec 3: 32 water flow modes
Spec 4: Long nozzle
Spec 5: 10-watt solar panel
Spec 6: Portable
Spec 7: Sleeve Anchors
Spec 8: Water Outlet Caps
Spec 9: Filter Bag 
Spec 10: Wall mounting option
Review
Lewisia 10W Solar Water Pump is the best solar pump with multiple mounting options. If you want to decorate your garden, backyard, or small pond, it is a great pump in all respects.
This pump works excellent even with a fountain statue. The long cable and portability enable it to flow water to any place. It will bring a charming look with a high water display.
The automatic power on the system turns on the pump immediately after getting the sunlight. You will enjoy the calming sound of the running water in just minutes. That brings a feeling of paradise.
This effective pump allows you to spray water on the trees and plants of the garden. The flowers and grass of your garden will never be dried out for water. Just connect a long pipe and spray water on the blossoms.
The main limitation of this pump is that you have to clean it regularly. Otherwise, the leaves or grass prevent energy production and stop the water flow.
Pros and Cons
Pros
Cons
Lightweight
Cost-effective
Portable
Heavy-duty panel
No batteries included
Solariver Solar Water Pump Kit
The Solariver Solar Water Pump Kit comes with adjustable water flow and a 20-watt powerful solar panel. This submersible pump is solar-powered and capable of moving large volumes of water without plugging into the grid.
It has a durable and efficient brushless submersible magnetic pump that can run for a long time.
Besides, the design is unique, and the pump contains dry-run protection and a removable pre-filter to prevent debris, grass, or fish.
With the 16 feet long power cord, you can place the pump separately in the service area. It has another 16-inch cord to extend the current length.
The manufacturer offers a one-year warranty and a 100% money-back guarantee if the pump doesn't meet your requirements.
Rating: 4 out of 5
Overview:
Spec 1: Submersible
Spec 2: Solar powered
Spec 3: Solar panel included
Spec 4: Long power cord
Spec 5: 3 different nozzles
Spec 6: Quick connector
Spec 7: Solar panel stakes
Spec 8: 6.5 feet water lift
Spec 9: High-quality material
Spec 10: 1-year money-back guarantee
Review
This pump and panel system is easy to use and can generate enough power to move water. It is perfect for ponds, fountains, pools, aquariums, and remote water pumping. This great little unit is straightforward to use, and the pondless waterfall feature makes it extraordinary.
The plug-and-play design enables you to start the pump within seconds. You have to connect the power cord to the pump and solar panel, that's it. After absorbing heat for a few seconds, it will start immediately. It has no complicated wiring or installing process.
It is excellent for tranquility and attracting wildlife. The fountain will create a profound sense of your yard. It produces the mellow sound of water flow and attracts birds.
Besides, multiple uses enable it to use the pump to make fountains, pond's water flow, and clean water. You can create your unique fountain just in minutes.
Pros and Cons
Pros
Cons
Durable
Efficient solar cells
Affordable
Portable
No batteries included
It can only run in the daytime
Sunnydaze Outdoor Solar Pump and Panel Fountain Kit
Next, we include the Sunnydaze Outdoor Solar Pump and Panel Fountain Kit with an amazing water-lifting height. With this solar-powered fountain pump, water flow can be increased to 120 inches in height.
The overall dimension of this product is 12×10.5 inches and comes with a lightweight of 7 pounds. This efficient pump moves 396 gallons of water per hour. It comes with a 16-foot power cable and four footpads.
The unique design and multiple fountain options make this pump perfect in the category. It has two different fountain spray heads that are perfect for creating landscape water flow.
This solar-powered water pump comes with a 1-year warranty and ensures hassle-free usage for the following year.
Rating: 2.8 out of 5
Overview:
Spec 1: Solar powered
Spec 2: 16 feet power cable
Spec 3: 24-inch extension cable
Spec 4: Multiple water sprayer
Spec 5: 120-inch water-lifting
Spec 6: Moves 396 gallons of water per hour
Spec 7: Unique design
Spec 8: Solar panel included
Spec 9: High-quality solar cells
Spec 10: Submersible 
Review
This is another best solar water pump suitable for pools, ponds, birdbaths, and more. The pump produces a lovely spray when it gets clean water.
With the enhanced water features, you get an elegant water landscape accent. The maximum water-lifting power and a huge water movement enable the pump to create an artistic water flow without electricity costs.
To ensure this solar fountain pump's proficient use, it included a solar panel with a long connecting cable. Besides, it is loaded with adjustable nozzles to make a perfect water display.
You will be able to utilize the sun's power with this effective solar pump kit. In the same way, you can install this pump with the existing fountain.
The easy storage and installation system enhances this pump's usability, and portability allows you to carry it even in a remote place.
It has a limitation that there is no battery, and the pump can only run in the daytime.
Pros and Cons
Pros
Cons
Easy to install
Durable
Heavy-duty material
It has no battery backup. 
AQUAPLANCTON MNP SP50 50W (Powerful Twin Panel)
If you are looking for a powerful solar water pump, the AQUAPLANCTON MNP SP50 50W is the best pump in its category. 
This cost-effective pump comes with two solar panels, and they can generate 50-watt power on a sunny day.
It is a large solar-powered pump, and a 16 feet connecting cable increases its usability.
Besides, the pump has a 10×12″ dimension to run it even on a large water space. It is a complete solar power kit with the value of the money.
This pump contains a long head that can be extended up to 10 feet.
Rating: 4.4 out of 5
Overview:
Spec 1: Twin solar panel
Spec 2: High-quality solar cells
Spec 3: 50-watt
Spec 4: Long water spray head
Spec 5: Durable material
Spec 6: Longer power cable
Spec 7: Extension cord
Spec 8: Large operations
Spec 9: Solar powered
Spec 10: Unique design
Review
This auto-power solar fountain pump is the best because of its power capacity. With the twin, solar panels will generate sufficient energy for small and large water movement. It works great even for pumping water from an irrigation canal.
The pump is easy to install and comes with dry run protection. This feature ensures that it won't run its operation before placing it in the water.
Besides, this solar fountain pump moves 3.9 gallons of water per hour, and this movement is perfect for creating any water display.
It allows you to install in expected places, and you don't require any maintenance. The product contains the value of the money in comparison to the service.
This solar fountain pump can be a great solution for your fountains, ponds, pools, garden, and you can put this pump with an existing fountain.
The main problem with this pump is that it can run only with DC electricity.
Pros and Cons
Pros
Cons
Affordable
Easy to use
DIY installation
You can not store the energy from the panel
PowerEZ Solar Water Pump Kit
Now, we have a 20-watt solar water pump with a single solar panel, and this pump can run for more than 20,000 hours in the lifespan.
The unique design of this solar device comes with a brushless 12 volt DC consumption pump. It can lift water up to 3.3 feet and start within 3 seconds after connecting it.
It has overall dimensions of 170x 105x 110mm and a maximum flow of 240G/H per hour. The open-circuit voltage and optimum operating current will enhance the water flow at an incredible speed.
This pump will easily submerge in the water for its black color. It has a customizing feature along with two spray heads.
Rating: 4.2 out of 5
Overview:
Spec 1: Solar powered
Spec 2: Panel included
Spec 3: 11-inch fountain heads
Spec 4: High-quality solar cells
Spec 5: Submergible
Spec 6: Auto on/off
Spec 7: Dry power protection
Spec 8: 20-watt
Spec 9: Multiple operations
Spec 10: Brushless pump
Review
This water pump is suitable for fountains, waterfalls, pond aeration, aquariums, and more. The submersible facility allows the pump to move water even from small water storage. It is easy to install and has a powerful solar-powered pump.
You will get excellent water spray with the two fountainheads without consuming zero energy from the grid. The extended power cable and long water supply heads create a natural sound of the water.
It has an auto-on/off system based on connectivity and sunlight detection. Besides, this device allows you to run it just in a second.
In your garden, PowerEZ Solar Water Pump will attract birds with the soothing sound of the fountain. It will present the elegant look of the yard or open space.
The most beautiful thing about this pump is that you can carry it even remotely for its lightweight. This feature enables you to get a water display in a place where the grid is unavailable.
On the contrary, this solar-powered pump doesn't have any battery, so you cannot run it when the sun is absent.
Pros and Cons
Pros
Cons
Cost-effective
Easy to connect
Large power cable
No battery included 
ECO-WORTHY Solar Fountain Water Pump Kit 20W
The ECO-WORTHY Solar Fountain Water Pump comes with a 20-watt solar panel with 360GPH submersible power. This durable and efficient pump can lift water up to 6.9 feet in height. Its high-quality materials ensure a long life with 20,000 plus hours of operating time.
Besides, the pump has unique spray water patterns with two types of fountain heads. This system comes with a plug and plays operation for comfortable water movement.
With the 12 volt DC power generator, you can connect this pump with a battery or included solar panel. Similarly, it generates sufficient power to provide the necessary water supply.
One year warranty will ensure the hassle-free service, and after-sales service allows you to use it with zero maintenance.
Rating: 4.2 out of 5
Overview:
Spec 1: Solar powered
Spec 2: Multi-applications
Spec 3: 20-watt panel
Spec 4: Different water patterns
Spec 5: Long extension cable
Spec 6: Max water-lifting
Spec 7: One year warranty
Spec 8: Efficient solar cells
Review
Another powerful solar water pump on our list comes with versatile usability and enough water flow. This efficient solar pump is excellent for indoor and outdoor. It works great with a 20W solar kit, and the pump is surprisingly powerful.
The fountain pump can be a great solution for ponds, gardens, backyards, and pools to create a fantastic water display. With the easy installation system, you can install the pump instantly in the expected place.
Similarly, the powerful water flow allows you to control the fountain speed, and enough sunlight increases efficiency.
With this solar pump, you never worry about the electricity costs, and this effective water solution increases the beauty of your outdoors.
The off-grid DC solar power system enhances this pump's usability and operations even in a remote place.
If you want an extra-battery backup, it can't provide that because there is no battery with the system.
Pros and Cons
Pros
Cons
Easy DIY installation
Portable
Outdoor usage
There is no battery in the system.
Smart Solar Ceramic Solar Koi Fountain (Blue Option)
Finally, we present an aristocratic solar fountain pump that comes with a glazed finished ceramic body. The Ceramic Koi Solar Fountain is powered by a separate solar panel and can operate in direct sunlight.
It has an isolated solar panel that will be connected with a 10 feet long power cable.
This pump can flow 1-gallon water per hour from the storage space. The pump is made with high-quality ceramic material for durability.
This fountain system has a strong body and comes with 5.3 lbs. weight. This standard weight will enable you to carry the system in expected places.
Rating: 3.8 out of 5
Overview:
Spec 1: Amazing design
Spec 2: Ceramic material
Spec 3: Glaze finish
Spec 4: Blue color
Spec 5: Solar panel included
Spec 6: Powerful solar cells
Spec 7: Long power cable
Review
This solar fountain system's unique design reveals your home's aristocratic atmosphere, garden, entrance, or poolside. A little bubbler can create actual water flow with high-quality material.
This device has a unique fish body shape for providing a natural-looking. Compared with the other solar pumps, its artistic design makes it elegant in style. It also contains powerful solar panels to generate continuous water flow.
The pump can be a great choice for your home decoration, and it can increase the beauty of any place.
On the contrary, if you purchase only a solar pump, you must install other fountains. But this pump comes with a complete decoration. You don't need to buy any additional instruments if you want to use them for different purposes.
Pros and Cons
Pros
Cons
Low voltage operation
Artistic look
Durable
It is difficult to carry the system.
Best Solar Pond Pumps FAQs
How good are solar water pumps?
Solar water pumps are perfect for continuous water flow, and they will serve you without electricity costs. The pump comes with zero maintenance and a plug-and-play system that makes it easy to use.
Do solar pond pumps work at night?
Most solar panels don't have any batteries. For this reason, a solar pond pump can't work at night. But you can run some solar pond pumps with a DC battery.
How long will a solar water pump last?
If you choose a high-quality solar pond pump, it will last at least a year. In general, a pump runs more than this expected time. It is not possible to estimate the exact lifespan of an electrical device.
Final Verdict
Suitable for fountains, gardens, backyards, poolside, and more. It will enhance the beauty of the place with zero electricity consumption.
From the above review list, you can pick the solar pump that is most suitable for you. But if you can't understand, the best pond pump regarding your needs is. Following our suggestion will solve this problem.
We prepare this shortlist from our experience and real customer reviews by researching the market.
If you need a powerful solar pond pump, the AQUAPLANCTON MNP SP50 50W (Powerful Twin Panel) is the best in the category. With the twin solar panels, it will generate sufficient power for fountains.
On the contrary, the ECO-WORTHY Solar Fountain Water Pump Kit 20W is versatile and suitable for multiple operations.
Let's pick the best solar pond pump and enjoy the beauty of water flow.